2014 Minecraft Calendar
The 2014 Minecraft Calendar is out and it's marked at only $5.65 + shipping.  I'm totally think gift  idea for my Minecraft addict!  This calendar has 16 months too!
Be sure to check out all of our other Easy Minecraft Creations such as Homemade Minecraft cookies or check out our Easy DIY Minecraft Tshirt tutorial made with freezer paper here too!  Now if that wasn't enough Minecraft for you can you believe they even make some pixelated Minecraft Sunglass that you can wear!  Yup!
My favorite though are the Minecraft books.  My daughter struggles with reading so I am always happy to find good books she enjoys reading!
And we are waiting on the release of the Official Annual 2014 Hardcover Minecraft book here! You can sign up to be notified when it's released. You can bet I will be posting about it too!
One other hot Minecraft item is this Minecraft Hoodie.  It's very well made and the face zips all the way up so you look like a creeper.  You would be lucky if you actually found this jacket at the mall though because they are hot sellers that are hard to keep in stock.  Hot Topic was the only place that had them and they only carry adult sizes in the store.  🙁  Be prepared to pay out for this jacket too!  The price range is between $49 to $85 and I've seen them up to $100!  (that's the price of supply and demand for you!)
My daughter loves this jacket.  She says she can breathe just fine through the face (which is something I was worried about).  It zips easily and all the way up the face with no trouble at all.  As much as she wears it I would say it was worth the money.  It would make an awesome gift idea for any Minecraft addict!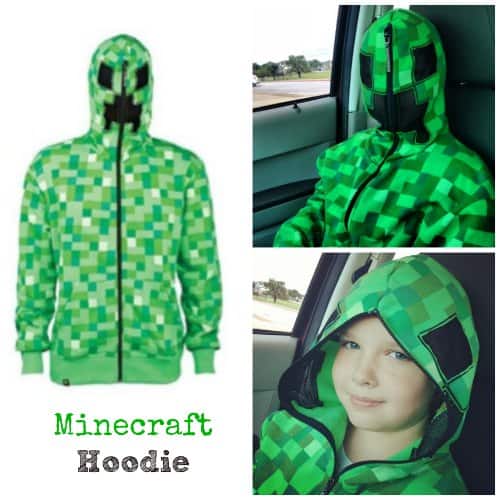 —>If you like Amazon Deals be sure not to miss our Top 10 FREE Kindle eBooks post!  It's updated daily with awesome freebies!
—>Oh and don't miss the FREE 30 Day membership to Kindle FreeTime for kids!  You will love it!
Be sure to check out the other Amazon Money Saving Opportunities too.  To receive savings on shipping fees, take advantage of Free Super Saver Shipping for orders over $25 or be an Amazon Mom or an Amazon Prime Member and get FREE Two-Day Shipping.
Amazon Prime Membership Details
 – This is a membership you pay for but if you tend to purchase many items. it's well worth it.  I myself am a Prime Member!
Amazon Mom Membership Details
 – Deals exclusively for Moms!  Yay!  Love that!
Please take note that Amazon prices may change any time, make sure to check out the current price before placing your order.
Don't forget to check out my other Amazon Deals for more savings. Hurry because prices at Amazon are subject to change at any given moment.
  ———->>>Be sure to check out the Other Amazon Deals and Gift Guide and see all the gift ideas at bargain prices here!