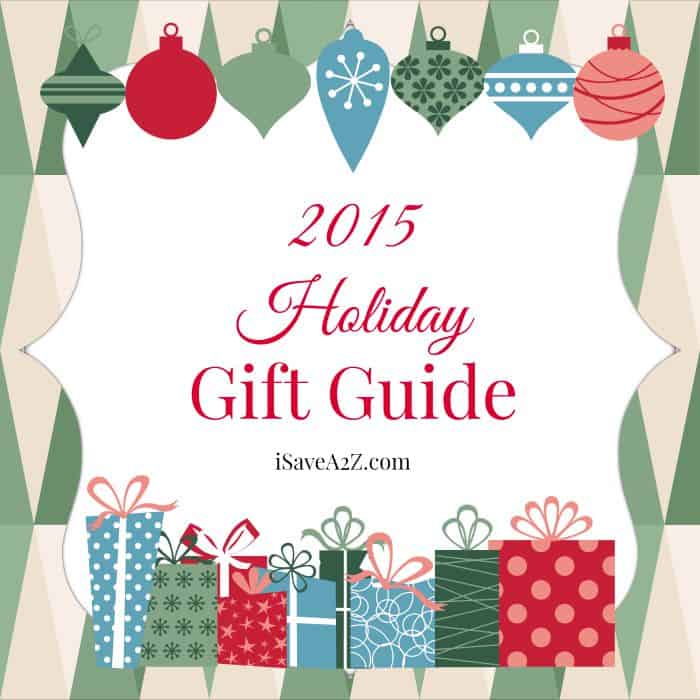 2015 Holiday Gift Ideas and Guide
With the holidays just around the corner, we thought it would be a great idea to gather a gift guide with a list of products that we love and trust.  We have tried, tested or own these gifts and think they would make excellent gift ideas for your loved ones over the gift giving season!  The hardest part is choosing a gift and we are hear to help!  We have different categories list below and we have added a direct link for you to purchase the gift below each photo on the buy now button.
Giveaway TIME!!! We want to know which gift is at the top of your list. Just fill out the giveaway form and leave a message below with your choice. You could win a $50 Amazon Gift card! TWO WINNERS will be chosen! Giveaway ends 12/31/15 at 11:59pm CST.
Our Top Picks
Every year we pick a company that we love the most! This year it's Shutterfly! Personalize gifts are a true treasure and loved by many.
Home Gift Ideas
Buying something for the home is a gift to the whole family and these gifts tend to be very useful.  These are also really good gift ideas to give to large families.  We have gathered a few gifts that we absolutely love and recommend.
Kids Gift Ideas
We have plenty of gift ideas for all ages!  We have tried and tested all of these gift ideas and gathered the best of the best!
Women's Gift Ideas
I've been told that women are the hardest to buy for but I really don't think that's true.  However, these gift ideas will definitely make it a whole lot easier to pick something for that special lady on your life.
Men's Gift Ideas
We have included some amazing gift ideas for those special guys on your Christmas lists!  We've rounded up the most popular items for men in this list.
Pet Gift Ideas
We never forget our furbabies on the holidays.  My furbabies are definitely part of the family.   My babies also tend to be very picky.  We have rounded up the best pet gifts that have passed the picky test among our pets.
Stocking Stuffer Ideas
I love to give stocking stuffer gifts that are useful and fun.  I love for them to be used all year long!  We have given you the best of the best here!
Family Gift Ideas
From family game night to gifting big families, we have something for you on our family gift ideas list here!  One of our favorite gifts to give is games because of the quality time we get from them.
Gift Ideas for Artists
We do so much art as a family that we needed a special category just for the artists!  There are so many good gift ideas for the artist on your list and I can almost guarantee they would love anything on this list!
Gag Gift Ideas
We can't go one holiday with out some sort of gag gift being opened on Christmas day.  We love to give gag gifts at the white elephant parties too!  Here are some really good ideas for gag gifts if you dare play the prankster!