Amopé Pedi Perfect™ Bonus Pack
This is a sponsored post written by me on behalf of Amopé Pedi Perfect™. All opinions are 100% my own.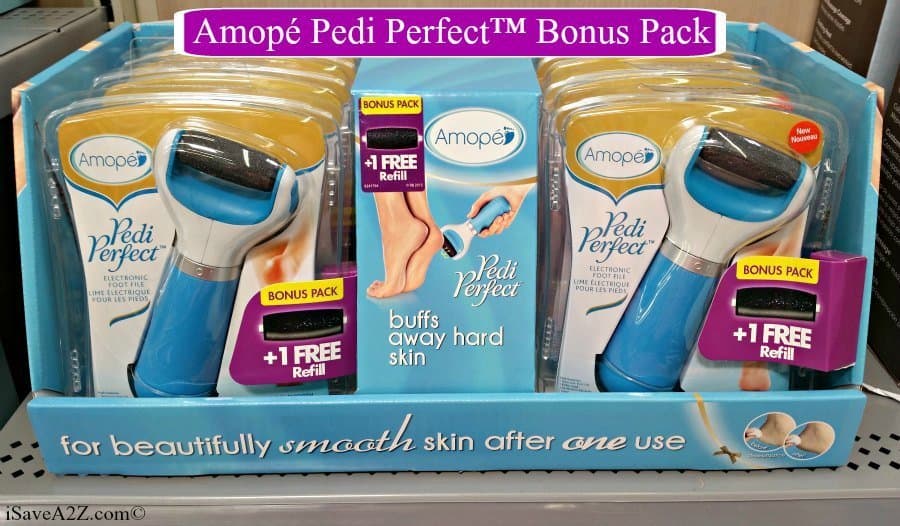 We are just a few days away from Christmas! Can you believe it? This is usually a big scramble time for lots of people (including myself). So if you still have gifts you need to buy, or just can't seem to find the right thing for someone on your list, then I have the perfect idea for you! How about the Amopé Pedi Perfect™! You've probably seen the commercials on TV, and you've probably glanced (or looked longingly) at it in the stores. But you may be wondering…..does it really work? Can it really make my poor, neglected feet soft and smooth? Let me go ahead and clear any questions up for you. IT WILL! You will see the results from Amopé Pedi Perfect™ after your very first use.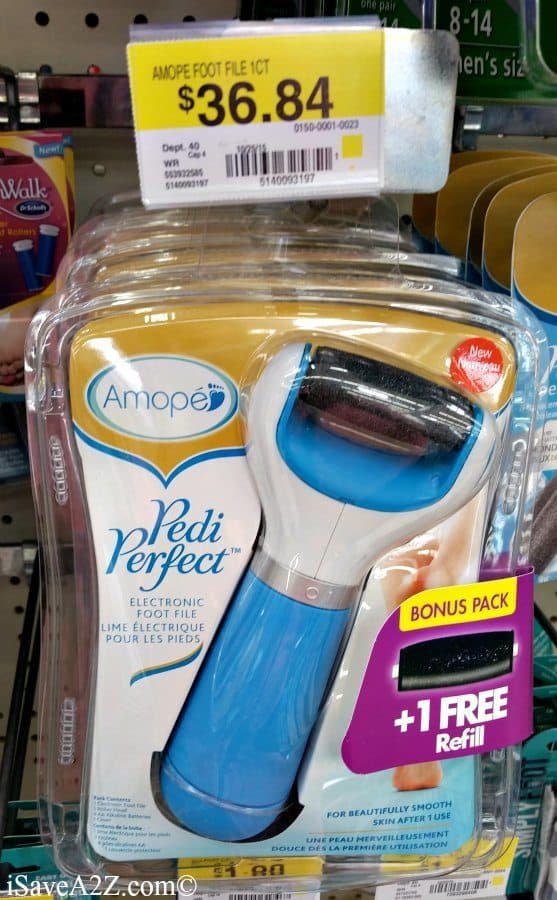 Now, don't just go to any store and buy your Amopé Pedi Perfect™. Head over to Walmart and pick up the BONUS Pack! The Bonus Pack comes with one free refill and you can only get it at Walmart! My local store had them for just under $37, and prices may vary in your location. But to make this an even better deal print this $5 Off Coupon! The coupon is good on any Amopé Pedi Perfect™, but be sure to look for the exclusive bonus pack. I found these on the foot care isle. There were some hanging on pegs, but also the larger display of them on the shelf. In fact, the Walmart clerk had just put them out and had a cart full of empty packing boxes. If you don't see them by the other foot care items, be sure to check the end caps or the As Seen On TV area.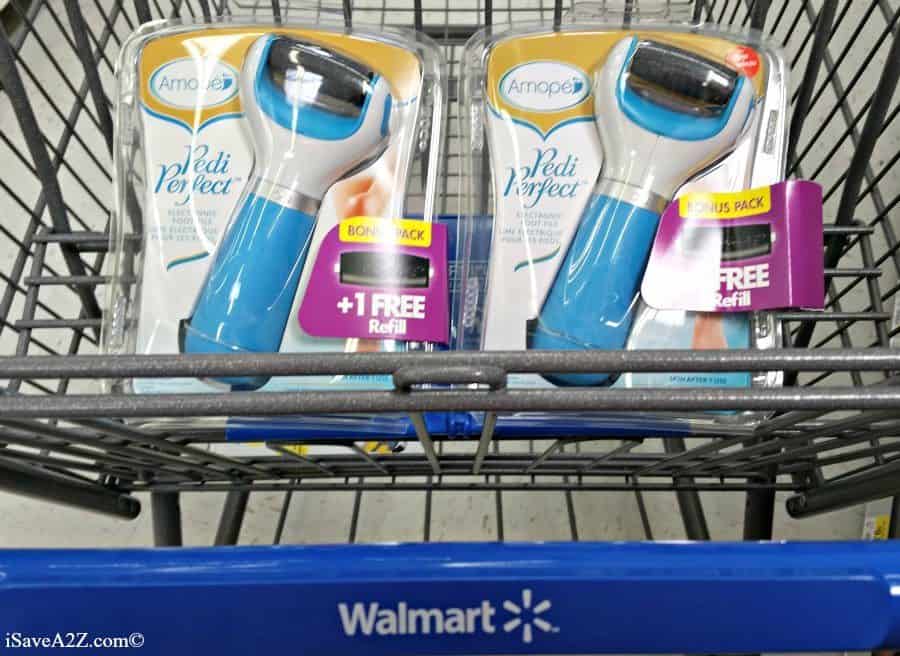 The Amopé Pedi Perfect™ is THE ONE item my sister asked me for, for Christmas. With my $5 Off Coupon in hand, I not only grabbed one for her but picked one up for myself too. I've been curious and wanted to try it out for myself. The first thing I noticed when I got home was the easy open package. It comes in the really sturdy plastic that can be impossible to get into sometimes. BUT, there is a tab at the top. Just pull on it and the package opens right up. There are easy to read directions inside and you are up and running in a matter of minutes.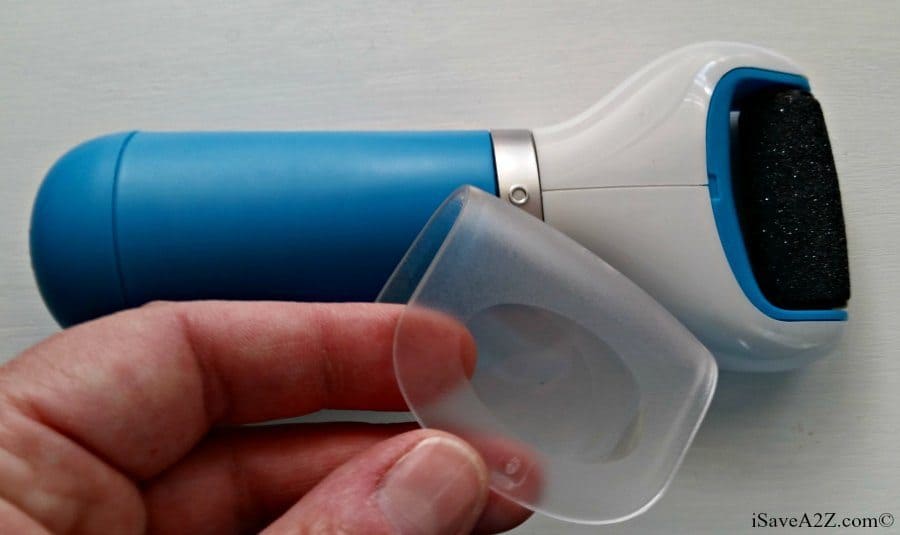 I also LOVED the fact that it comes with this snap on cover to protect your Amopé Pedi Perfect™. I'm guessing that all of the models come with this, but I can only say for sure that the bonus pack does. You just slip it on when you are done and it will help keep the file clean.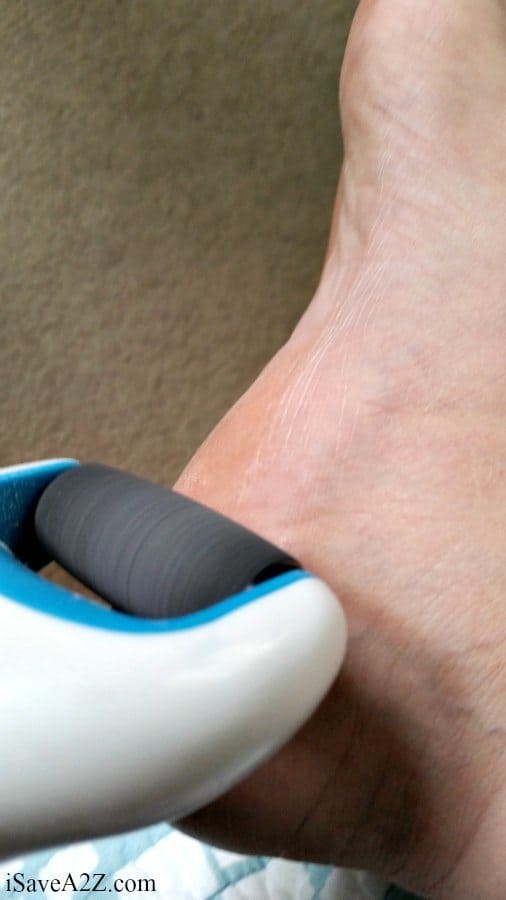 Let me just start by saying that it is VERY difficult to do something to your feet and take a picture at the same time! It is also a little embarrassing to put a picture of your neglected and tired feet out for the world to see. But you can see the difference that the  Amopé Pedi Perfect™ made in just a few seconds. You don't want to use it in one area for too long, or it will make your foot tender. Also, if you press down too hard the Amopé Pedi Perfect™ will stop. Just go slowly and gently and it will do the work for you. Once you have gone over all of the rough spots and your feet feel smooth, rub some soothing lotion on and enjoy! I was very impressed with how much better my feet felt after the first time.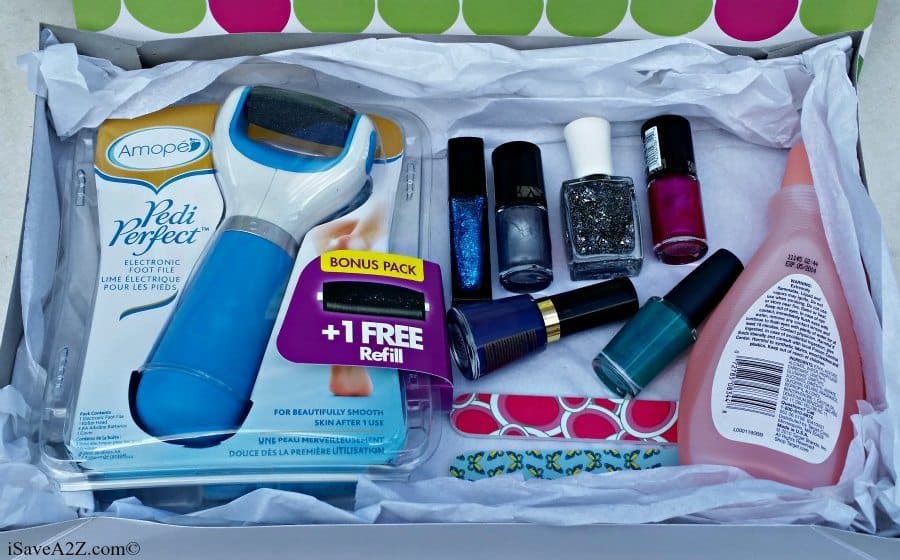 I didn't forget about my sister. I knew she would be thrilled to open her Amopé Pedi Perfect™. I put it all together with a few other goodies so she could do her feet and nails. Some cute bottles of polish and a creamy lotion would be great to go with this. My sister and I have already exchanged gifts, and she was so happy to get this one. As soon as she got home, she tried it out. My sister called me immediately to tell me how smooth her feet were and how much she loved it. If you're treating yourself or buying for someone else, don't forget to grab the $5 Off Coupon. Then head to Walmart and look for the Exclusive Bonus Pack!
This is a sponsored conversation written by me on behalf of Amopé™. The opinions and text are all mine.