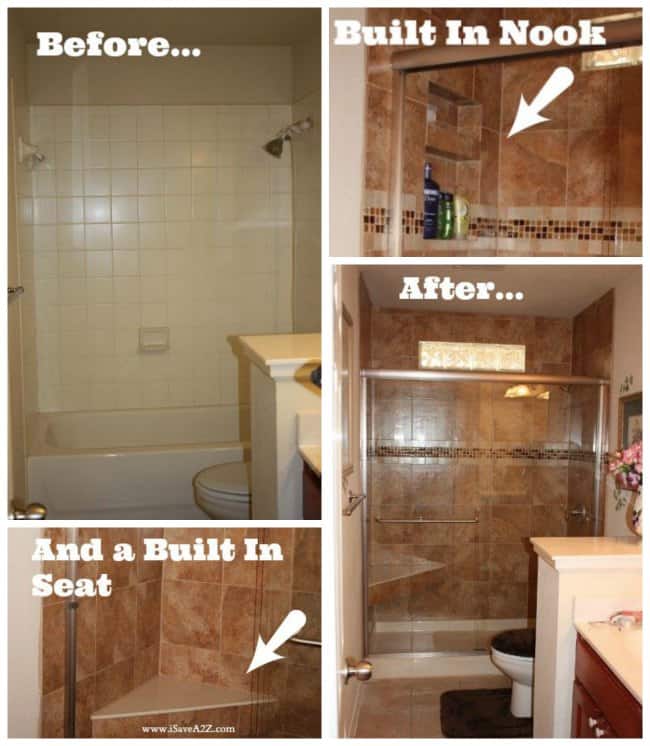 Bathroom Remodel Tub to Shower Project
Have you ever wanted to try a bathroom remodel tub to shower project?  I wanted something very different from my boring builders grade bathroom.  I tried many times to dress it up with decorative shower curtains and pretty rugs but I finally decided I wanted a bold new look.
Check out our before bathroom photo.  B-O-R-I-N-G!  That white tile has got to go!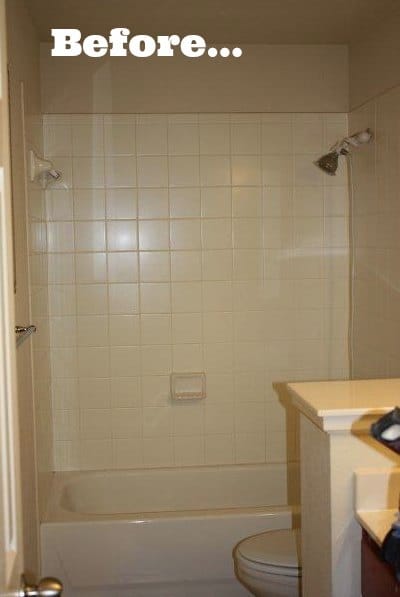 Now with a few trips to our local hardware store we found the perfect color of tile.  I love a natural and neutral color.  I wanted just a hint of natural light so I grabbed some privacy blocks.  These made beautiful windows placed high enough to give an amazing amount of light and blurred enough to give all the privacy we need.  This option saved us tons of money because those custom window sizes are crazy expensive!
The decorative border tile pieces were a bit pricey but since the space was so small it was a must have for this project.  It added just the right extra touch I was looking for.  We opted to remove the bathtub all together because we also have a huge garden tub in the master bathroom.  I never want a shower curtain again so I also grabbed a very nice shower door to complete my new look.
Check out how amazing the finished project looks!  WOW!  What a difference!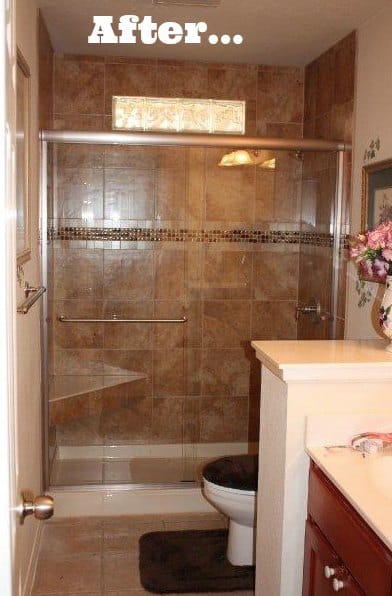 The planning didn't stop there though.  If you shave your legs in the shower you know how absolutely frustrating it can be to try and shave with no place to put your leg or better yet no place to sit.  Look at this!  A built in seat!!!
Last but certainly not least, we also wanted a place to hide our shampoos and conditioners so we opted to a built in nook too!  Clever right?!!  I thought so!  I turned out amazing!!!  I am so very glad to have completed this project!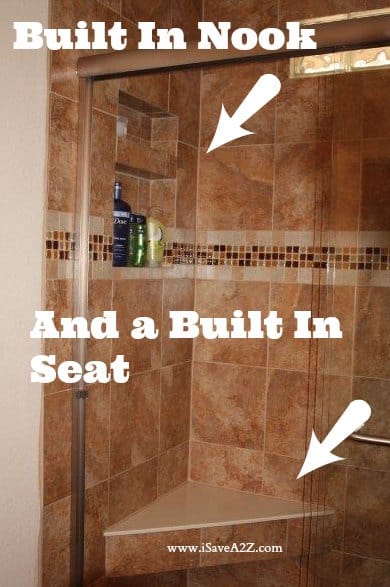 I hope this posts helps or inspires you to get creative with your own bathroom!
What do you think?
Leave a comment!  We love comments!!!
Oh and if you liked that post be sure to check out our 11 sure ways to clean a bathroom shower door!  I hate cleaning it but I've found a few really good tips to keep them clean!  They really work too!  Cuts my cleaning time way down!!  (I'm not lazy, I'm efficient!  haha!)