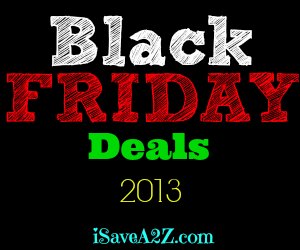 Black Friday 2013 Deals
Black Friday 2013 will be here before you know it and I will have all of the Black Friday 2013 Deals rounded up on one page for you!  This year black Friday falls on November 29, 2013.
Black Friday 2013 ads are typically released a week or two before Thanksgiving but they can also be released as early as October in some cases!  Be sure to bookmark this page for all of the latest Black Friday 2013 deals!
Here are most of the best deals you can find on Black Friday typically:  Electronics, Laptops, HDTV's, Kitchen appliances (big and small), Video Games, Dvd's and more.
Facts about Black Friday 2013:
Black Friday is the busiest shopping day of the year.
Black Friday is always the day after Thanksgiving.
Black Friday falls on Friday, November 29th, 2013 this year.
Black Friday is known to have the best deals on Toys, Electronics, Clothing, DVD's and so much more!
Black Friday 2013 STORE DEALS:
Ace Hardware Black Friday Ad 2013
Bass Pro Shops Black Friday 2013 Deals
BEALLS Black Friday 2013 Deals
Best Buy Black Friday 2013 Deals
Cabela's Black Friday 2013 Deals
Dick's Sporting Goods Black Friday 2013 Deals
Dollar General Black Friday 2013 Deals
h. h. gregg Black Friday 2013 Deals
Harbor Freight Black Friday 2013 Deals
Home Depot Black Friday 2013 Deals
Kohl's Black Friday 2013 Deals
Lowe's Black Friday 2013 Deals
Meijer Black Friday 2013 Deals
Menards Black Friday 2013 Deals
Michaels Black Friday 2013 Deals
Office Depot Black Friday 2013 Deals
OfficeMax Black Friday 2013 Deals
Pep Boys Black Friday 2013 Deals
Petsmart Black Friday 2013 Deals
Radio Shack Black Friday 2013 Deals
Rite Aid Black Friday 2013 Deals
Sam's Club Black Friday 2013 Deals
SHOPKO Black Friday 2013 Deals
Staples Black Friday 2013 Deals
Stein Mart Black Friday 2013 Deals
Target Black Friday 2013 Deals
Toy's R Us Black Friday 2013 Deals
True Value Black Friday 2013 Deals
Harbor Freight Black Friday 2013 Deals
Walgreen's Black Friday 2013 Deals
Walmart PRE Black Friday 2013 Deals (LIVE on Nov 22)