Car Cache Review and Giveaway!!
I hosted a Car Cache' Review and Giveaway a while ago and it was so popular that I'm doing it again!  So here's another chance for you to win an amazing product!  I absolutely love my Car Cache'! I had to get another one for my husband's car. He found it really easy to keep his items in close range while driving. I'm gonna be honest here, we love it when we pick up fast food and place the bag in the Car Cache' so we all have equal access to the french fries! The fries need to be consumed while still hot or else they just don't taste good enough and if I wait until I get home, they are already cold!
Here's another use we have found for it. On long road trips my kids love to watch movies on the iPad in the car. My kids have cleverly utilized the Car Cache' to create a stand for the iPad so that everyone can equally see the iPad screen in the bad seat! No more fighting! That is clever! When you flip in the other way it is tight at the bottom and leans just enough back to secure the iPad! I had to take a snap shot and show you what I am talking about!  The more we use it the more ways we find it can help us!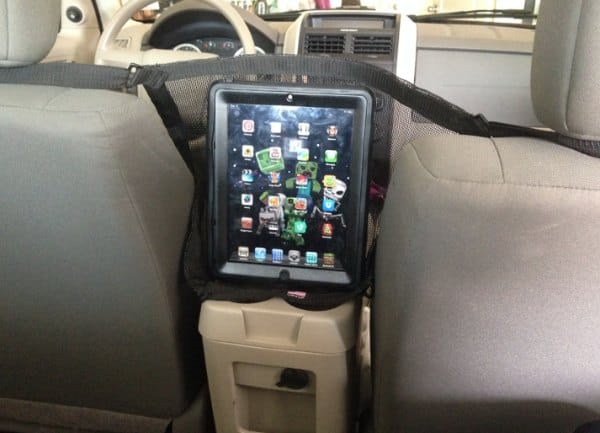 Car Caché Car Purse Storage / Organizer Black
Who wants to win a Car Cache' of their very own?!!!  All you have to do is enter the Rafflecopter form below!  Easy entry with optional extra entries too!  We will have two lucky winners!