Comparing Lularoe Leggings to Other Leggings

Comparing Lularoe Leggings to Other Leggings
Have you notice all the pop up parties for Lularoe Leggings lately?  Everyone is raving about how soft and buttery they are so I just had to give them a try.  You cannot just go to the Lularoe website and buy them.  You must find a consultant.  Finding a consultant is not hard either.  I asked if any of my local friends sold them on Facebook and boy was I overwhelmed!  I have tons of friends that sell them.  Finding a pop up sale online is easy.  Getting invited to the sales are super easy but finding a place to see them in person or try them on is not so easy.  You pretty much have to purchase them blindly without trying them on or pay a higher amount for them on Ebay
.  I'm not about to spend double or more on Ebay
either.  No way.  I found myself torn by who to buy them from too because it was almost like choosing one friend over the other.  Oh the stress just to buy some leggings!
I ended up attending an online popup sale and it was a bit fun and stressful at the same time.  The whole reason I was shopping was because I wanted a pair of leggings.  The party I attended put up all the other products such as shirts, maxi skirts and dresses before I could even see one pair of leggings.  At this point I didn't even realize there were other products that Lularoe consultants sell.  She put up the leggings last so that everyone else would see the other products before leaving.  That's probably a good business strategy but frustrating to me because I wanted to just buy a pair and be off the computer.  They buying experience for me was way too long.  If you plan to attend an online party be sure to plan to be on for at least an hour.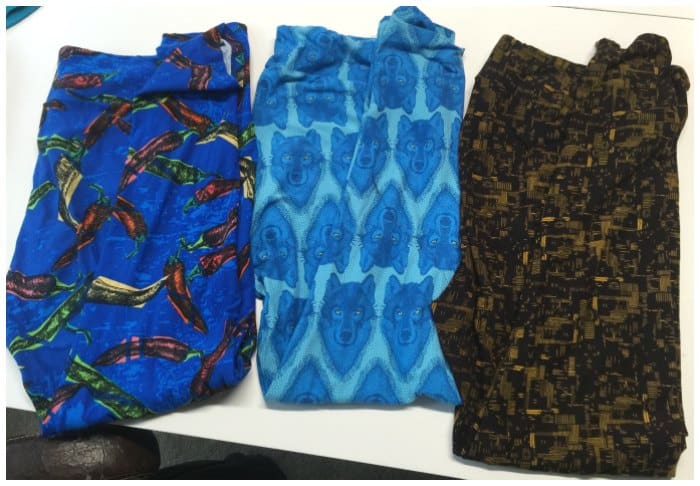 I ended up purchasing 3 pair of Tall and Curvy Lularoe Leggings.  The TC Leggings fit adult size 10 to 22.  The tag says they are 92% Polyester and 8% Spandex – made in China.  Machine wash cold and gentle cycle.  Do not bleach and Tumble dry low.  I was told not to even dry them.  This type of material will dry very fast just hanging up.
I love the look and feel of the Lularoe leggings!  They are the softest pair of leggings I have ever tried.  Ever.  Seriously.  I get what the hype is about now.
I really, really wanted a plain black pair of Lularoe leggings but those seem to be in high demand.  Lularoe only sells a set number of each print and then they are moving to the next.  I ended up searching a bit on Ebay and found people selling "rare" Lularoe leggings (the black pair I wanted) for double or even triple the amount!
I think the other reason I really like Lularoe is because I can support my friends who are trying to create a business.  I love supporting other entrepreneurs.  It's just a bit tough when I only want to buy one or two pair and 15 of my friends want me to attend their parties.
I decided to do a little test.  I searched and searched on Amazon for a similar product.  I ordered a few.  I found one company that I feel is very comparable to Lularoe!  They are called The Viv Collection on Amazon.  Here's the best part though…  They are about 1/2 the price of Lularoe with the same quality!  These leggings state they are "Plus size" but putting them up to the Tall & Curvy 10-22 size of Lularoe they are just about the same!  They feel exactly the same as my new Lularoe leggings too!  The material is soft and buttery!  The length is the same.  The tag says the material is exactly the same too!  It's also 92% Polyester and 8% Spandex – made in China.  The only one small difference I found was the elastic and extra material on the waist band.  The Lularoe has a very small elastic waistband with a 2 inch separated waist seam of material.  The Viv Collection Leggings have a 1/2 inch elastic waistband.  Both are equally comfortable in my opinion.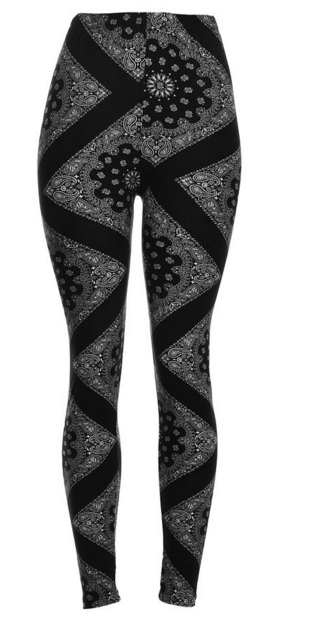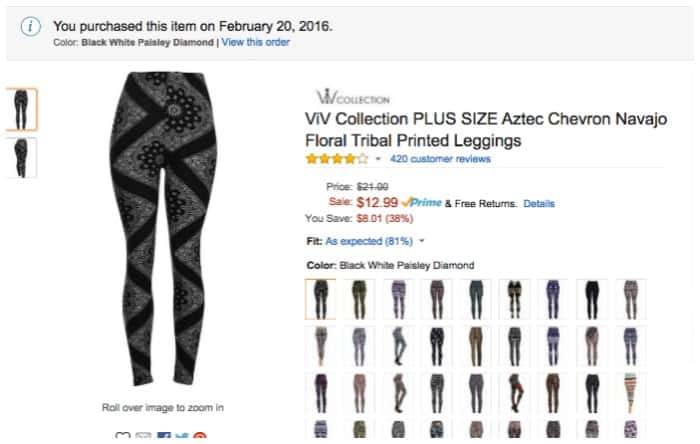 I will still support my friends and purchase Lularoe leggings but I also have another option when I am looking for a specific color or size that I don't want to wait for!
OH… And… I also run a small Facebook Group called "Good Grabs" for people who love deals. It's a great way to save some cash especially if you shop a lot online like I do. Feel free to join the Good Grabs Facebook Group here.
UPDATE:  I just wrote a new article showing all the new ViV Collection styles that just came out.  Plus I did a stretch test between the brands to see if any were see through when I stretched them.  Check out the update here:  New ViV Collections Leggings Styles Arrived!
I've gotten a ton of request to talk about shirts for leggings.  I prefer to wear a really long shirt with my leggings so that it covers my behind.  I've purchased a few of the tunic tops with a handkerchief hem here on Amazon.  I really, really like those because they are lightweight and flow nicely.  The hankerchief hem gives you a slimming effect!  I just found a shop on Etsy where you can purchase a shirt extender!  This means you can wear a simple lightweight camisole (long camisole with a decorative bottom) with any shirt you already own to make the shirt appear longer than it is!  I ordered one in black and one in white!  I cannot wait for it to arrive!  I will be sure to post an update once I get them in.  She makes them in all sizes.  Even plus sizes!   Be sure to check out her shop here.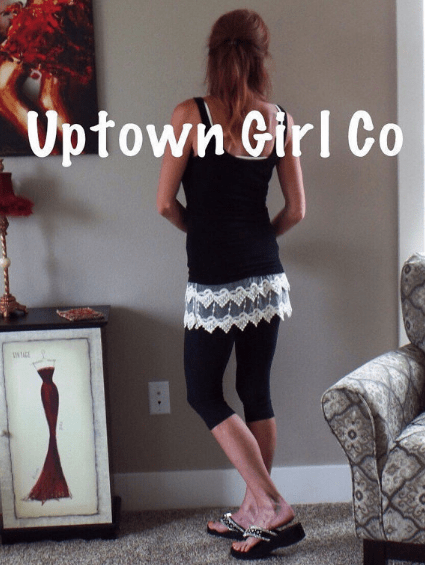 I am in LOVE with these shirt extenders!  They are perfect to add to any shirt that is not long enough for leggings.  I won't wear leggings unless I have a shirt long enough to cover my backside.  I ended up buy two different styles as seen below in the photos from this shop on Etsy.  I definitely plan on ordering a few more.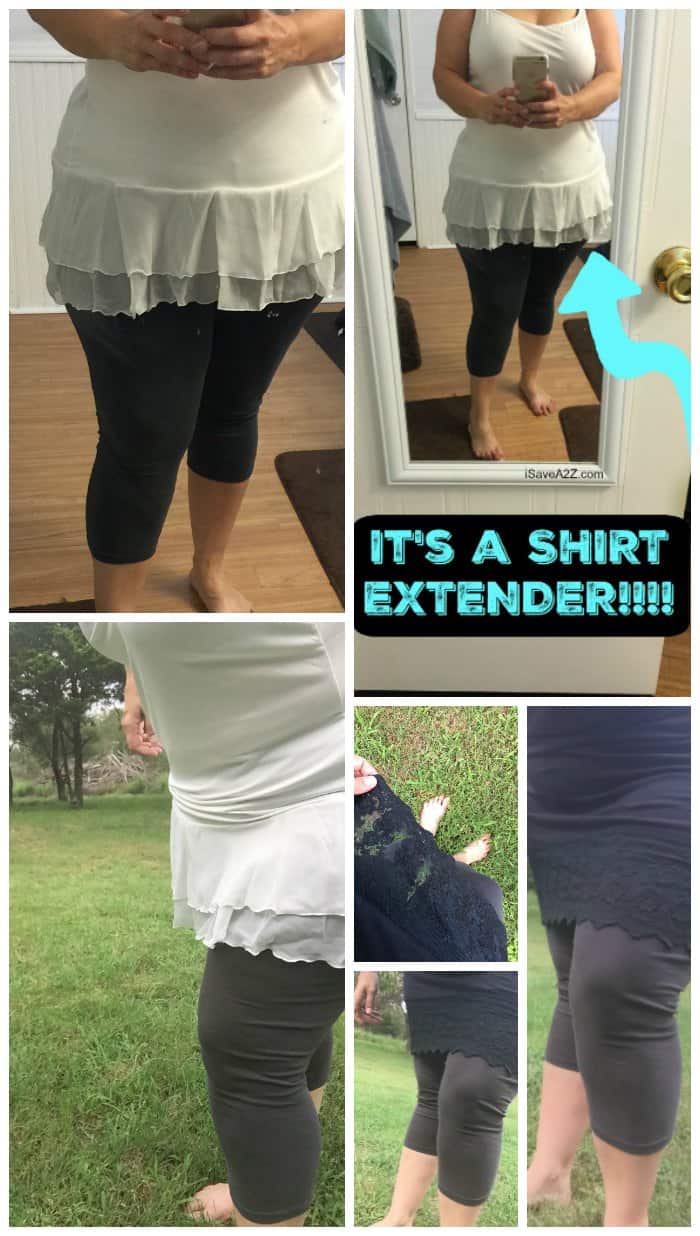 I have tried so many leggings here lately.  Most of you know that I am a police wife.  I couldn't find any legging designs I loved with a cause I wanted to support so I designed a few leggings of my own!
This was a long and expensive process but here they are!  You can find them over at the Thin Blue Line Warrior website!  These leggings are very durable with a soft and shiny feel to them!  I've wash and dried them and there was NO FADING!  (I accidently put them in the dryer but was happy to know it didn't change the size or print in any way)
The Thin Blue Line Heart leggings have cute little handcuffs in the design and the saying "Blessed are the Peacemakers" between each heart!  I think I love these the best!
The second pair in the photo below is a simple design with a strong message.  Blessed are the Peacemakers."
The third pair in the photo below is a thin blue line flag design.  This is the signature message that shows support for law enforcement everywhere!  You can read about the Thin Blue Line meaning here on Wikipedia.
If you are looking for a gift for a police mom, police daughter, police aunt, police sister, police grandma, police wife or even just a police supporter, these would make an excellent gift idea!  You might even want to share the Thin Blue Line Warrior website with your friends who have an interest!  I can nearly guarantee they will love it as much as I do!
Here's a snapshot of the shop: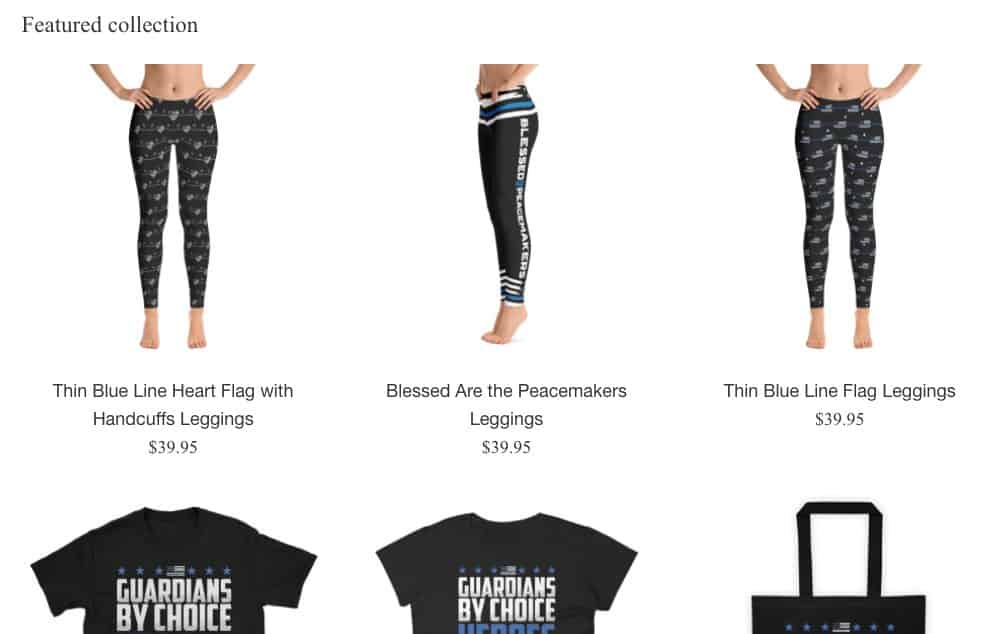 My next goal is to find some really cute Tunic tops to go with all of my leggings.  I'm not too fond of mixing different designs so most of the Lularoe tops are out.  They say you can wear another solid color layer to balance the designs but I live in Texas where it's typically very hot and I'm not about to wear more clothing than I need too either.
Update on Tunic Tops:  I've ordered a few of these tunic tops from Amazon and love them.  They are light and they flow nicely.  The cover the bottom nicely and they are extremely flattering to all body types!
Fabulegs Leggings Review
I wanted to jump on here and give you another update.  I've had multiple people tell me to try a few other brands of leggings.  I ended up ordering a pair of Fabulegs size TC with a print called hero in blue.  I love anything that supports our law enforcement officers.  Hello, proud police wifey here!  Ordering that print fit me to a tee!  What didn't fit me was the leggings.  They have the one size and the tall and curvy but they also carry and XL.
I'm going to try and be as nice as I can when I talk about these leggings.  The TC size of Fabulegs would probably best fit anyone who is a size 12 or under.  They do not fit me.  I wear the TC leggings in Lularoe and Viv collection perfectly but these…  nope.  I couldn't order the XL because that print was out of stock.
I did notice a few things that you should know if you plan to order them.  They are shorter but a noticeable different.  Or maybe they are so tight at the ankles that they ride up?  Either way, I did not like that.
I also noticed when the print was stretched out, it was noticeably stretched.  The print was distorted and it wasn't appealing.  These are just not the types of things my plus size butt wants to deal with.  I feel as though even if I had the correct size it would still be this way.
The last thing I noticed is the waist line was very short.  With the other brands I had lots of room to even wear them at a high waist but not these.  I really didn't like that.  They do have the comfort yoga band but it doesn't help if they don't go up far enough.  The yoga band might be a plus factor for someone else though.
I was just about to give these leggings away to another police wife when my daughter said she wanted them.  She tried them on and they fit her nicely!  She can wear those low rise pants and has a cute figure!
I am in LOVE with the print.  If Lularoe or ViV Collection ever comes out with a print to support any of our first responders I will be there best customer!  Seriously, love that print!