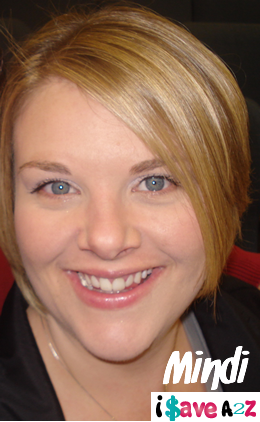 Hi! My name is Mindi. I love to coupon, get great deals on everything I buy, and help others do the same. I am married to my amazing husband, Jason, and we have two children that are the absolute loves of my life!! I have been "extreme" couponing for a few years and I am now privileged to be a contributor to iSave A2Z.
About a year ago, I decided I wanted some t-shirts that had funny coupon sayings on them like: I have a coupon for that!, Clip, Sort, Save!, or Savings Ninja! but could not find anything like that, anywhere. After several months of really long nights after my kids were in bed, learning things that I thought were way beyond me, and the total support of my family…..my website, So Cute Couponing was launched. People always ask me if I post all of my deals on So Cute Couponing, but I don't. My website is really cute and funny accessories for any person who loves coupons!
Now, as a contributor for iSave A2Z, I have an outlet to share my deals, crafts that I love, and ways to save everyone money. I hope you enjoy everything that we write about, and please come visit me at www.socutecouponing.com.