Costco Membership Deal! Plus Free $20 Costco Cash Card & Coupons!!!

Costco Membership Deal
Grab a Costco Membership Deal right now on LivingSocial!  You can get a membership for only $55 (reg $105)!!  Plus when you sign up you will get FREE STUFF!!!!  Free stuff like a $20 Costco Cash Card & Coupons!!!  The deal on the membership alone is awesome but we get free stuff too!  That's a slammin' deal!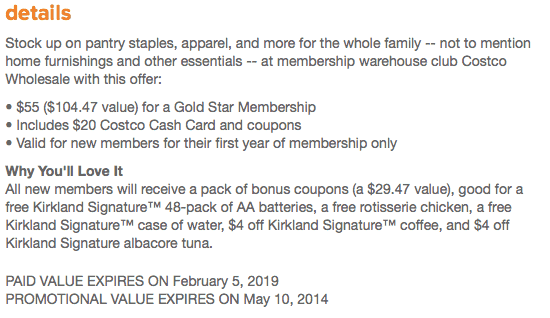 If you are already a Costco member (like me) then you will be happy to know you can use this deal to upgrade your current membership too!  Purchase two of the Gold Star or Business Memberships and exchange it for an Executive membership!  The Executive members earn 2% rewards on most purchases!!  I did this last year and within 3 months I already earned my membership sign up fee back in rewards!  Yay me!  FREE MEMBERSHIP!!!
There are plenty of offers that Costco has throughout the year too!  Just a couple months ago I scored a really good deal on iFly Tickets here in Austin, Texas.  I was able to get double the fly time for the same price as the regular fly time plus a discount coupon and a video!  I scored big on that deal!!!  That's just one of many deals I get though!
Head over here and take full advantage of this LivingSocial offer for a discounted Costco membership!  You will be so happy you did!
If you are new to Costco be sure to check out my post here on How to Spot a Bargain at Costco.  This post will teach you how to read the sales tags to tell when a product is discounted, put on sale or discontinued and not to be reordered!  You will never look at Costco sale tags the same again.  When I go into Costco all I see are the sales!