Cracked Heel Remedy – For Super Soft Feet!

Cracked Heel Remedy
I just tried an amazing cracked heel remedy you can do at home for a fraction of the cost of a pedicure!  I am always trying to find to save money on beauty tips and tricks.  Just like our Mary Kay's Satin Hands Copycat recipe here.  Now I'm not saying not to ever get a mani or pedi but those are a treat for me.  My budget just doesn't allow for me to go all the time.
I am so excited to tell you that I have actually tried something that really works!  It really, really WORKS!
You will need about 35 minutes to sit and soak your feet.  The kids cannot disrupt this process!  (teehee)  And…  I usually do this at night so my feet can stay in socks overnight to seal in the moisture.  I've been using these Visco-GEL Heel-So-Smooth Heel Sleeves
and they work very nicely.
This is the only cracked heel remedy I've ever tried at home that really works with very little effort.  I'm amazed at how the hydrogen peroxide just melts away the dead tissue.  It's amazing!
I will also mention that it's NOT easy taking photos of your own heels.  Here's a great before and after photo: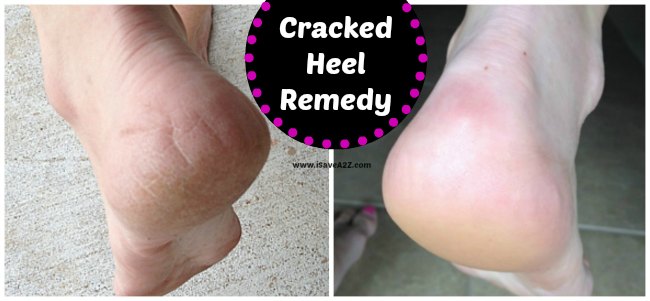 Here's what you need:
2 cups Hydrogen Peroxide
2 cups of hot water (as hot as you can take it)
Foot file or pumice stone (this Foot File I found on Amazon is my favorite)
Lotion (or favorite is O'Keefe's as seen here)
Socks
Here's what you do:
Combine 2 cups of hydrogen peroxide and 2 cups of hot water in a foot soak.  Sit for a full 30 minutes with your heels completely immersed in the solution.
Completely dry your feet and immediately use the foot file or pumas stone to removed the dead skin.  This is an easy process and only takes about a minute or two for each foot (depending on your condition).
Note:  The photos I took of my heels above were right after this process!  Immediately they are nice and smooth!
Finish by applying lotion to your foot. We use O'Keefe's Healthy Feet Creme because it's the best anywhere! It looks just like this found here on Amazon. If your hands are dry, you should try the O'Keefe's Working Hands Cream too.
UPDATE:  I found a much better foot file that works amazingly well.  The problem with the plastic foot files is that they bend when you push pressure when scrubbing.  I found this Foot File that doesn't bend at all!  I can apply any pressure I want and it will file when I want.  It's worth every penny!
Cover with socks overnight to seal in the moisture.
Voila!  You are ready for the summer and all the cute shoes too!  Wait!  Don't forget some cute Nail Designs for those polished tootsies!
Important Note: Be sure not to use Peroxide on open wounds. Hydrogen peroxide is caustic to new skin cells that are repairing any cracks that are hurting. Might not be a good idea if on fresh splits that are like cuts. Once those are healed then try this solution.
Speaking of sandals season, I just fixed my favorite pair of sandals with an amazing new product!  I have a pair of super cute sandals but they hurt like heck to wear.  The strap between the toes is super hard and very uncomfortable.  I found a product called sugru (soft forming rubber product – self setting rubber).  I put my sandal on and made a custom mold and now my favorite sandals are super comfy!!!  Neat idea right?!!!  Read more about Sugru and how I fixed my iPhone cord here!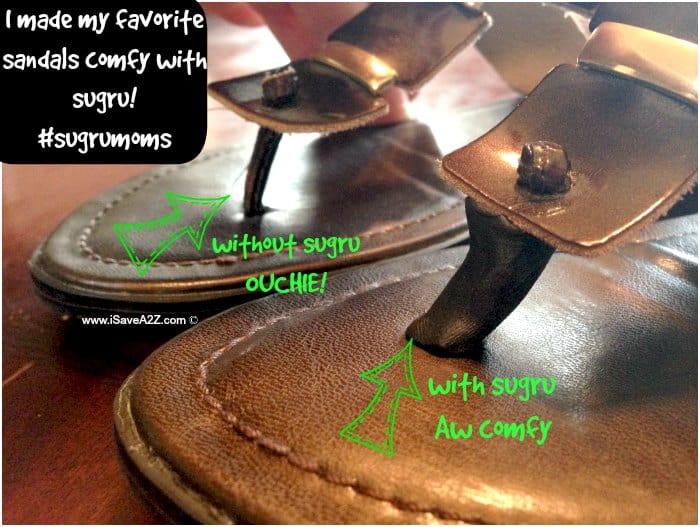 Have Fun!