I am part of the Mom It Forward Blogger Network and have been compensated by TRANSFORMERS for my participation in this campaign.  All opinions are my own.
Daddy Daughter Quality Time with Transformers
Today my 8 year old, Melanie was not feeling well.  Not really completely sick but just run down.  She had the sniffles and a cold.  All her friends wanted her to play outside but instead she just wanted to hang out with her Daddy.  One thing they both enjoy doing is building stuff.  My husband loved Transformers as a kid and my daughter loves it now!  They decided to build a Transformers Construct-Bots together on a Saturday afternoon.  Notice she is in her warm jammies too.  It was one of those terribly cold days.
They each had their own Transformers Construct-Bots kits.  Did you know the parts are interchangeable?!  They are!  They kept trading parts and competing on who's Transformer was best.  They also come with tons of armor and weapons too.  I think my husband got the biggest kick outta that part.  The creativity was definitely in full force!  My daughter loved how it could turn from a Transformer to a vehicle without even taking it apart.  I was totally laughing when they switched heads.  (See, all the parts are interchangeable!)
It completely melted my heart to see my daughter smiling and playing with her Daddy even though I knew deep down she wasn't feeling so well.  I finally stopped her after about an hour for a nice cup of chicken noodle soup.  I honestly think they could have played for hours.  I was secretly enjoying watching them play instead of them being alone on a video game.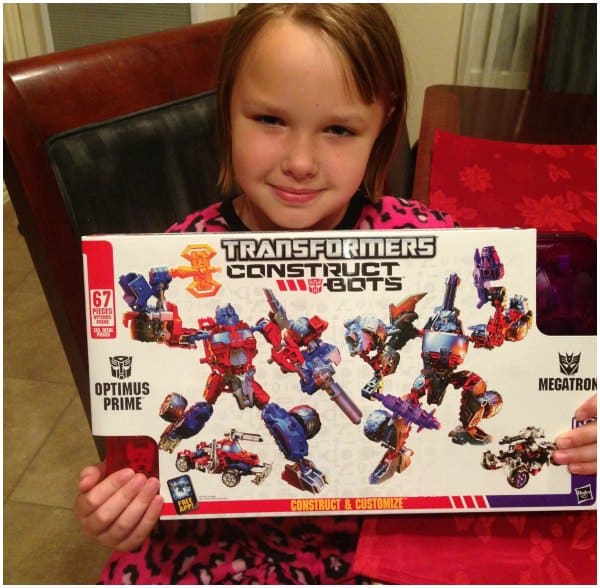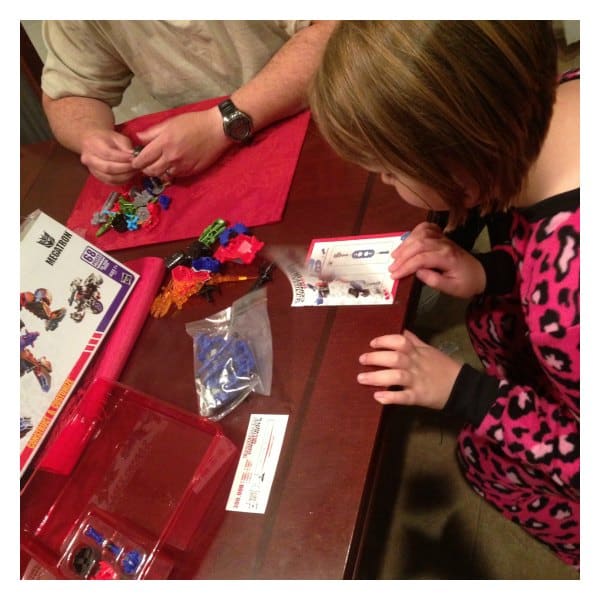 Just look at those eyes.  You can tell she is not feeling well.  I'm happy the smile is there!