DIY Easy Kids Apron
I am SO EXCITED to share the latest craft I did with my daughter (isn't she cute??). Let me say this, I do have a sewing machine……but I do not know how to use it 🙁 I can do the basic sewing part, but I don't know how to thread the bobbin. My mom gave me a newer sewing machine at least a year ago, and she says it's a fairly easy one to use. But it has been sitting in the same spot where I first put it ever since. That being said, I plan on learning how to set up and use that thing soon. Also, this project would have gone really quick if I had used a sewing machine. But to be honest, I really like the chunky thread, hand stitched look. Long story short….you DO NOT have to have a sewing machine to make this adorable DIY Easy Kids Apron!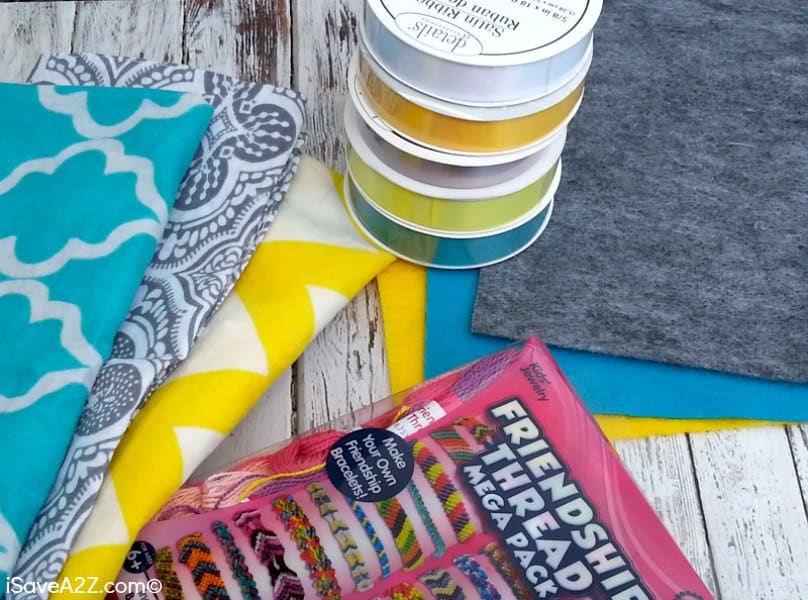 These are the supplies you will need to make the DIY Easy Kids Apron…and you won't believe how cheap it is!
1 bandana – I found these at Hobby Lobby for just $0.99. They have all sorts of cute designs and patterns to choose from.
1 felt square – This is optional, and I only used it to put the initial on the front. These are only $0.25 at Hobby Lobby!
ribbon for the ties – I found these at the Dollar Store and they had several colors.
thread – If using a sewing machine, just use whatever matches your fabric. I had this pack of Friendship Thread that I bought a long time ago. It has 56 packets of thread and was thicker, which I like. Especially because I was doing it by hand. I found THIS PACK of 105 for just $8.99 on Amazon.
Now, to make the apron! I totally eyeballed this part by holding the bandana up to my daughter to see how big to make it. I have since gone back and measured it to give you an idea. Lay the bandana front side down. At the top edge, find the center of the bandana and measure out 4 inches on each side. Fold the corners straight down from that point and pin it to look like this. You can iron it to make crisp edges…..but HELLO….you know I didn't do that 🙂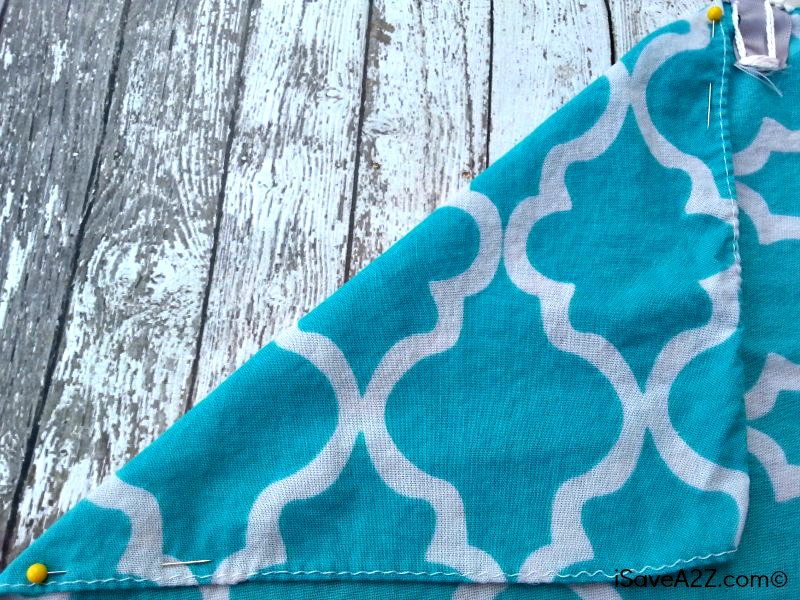 Sew or hand stitch along the outer edge and do 1 stitch where the corner is to hold it down. Be sure to tie off your ends on the backside well. Yes, there are two different aprons being shown here, but I finished one and then took pictures of another one that I started.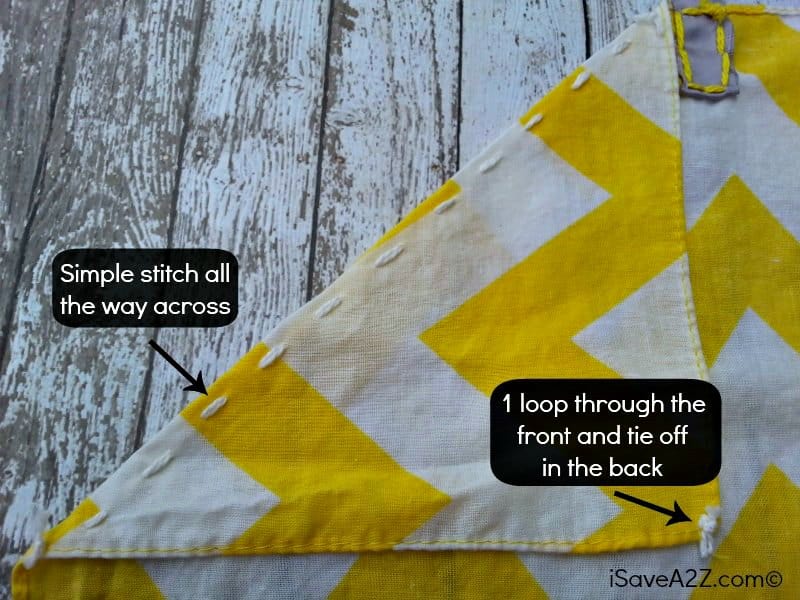 Next, you will attach your ribbon which will be the ties for the apron. I made these a little long so the apron can grow with my daughter. The ties at the top of the apron (to go around the neck) are 24 inches long. The ties on the side, to go around the waist, are 26 inches long. Place the top ties right next to where you folded the corners down. Just pin the ribbon (about an inch or so) on the backside of the bandana and stitch.  I did this box looking stitch just because I like it, but a simple one all the way around will work too.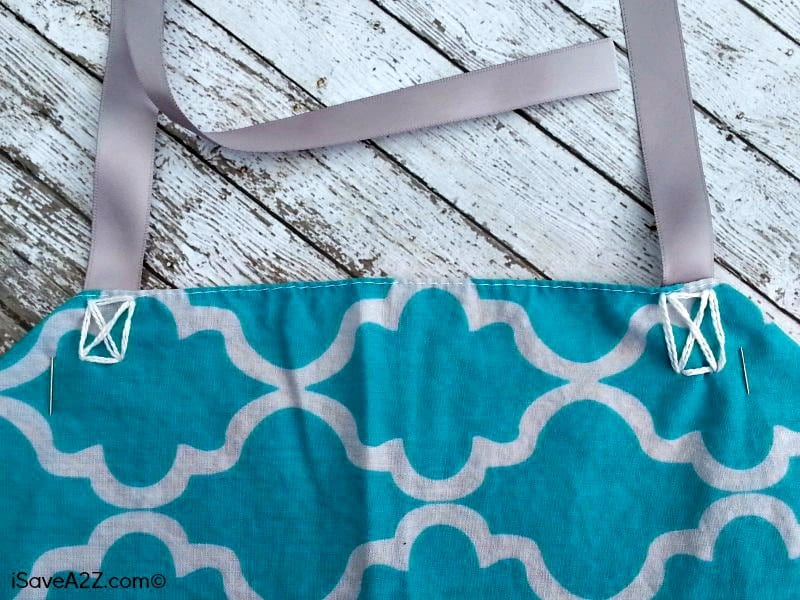 You can see on the teal colored apron, I did things a little backwards. But it still worked, so that's okay! After I did the ties to go around the back, I felt they were placed to low. Again, I just eye balled it. But a good measurement is to start your ribbon about 3 inches down from the folded corner. So the ribbon will be in between 3 and 4 inches from the fold.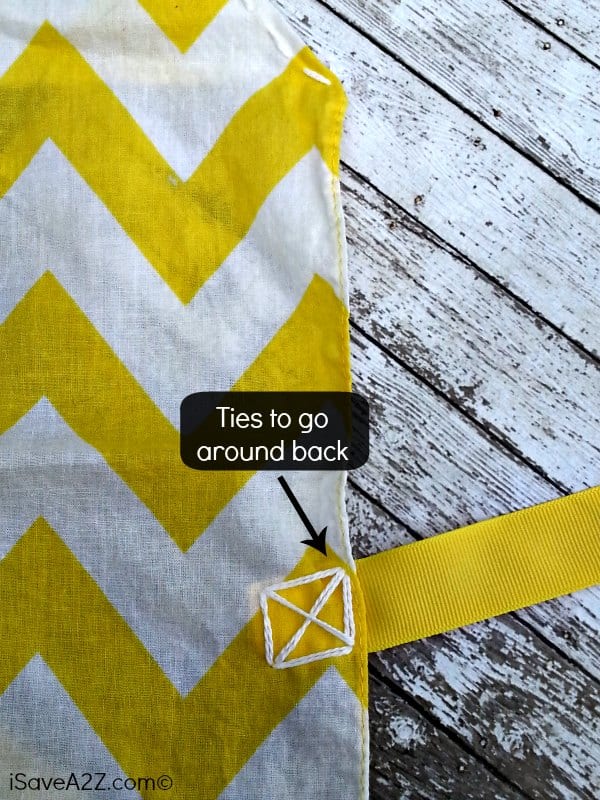 This is what the ties look like from the back when your child has the apron on. Notice the extra length for it to grow with her? I would also heat the ends of the ribbon with a lighter to seal it. If you've never done this before, run the end of the ribbon quickly through the flame to seal it.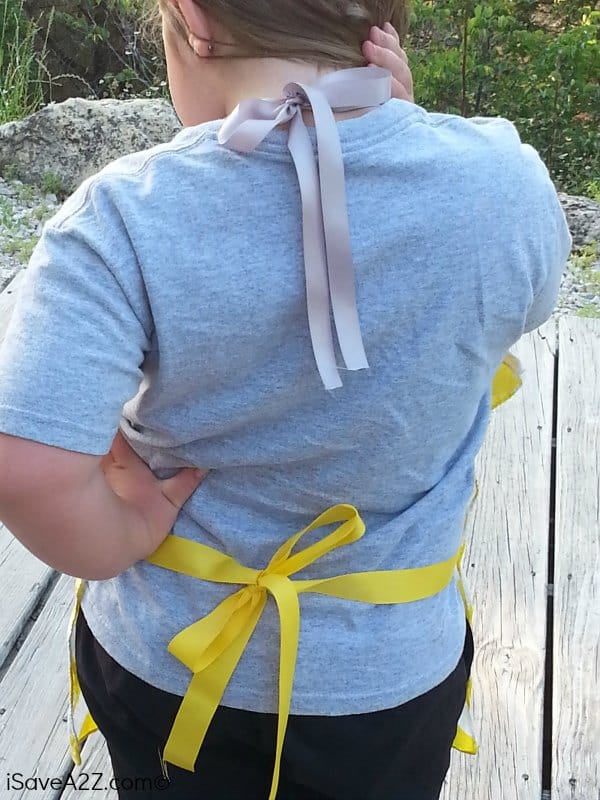 Just for a little added touch I cut out my daughter's first initial from one of the felt squares and sewed it on with a coordinating thread. I did a little research on these felt squares too and they SHOULD hold up and not shrink when washed. I have yet to test that out, but I have my fingers crossed.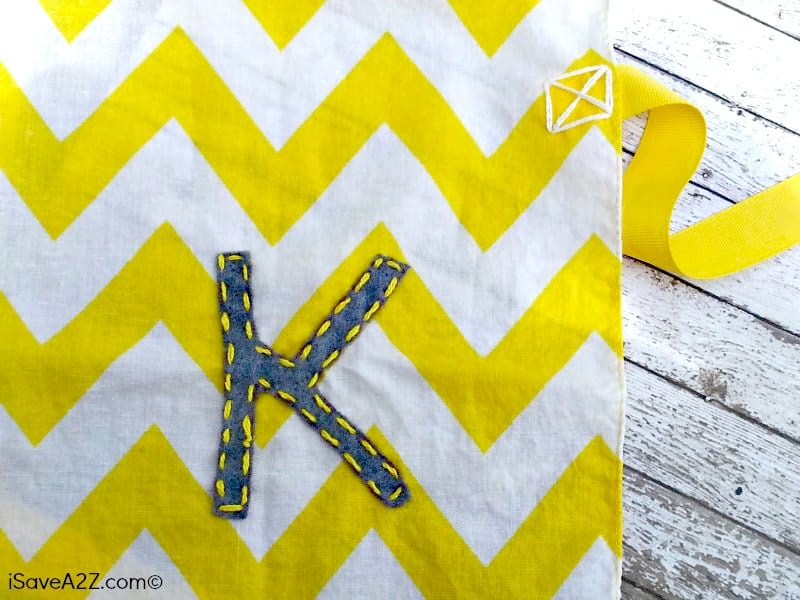 Voila!! You have made your very own DIY Easy Kids Apron! Even hand stitching this apron went pretty quickly so YOU CAN do this without a sewing machine! Did you notice how sweet my daughter looks in her first picture?? Well, this is her sassy look. This definitely describes her better 🙂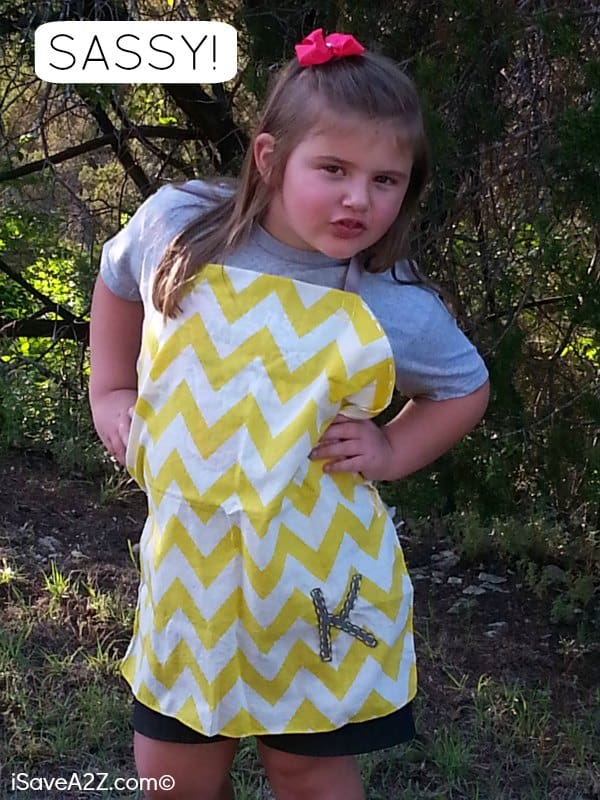 Enjoy!