DIY Wedding Ideas
The cost of a wedding can quickly spiral out of control, so check out all of these amazing DIY Wedding Ideas to keep it under control! There are so many different ways to put your personal touch on your wedding and not break the bank!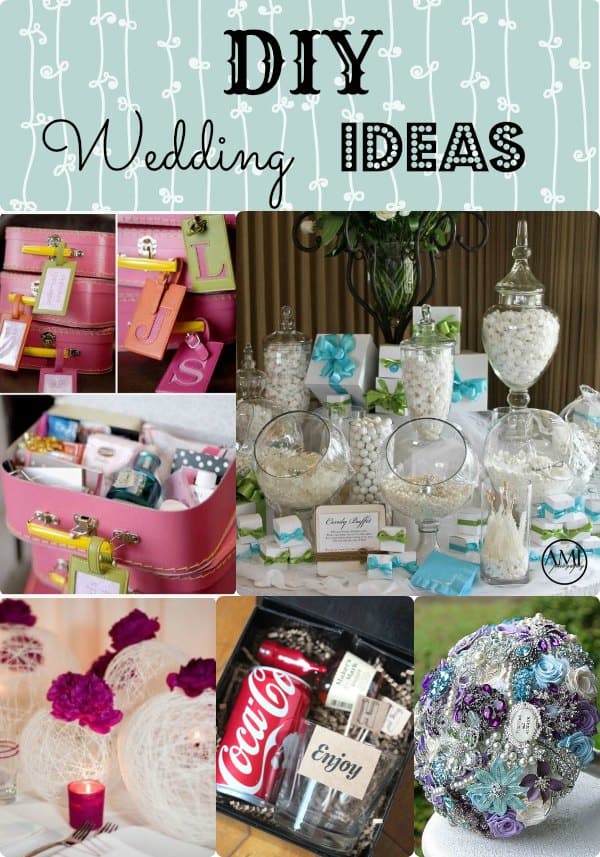 Bridal Party Gifts: This is a big one because gifts for your bridal party can be anything that you want. OMG look at these adorable bridesmaid survival kits I found on Pinterest. It has everything you might need; tissues, lip gloss, perfume and lots more! You can make these to fit into a small make up bag or clutch and even a large canvas bag.
And for the groomsmen…check out this idea for a survival kit! You can buy a set of glasses, some of the miniature soda cans and a miniature bottle of your preferred liquor. You can mix and match for whatever flavor combination you or your groomsmen like!
Photo credit from Ruffled
Favors: This is another easy way to cut costs on your special day. You don't have to have a favor for every single guest because most people may not even take it with them. An easy way to make sure you don't over do it is with a candy buffet. Not only are these beautiful to look at, but each of your guests can take exactly what they want. AND….you can customize it to go with whatever your colors are! Here is an example from Pinterest.
Bouquets: I know it probably sounds scary to try and do your own bouquet, but check this out. Not only do you have to get one for yourself, but your bridesmaids all carry one and then you have one to toss to the single ladies. That's a lot of flowers! You could always have your main bouquet ordered and make the rest. It really can be as easy as picking out flowers that you like and wrapping a beautiful ribbon around the stems. Keep them in a vase of water to keep them fresh. OR, check out this bouquet from Etsy that doesn't even use flowers!
Decorations: Chairs, tables, entryways…everything has to be decorated for the wedding and that adds up quick. If you can take on some of this yourself it will add up to substantial savings. Doing simple ties on a chair and making your own lanterns, hanging pom poms and centerpieces can also add a personal touch. Look at this beautiful table! Would you believe this was made from yarn, glue and a balloon?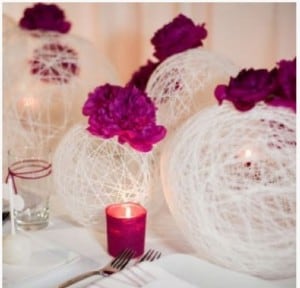 Photo credit from weddbook
Also, be sure to check out more Wedding on a Budget Tips & Ideas from our previous post: Wedding on a Budget: My Big Fat Amazon Wedding.