DIY Minecraft Tissue Box Cover #KleenexTarget #pmedia
"This shop is part of a social shopper marketing insight campaign with Pollinate Media Group™ and Kleenex but all my opinions are my own. #pmedia #KleenexTarget  http://cmp.ly/3/8vNxcO"
DIY Minecraft Tissue Box Cover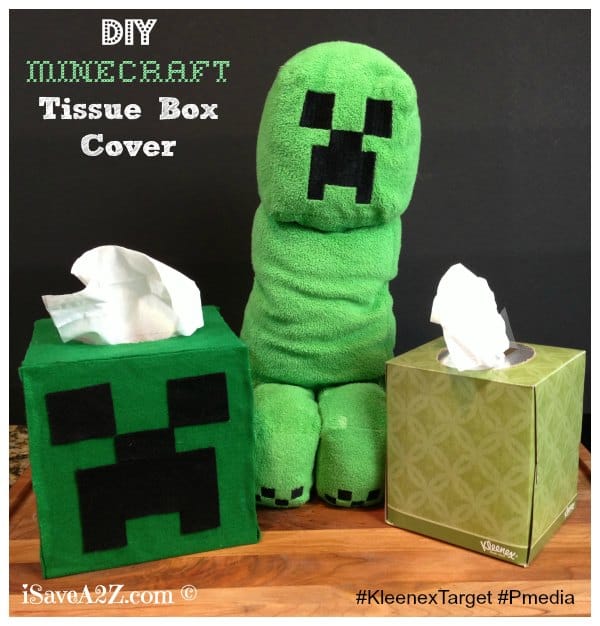 My daughter loves Minecraft so it only seems fitting to make her a special DIY Minecraft Tissue Box Cover!  We've done a few Minecraft projects in the past, like our DIY Minecraft tshirt using freezer paper and our super cute and yummy Minecraft Sugar cookies too.  We love Minecraft!
This idea came about because my daughter got a cold and just wanted something to make her feel better.  I headed to Target to grab a box of Kleenex (because that's our go to brand when we get a cold or the flu) and some cough syrup.   The strong cough syrup that would hopefully let her sleep through the night.  As I stood looking the all the different boxes of Kleenex tissues I had an idea!  The one thing that always makes my daughter feel better is Minecraft.  I saw a big pack of almost square Kleenex boxes and immediately thought I could make lots of Minecraft blocks with them.  Not only that but I had a $1.00 off coupon too!  Wahoo!  Savings!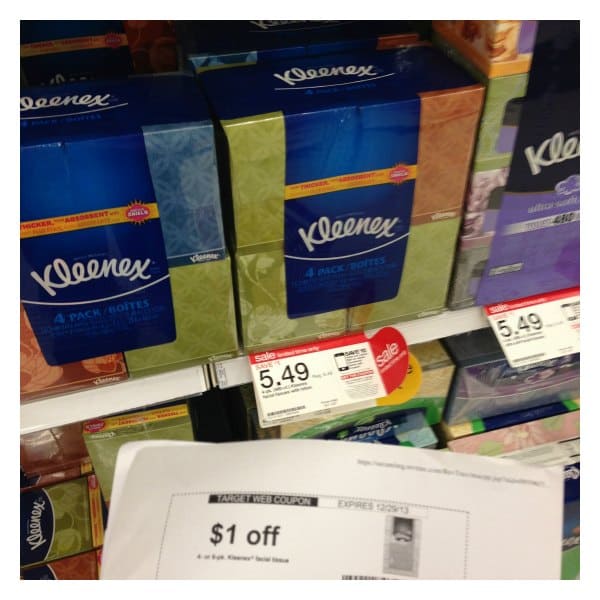 Her favorite character is the Minecraft creeper so I had to start off with making that one first.  I knew she would be hugging that Kleenex box all night so I thought I would dress it up with her favorite character!  At first thought I was just going to draw on the box but after a second I imagined that box empty and I also imagined her not letting me get rid of it.  I decided to make a DIY Minecraft Tissue box cover that she could keep forever or at least until this Minecraft Fad moves on.
Here's what I made.  I started off with my box of Kleenex, 3 sheets of green fabric felt and 1 sheet of black.  I needed a glue gun with glue sticks, scissors and a nifty box that I found at my local craft store.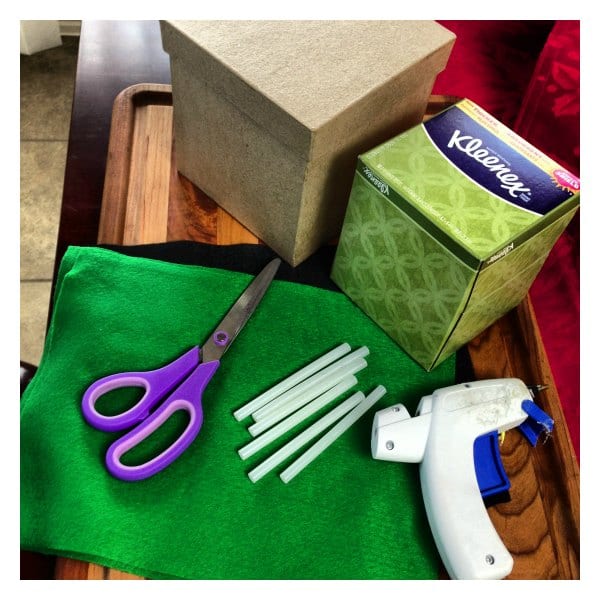 I used a utility knife and cut out the top portion of the box.  I used the tab that I pulled off of my Kleenex box as the template for my hole.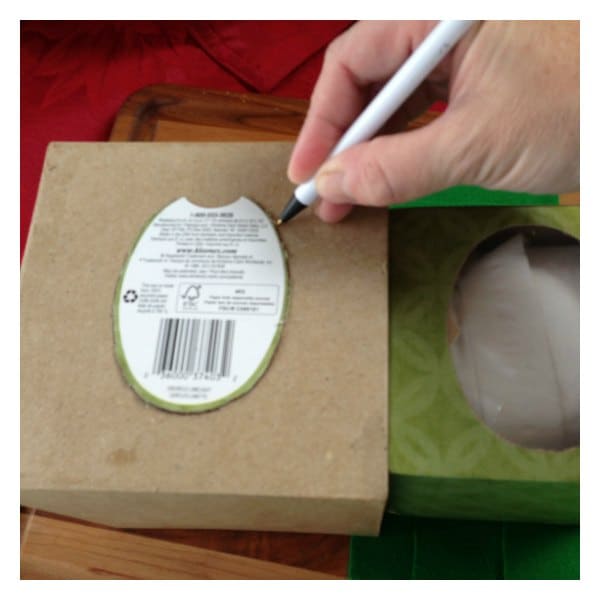 Next I used the same template to cut a hole in the first piece of green felt.
I ended up cutting off the excess felt after I hot glued that top piece in place.  I left a tiny part over hang just because I didn't want any of the box to show through.  Next I cut the last two pieces of felt in the exact width of the box allowing for extra on the edges.  I cut the Minecraft Creeper face out of the black piece of felt.
The last part was to hot glue the pieces on the box and cut off the overhanging felt pieces.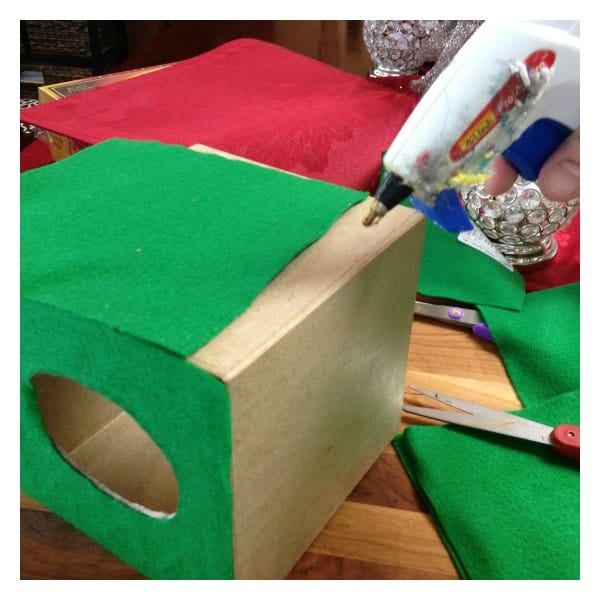 The glue dries fast so I made sure to work a little bit of felt at a time.  You don't want to glue the whole side of the box and then lay the fabric because it will dry too fast and part of it won't stick.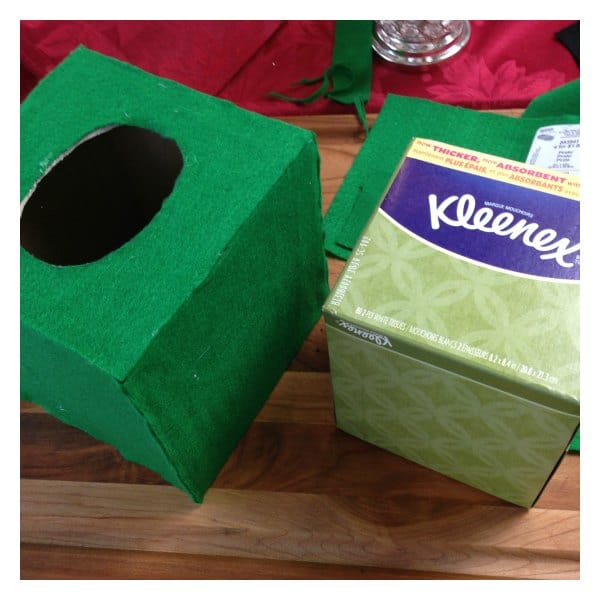 Now it's time to add the black part of the Minecraft Creeper face.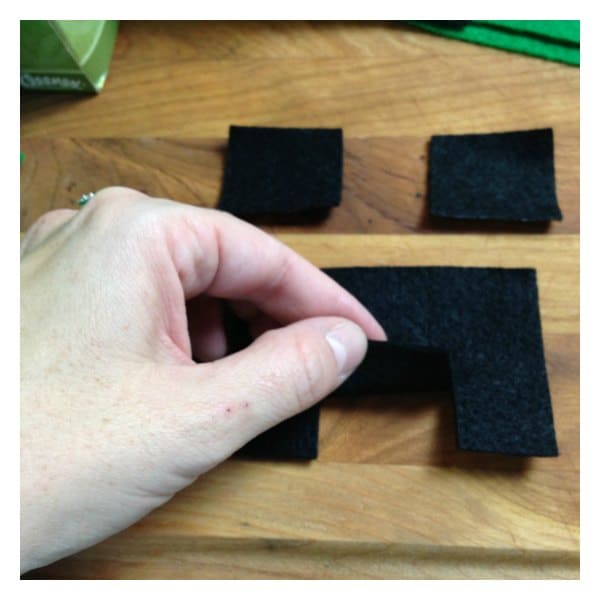 And finally it looks complete to me!  This whole process only took a little less than 30 minutes.  It was basically just cut and glue.  Super simple.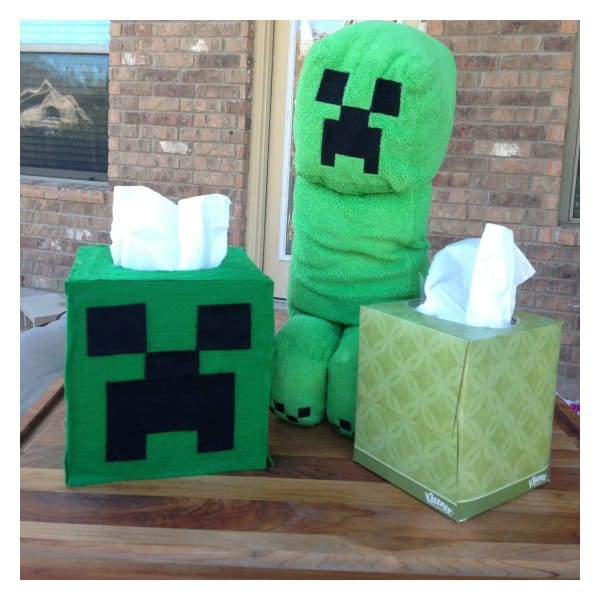 Now after all that work my daughter swears this DIY Minecraft Tissue box cover made her feel better but I know better.  I know that the cold medicine has kicked in and her nose was kept soft from the Kleenex tissues too.  But it was nice to see her smile even when she was fighting a nasty cold.  Poor baby.
She is now trying convince me that she now needs a Minecraft TNT Tissue box cover and a Minecraft Enderman character tissue box cover too.  She saw the other 3 boxes of tissue I bought from that four pack and insisted those were next!  Oh boy…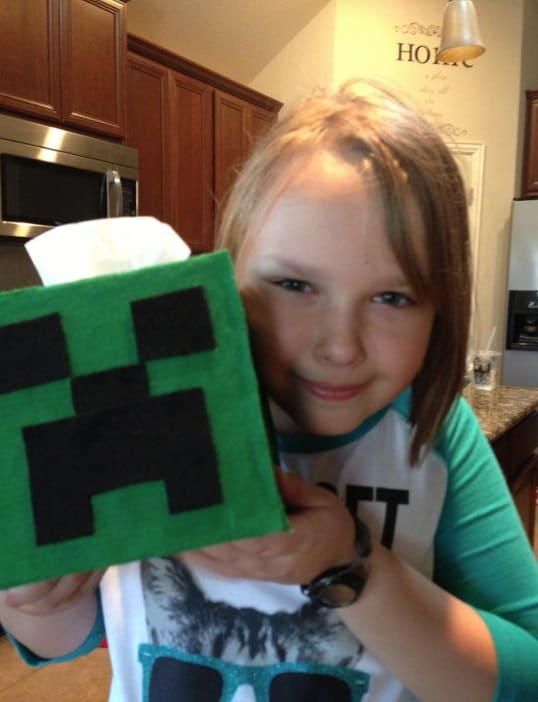 Things to note:  Be sure to grab the $1 off Kleenex 4 packs or larger coupon to shop at Target and be ready when a cold or the flu hits your house.  You can print two coupons per IP address.  Just hit the back button to print another coupon.  Save some cash!