Dollar General Black Friday 2013 Deals
Facts about Black Friday 2013:
Black Friday is the busiest shopping day of the year.
Black Friday is always the day after Thanksgiving.
Black Friday falls on Friday, November 29th, 2013 this year.
Black Friday is known to have the best deals on Toys, Electronics, Clothing, DVD's and so much more!
Here are Top 10 Tips to Survive Black Friday 2013!
Thursday November 28 — Thanksgiving Day one-day sale
Dollar General will be open on Thanksgiving Day from 7AM – 7PM. These are one-day only deals.
50% off all trees and ornaments (available in most stores).
50% off 100-ct clear or multi-color Christmas lights.
26″ stuffed animal Curly Bear, $4.00.
Pac-Man Connect & Play video game with 12 classic games, $15.00.
Craig 7″ portable DVD player with remote, $35.00.
Craig 32″ stereo sound bar system, $25.00.
SEGA Genesis ultimate portable game player, $25.00.
iSound iGlow dancing light speaker, $32.00.
Atari Flashback 4 game console, $28.00.
Toastmaster single serve brewer, $48.00.
Maxwell House 12 ct K-Cups, BOGO at $7.25. Print $1.00/1 Maxwell House cups.
Campbell's Chunky Soup or Ragu, $1.00. Print $.50/2 Campbell's. $1.00/4 Campbell's in the 10/6 SS.
Assorted single serve candy bars, 2/$1.00.
Print $.50/2 Twix.
Pringles Super Stack, $1.00.
Pepsi, Mountain Dew, Sunkist, Canada Dry, 7-Up, A&W 2-liters, $.85.
LG Optimus Zone (Verizon), $25.00. Available in most stores.
Huawel Inspira H867G, $25.00 (Net10). Available in most stores.
Thursday-Saturday three-day sale deals — all while supplies last
All toys excluding electronics and as seen on TV, buy one get one 75% off. Cannot be combined with any other offer.
Dial, Tone, Caress, Dove, Axe, or Suave holiday gift sets, $8.00. Print $2.00/1 Axe gift set here.
Dial white bar soap 8 ct, $3.00. Use $2.00/2 in the 11/10 RP or $1.00/1 in the Nov. AY.
Fleece throw, $2.50.
18 pack washcloths, $3.50.
50% off select Christmas hanging decor.
Assorted appliances reg. $20-$30, $15.00.
Christmas tumbler or Coca-Cola travel mug, $2.50.
Sarah Peyton 3 LED candle or tumbling fountain, $5.00.
Armor All or Bell & Howell gift sets, BOGO at $10.00.
GE soft white longer life 4 ct bulbs, BOGO at $1.95.
Nestle multipack ice cream novelties, $3.50. Doesn't say size.
10 pack Capri Sun juice drinks, $1.50.
4lb Clover Valley Sugar, $1.75.
12″ Tombstone pizza, $3.50. Use $1.00/3 in the 10/13 SS (exp. 11/30).
TracFone, $20.
Brawny 6 roll paper towels, $4.75. Print $.55/1 here.
Glade Plugins scented oil refill with free warmer or premium spray, $1.95. Use $1.00/2 refills in the 11/3 SS or $1.50/2 Glade Winter Collection products in the 11/3 SS.
Pedigree 3.5 lb dog food, BOGO.
3lb Whiskas meaty selections, BOGO.
Previously viewed DVDs, BOGO at $1.95.
Energizer Max AA or AAA four pack, $2.00. "See in-store display for additional savings." $.50/1 in the 10/27 SS.
Sega Genesis wireless classic game console, $28.
Polaroid stereo ear buds, BOGO at $5.00.
Whiskas Temptations cat treats, BOGO at $1.75.
Dollar General Toy Book deals through 12/24
Prices in the Toy Book are good 10/14-12/24. Spend $75 on toys in a single transaction save 25%, excludes electronics, DVDs, MP3, as seen on TV, cannot be combined with other offers. Here are a few highlights.
Mini Lalaloopsy, $8.00.
Small Disney Plush, $5.00.
Doc McStuffins Boo Boos or Big Book of Boo Boos, $5.00.
Jake & the Neverland Pirates or Minnie table & chair set, $30.00.
Licensed activity trays, $8.00.
Hot Wheels Ready To Play Turbo Abduction or Super Spin car wash, $10.00.
In-ad coupon 12/8-12/21: Buy one Hot Wheels car for $1.25, get one for a penny.
Ninja Warrior play set, $3.00.
18 piece battery operated classic train set, $5.00.
Musical learning caterpillar, $10.00.
Mega Bloks 40 pc maxi bag, $10.00.
48 piece big block set, $10.00.
15 piece shaper sorter, $5.00.
Thomas & Friends take n' play Sodor Lumber Mill, $16.00.
Barbie Shoe crazy jewelry activity set, $5.00.
Monster High travel purse, activity set, dress up set, or scrapbook kit, $5.00.
Ghastly Girlfriends doll, $3.00.
Lil' Abby and Emma dolls, $5.00.
Brittany fashion doll, $2.00.
Princess story dolls 2 pack, $5.00.
Castle play set, $12.00.
Play food & skillet set, $4.00.
Licensed tea party set, $10.
Princess tea set or cupcake play food set, $5.00.
My nursery set, $12.00.
Dr. kit or doll stroller, $8.00.
Metal toy cookware set, $10.
My first Cookin' Kitchen (this is small!) $20.00.
Kidz vacuum set, $10.
My Very Own self checkout set, $20.00.
Make It Girl! kits, $5.00.
Various Lisa Frank sets, $5.00.
Make It Girl! funky hair chalk set, $5.00.
Various artish school supplies, $.34-$1.00.
Licensed art sets, $5.00.
22 piece play food basket, $5.00.
WWE mask, $10.00.
Licensed walkie talkies, $10.00.
Ton of $1.00 stocking stuffers.
3D puzzle sets, $5.00.
Assorted Opoly board games, $10.00.
Tummy Stuffers, seat pets, flashlight friends, doodle dome, $20.
Craig color changing tower speaker, $40.
Girls' Disney dress-up set, $10.
6 foot pre-lit trees from $20-$30.
Select ornaments, $1.00 each.
Tree skirts, $5.00.
Stockings, $1.00.
15″ Pointsettias, $5.00.
Assorted boxed gifts, $5.00.
Holiday kitchen towels, oven mitts, pot holders, $1.00.
Christmas print rug, $5.00.
Holiday door mat, $6.00.

In-ad coupon for Energizer batteries. Store coupon, so stack with $.50/1 in the 10/27 SS. Look for four-pack packages with peelie codes for $4.00 PayPal cash. (Make sure no one already took the peelies before buying!)
See all the Black Friday 2013 Deals here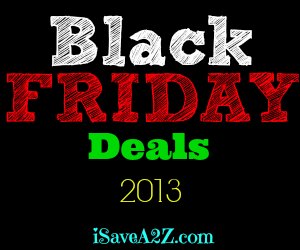 Thanks Mash Up Mom for the deal round up!