This post is sponsored by Mommerce but all opinions are 100% my own.

There are so many amazing gift ideas for Dad and it's hard to break it down and get the perfect gift!  Here's a round up of my favorite Father's Day Gift ideas that have proven to be popular with the guys!  I've also included promo codes to help you get the very best deals on these gift ideas for Dad!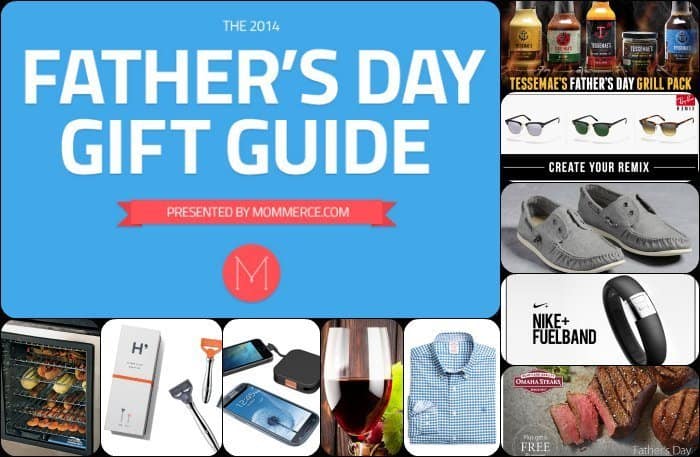 This is the perfect gift for the Tech Savvy Dads who love their iPhones, iPads, and more! You can purchase this online at Sam's Club, and the best part of buying it from them right now? They are offering FREE SHIPPING with this offer! I hope that no one minds if I actually buy this for myself! Hurry and get yours now before they are put on back order! If you want to keep up with other great products, then be sure to visit them on Facebook & Twitter! Perfect for the techie Dad!
I am TOTALLY in love with all of their products, especially their Wallets and Ties! Brooks Brothers is having an AMAZING sale on their Spring and Summer Collections! Right now you can Save 30% off PLUS you'll get free shipping on all orders of $200 or more!   This idea is perfect for that sharp looking Dad!
I love Tessamae's marinades, spreads, and dressings! I think that they are absolutely fantastic and fits all of my grilling needs. What's even better is that they are All Natural! However, I'm more in love with their Father's Day Grill Pack! It comes with the following: Honey Mustard, Ketchup, Hot Sauce, Teriyaki Sauce, and Roasted Garlic Spread. This already gives me tons of ideas on what to make on the grill. Anyone else thinking Skirt Steak? Yum! This pack normally goes for $31, BUT they released an amazing coupon code to take $5.99 off your order!! Hello Savings! Enter coupon code: TESSEGRILL
John Varvatos has some of the coolest and trendiest gifts that dad will definitely love! Right now, you can save up to 40% off their Spring Collection! But honestly, I most want those Washed Linen Boat Shoes in EVERY color! They just look they are the single most comfortable shoes out there, especially with not having to worry about laces. I love a relaxed and casual look, and this is definitely tops for a Father's Day Gift idea!
Okay, Yes I want this badly! What man doesn't want a smoker? Imagine the endless possibilities of carnal creations that can be made. I'm already drooling! Cabela's is making life a little more affordable by offering Free Shipping on orders of $99 or more with a great coupon code that is good until June 15th: 4DADSDAY This coupon code will definitely help with those pocket strings.
My husband is outside most of the day and sunglasses are extremely important to him.  You can make your own! EEEK!!  If Dad loves sunglasses, these may just be the perfect gift idea! Right now, they are offering FREE SHIPPING & FREE RETURNS on all orders! I like that a lot! Anyone that offers me free shipping….I'm kind of a sucker.
This is pretty much the most amazing Father's Day gift to give! End of story. This is most especially great for those who are Dads with a younger son (or sons). I think it creates an amazing little pact between Dad and son, and experience that Dad won't forget anytime soon. Right now, this shave pack is only $25 AND Harry's is giving FREE SHIPPING on all orders of $10 or more! Cute idea right?!!  I thought so.
This absolutely the perfect gift for the active Dad or Fitness guru! Besides Nike+ Fuel Band is extremely popular right now.  Whether it's jogging on a treadmill or the open road. Right now they are offering FREE SHIPPING on all orders! Just in time for Father's Day! I like that's pretty stylish, which is just as important!
Dad is sure gonna love this gift! Right now Omaha Steaks is offering Steak pack starting at $59 + 6 Free Burgers + Free Shipping on select combos! With all of these amazing discounts and all of their other deals, how can you wrong? This is perfect with the grilling season upon us!  Grill Dad a steak for Father's Day!
Who can say no to wine? I know that I can't! To me, wine is like water…an essential part of winding down and very much needed. Right now, Wine.com is offering up to 37% off 90+ point rated wines (all under $20)! Now how can you beat a deal like that? You can also save an additional $10 of your purchase of $75 or more off your first order with Coupon Code: JUNENEW Wanna make Dad super Happy? Get him a Stewardship Membership! It's $49 for the year of UNLIMITED FREE SHIPPING ALL YEAR LONG!  Yes, please!
So there's the round up of some of my favorite Father's Day Gift ideas to help make Dad's day extra special!