Financial Tools to Help You with your Goals
This article has been sponsored by MassMutual but all the love expressed in the article is 100% my own.

Financial Tools to Help You with your Goals
Did you know April is officially National Financial Literacy Month?  It is!  Let's talk about some financial tools to help you with your goals.   The absolute hardest part about getting started is having a plan and a few tools to get you to your goals.  You must have a plan.  It will be very beneficial to help you grow in this process.  For those that automatically think you don't need a plan, you are mistaken.  This doesn't mean you stick 100% to a plan, but rather know where you are going and to guide you along the way.
Here are a few ideas for planning to get you started:
Protect Who Matters Most
Plan for My Financial Future
Plan for Retirement
Care for a Loved One with Special Needs
Protect My Finances from the Unexpected
Plan for College
Plan for Longer Term Care
Manage Income in Retirement

There are so many tools out there to help you gain a better understanding of what exactly you need to reach your goal.  My husband and I are in the middle of planning for our retirement.  We thought we had it all figured out but quickly learned that just by choosing on a piece of paper the plan we wanted, it just wasn't enough.  It can be a bit overwhelming as we try and understand all of the choices we have.  Thank goodness there are professionals that can really help explain it, but better yet, project the future outcome of our plans.  Retirement is huge and I don't want to do it wrong for a long time.  I want the best way to plan from the beginning.  Even though we are all super busy, it's well worth it to take some time and figure this out the right way.  Don't you agree?
As most of my long time readers know, my husband is in law enforcement.   Life insurance is very important for our family.   We are constantly updating our wills when anything in life changes.  Another thing we have to think about is disability income insurance.  We didn't think of this in the beginning.  We thought we didn't need it.  My husband has already been put in the hospital 3 times in his career.  All of these times left him out of work for months.  His department covers his normal pay but not all the extra income he normally makes (which can really add up).  We have learned a great deal about insurance lately too, unfortunately.  I can proudly say we finally got it right by working with a professional to completely understand our policy and any riders we need for additional coverage.  We've paid for mistakes in the past by not fully understanding our policies until something happens.
Did you know Massachusetts Mutual Life Insurance Company has tons of online tools to help you with your goals?  They are helping you take small steps to better understand your finances so you can secure your financial future and protect those who matter most to you and your specific needs.  I calculated my "Protect Who Matters Most" evaluations in under 5 minutes online!  They rate you can do this between 2 and 5 minutes.
Head on over to MassMutual and check out all of the financial tools to help you with your goals they offer.  (Click the "Goals" tab at the top of the page.  You will be amazed!  I bet you find some thought provoking things that you didn't even think of.  It's totally worth the time for your own financial future.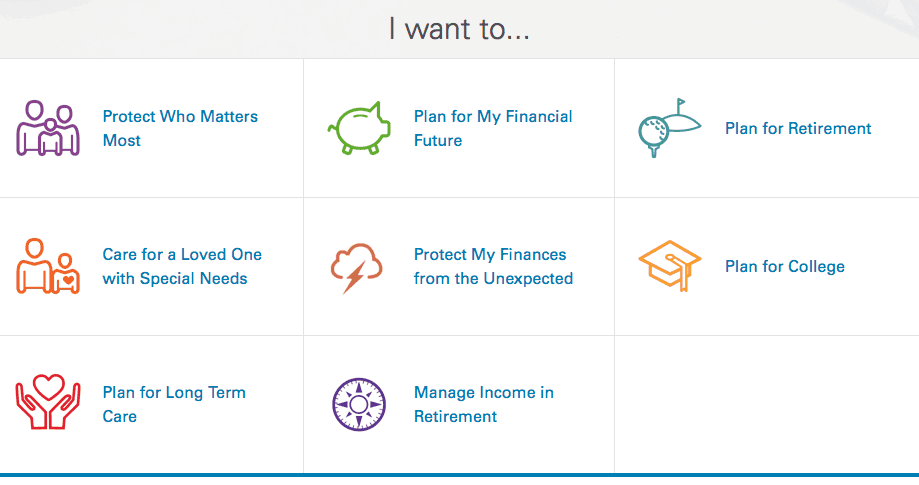 6 Tips for Increasing Your Financial Literacy
Sometimes taking small steps with your finances can make the biggest difference. Here are six tips to help you increase your financial smarts and reach your short- and long-term goals.
Identify your financial goals.
The first step in understanding your finances is to identify your goals. Once you have an understanding of your goals, you'll be able to take the next steps to achieving them.
Get organized.
Diving into your finances can feel overwhelming and stressful, especially if you don't have a good sense of your current spending. Create a simple budget. This will help identify risks and opportunities that you can address in the future, and can be the beginning of your financial strategy.
Use tools to help you project your savings needs.
Whether it's calculating how much you need to save for your child's college tuition or planning for your retirement, look for calculators online to help you. Many tools ask you to enter basic information to help you determine what you need to save and simple steps to starting a savings plan. Sometimes a little advice can be a big help too; you can always start by reading up on saving for college or retirement planning and then move on to online calculators.
Consider your most valuable asset and how it affects your future.
Your home? Your business? Your ability to work? What is your most valuable asset? Have you considered your income and how it affects your well-being? Exploring disability insurance can go a long way to ensure your family is protected if you were too sick or injured to work. Watch this video to help get you started, or try out an income gap calculator to see how a disability might affect you and your family.
Teach your kids early.
Start early!   You will be surprised at how fun this can be and how much kids really enjoy this process.  Start with a simple savings account.
Find the right people to help you.
When it comes to your finances, you need a strong team to assist you with important information and decisions. Working with a financial professional will help keep you on track and informed. It can take a minute to set up an introductory meeting, but the knowledge and guidance can go a long way to helping secure your financial future.
This is a sponsored post written by me on behalf of MassMutual.