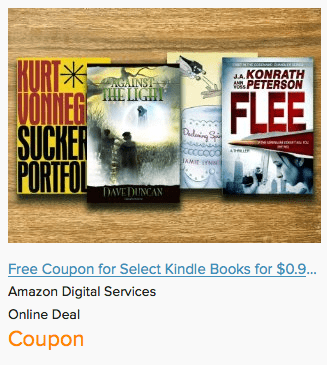 Hurry over and grab a free Amazon Local coupon that will get your a select group of Kindle Books for 99¢ each!
You can get up to 25 books at 99¢ each with only one coupon!
Grab this coupon now and it will not expire until February 8, 2014!
Here's how to get this free coupon:
Head over here to Amazon Local.
Click National Deals (but be sure to look at all of your local deals too. I've scored some pretty good diners at amazingly low prices too)
Click all deals to see the above image and grab the coupon.
Grab the coupon now and you can use it when you have more time to shop for the books you want later. I've seen these coupons come and go. They only release a limited amount of these coupons.
Be sure to check the Amazon Local page every so often because I've scored many free Amazon MP3 and Video credits! Love those!