Hard Watermelon Lemonade made with #Veev #VitaFrute
Disclosure:  I received a bottle of VitaFrute by Veev to review.  All opinions are 100% my own.
Hard Watermelon Lemonade made with #Veev #VitaFrute
Have you ever had such a hard day that you just need to sit on the back patio and veg out for a bit?  Take time away from the kiddos, the hubby, the pets, friends, everyone?  Our day was packed with moving boxes and hard labor.  We are in the middle of moving.  I'm sure you know the stress.  I need a time out.  I was hot, sweaty and thirsty but not just for a plain lemonade.  I immediately grabbed the Lemonade flavored VitaFrute cocktails and the ice cold watermelon that was already cut up in my fridge.  Awww….  Yes!  Relaxation at last!
I took one sip and thought "Whoa!  This stuff is strong!"  I really don't drink that much but this is a strong drink.  I guess I was surprised because I was thinking a pre-made cocktail in a bottle would be less potent for some reason.  Not the case here, either that or I am a total light weight.
I started sipping away and for a moment I imagine being at the beach with my toes in the sand and waves crashing in the background!  Yeah,  Veev will take you there.
The backdoor opens and I immediately here "Mom,  what are you doing back here?"  The waves crashed and my small amount of silence was over.   Back to reality and moving.
I was able to grab a shot of this delicious hard watermelon lemonade that I concocted.   Mmmmm….  doesn't it look delicious?!  The ice cold watermelon acted as my ice cubes.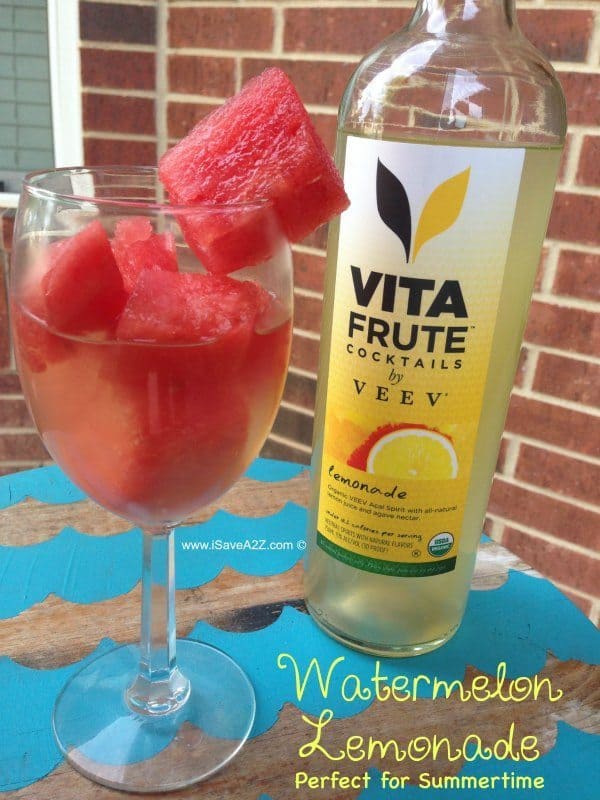 I'm happy to report that you can score $5.00 off a bottle of VitaFrute too with this printable VitaFrute Coupon here.
Be sure to watch the Veev social media pages and get updates on coupons, recipes and more!   You can follow them on Facebook, Twitter, Pinterest and Instagram.
Veev has more than just lemonade too.  They have three certified USDA organic drinks!  Lemonade, Cosmopolitan and Margarita!  I can't wait to try the others.  I might end up mixing more fruit with them too.  I love when it soaks in the juices.  I love that I don't have to bust out the blender too.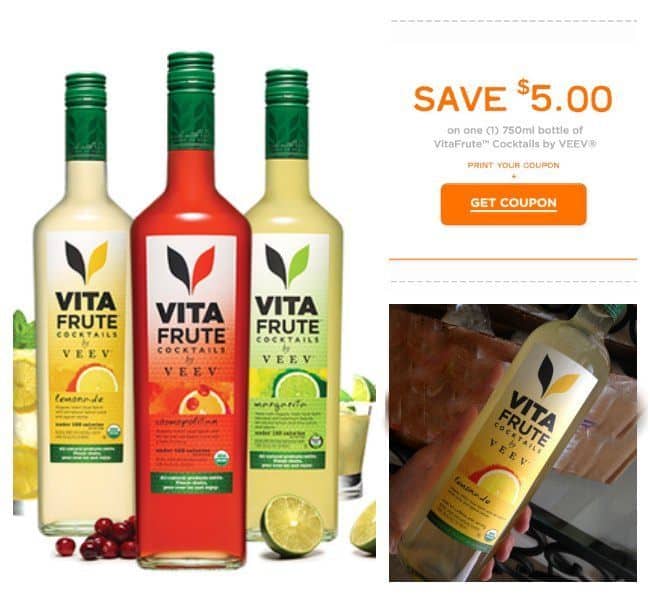 Enjoy!