Hidden Deal on Towels at Kohl's (Reg $17.99 down to $1.79)
Hidden Deal on Towels at Kohl's
It's been such a long time since I've written about a deal on this site but today I really need to tell you about a hidden deal on towels at Kohl's.  Over the past two years or so I've been encouraging you to save your money and pay off debt.  I often say to repurpose items and even recycle old items for different uses too.  But sometimes there is such a good deal that you need to run out and grab what you need.  My need this month is towels.  I'm not sure why but all of my towels either have oil stains or have faded to a color I don't even recognize anymore.  That's okay because I will end up cutting them up into dish rags for cleaning and polishing.  If they are super thick towels that are really good I might even donate them to our local pet shelter.  They are always needing towels, blankets and supplies for those furbabies.
Let me tell you how I stumbled upon this deal.  I headed to Kohl's with a gift card in hand because my youngest needed new shoes and I had enough to purchase two bath towels.  I wanted some new towels for display for when we have company over for Christmas break.  I only planned on purchasing two towels.  I really like those large plush towels so I was stuck between the Polo or Apt. 9 brands.  I noticed a 50% off sale on the Apt. 9 towels so I found my favorite color and headed to the register with two in hand.  I received a 30% off discount code in the mail the other day so I was able to use that too.  There is a current 20% off promo code advertised on the site for those that didn't get a 30% off code.  The 20% promo code is:  SNOWYDAY and can be used until tomorrow Dec 16th.
When I got home I started looking over my receipt because I know I didn't spend all of my gift card and I wanted to write the balance on the back of the card so I wouldn't forget it.  I quickly noticed I was only charged $1.25 for one of the towels!  What's the difference?  Nothing.  They are the same color, same style and the same design.  The only difference was the tag.  One had a hard paper tag and the other had a long sticker tag that stuck to the towel.  I matched up the SKU's and noticed the hard paper tag was a totally different SKU number even though the towels were the EXACT SAME!  This happened yesterday evening.  I headed back to the store this morning since it was such a good deal to see if there were any more.  I pulled all the hard paper tag towels and price checked them.  I even asked one of the sales ladies if this was a mistake.  It's not!  They really are on clearance they just aren't marked!
I headed to another Kohl's store close by to make sure it wasn't just that store and found the SAME thing!  Most of the towels with the hard paper tags were shoved to the back of the shelf and the new stock was placed in front of it!  I was able to score a good amount of towels for only $1.25 each!  ($1.79 – my 30% off coupon = $1.25)  You can score them for $1.43 with the 20% off coupon if you didn't get the 30% in the mail.  Even still…  the $1.79 is a steal!  You can't even buy a nice yard of material for that price!  This is an in-store only hidden deal!  If you happen to be in Kohl's be sure to check out the towels area for the Apt. 9 towels with the hard paper tag.
I took a few photos so you know what to look for: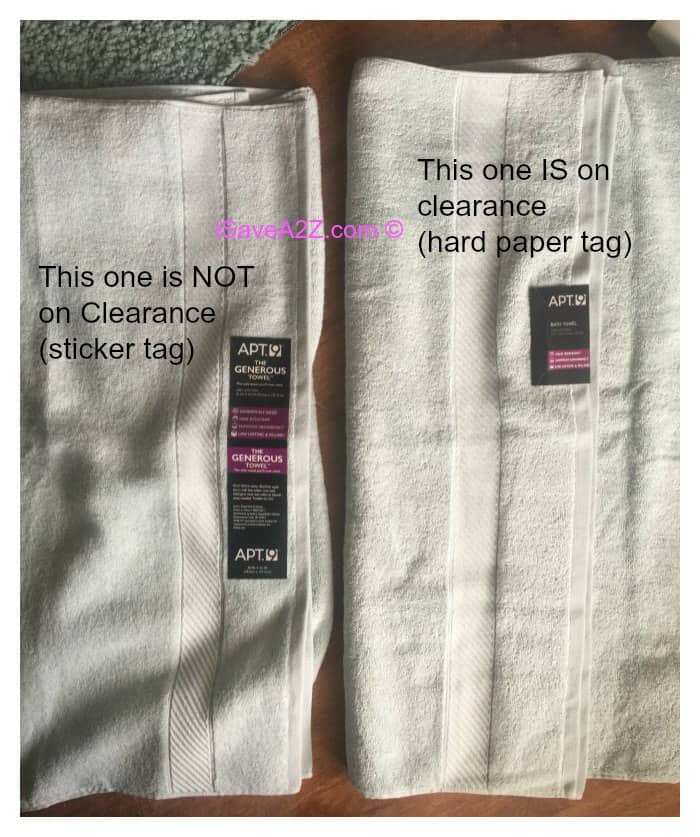 These are some of the colors I found: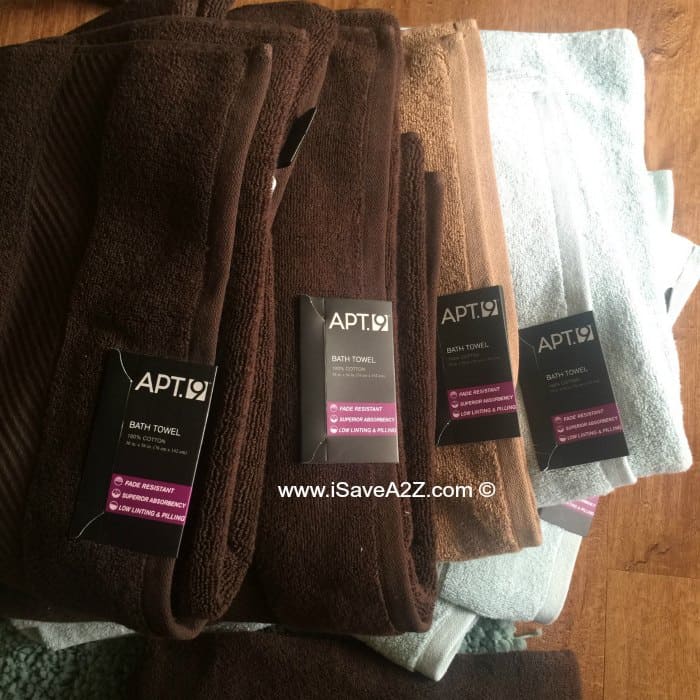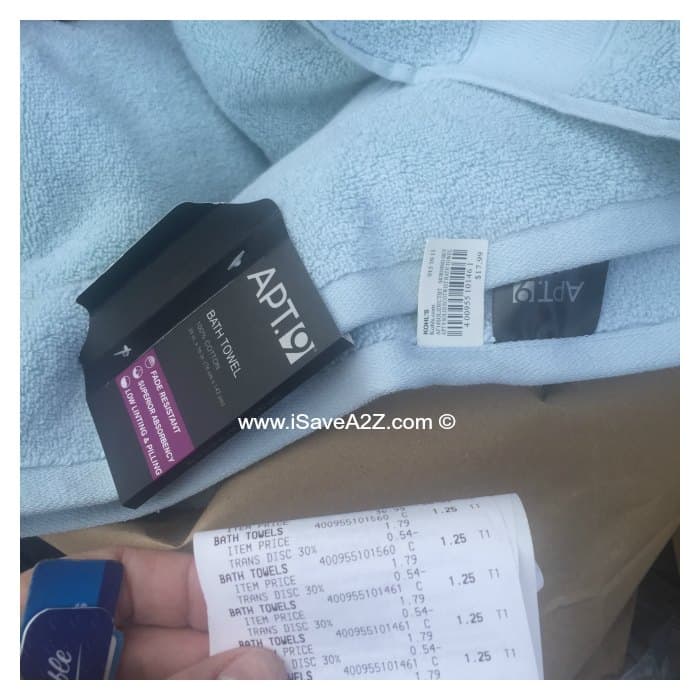 Tip:  These Apt. 9 towels are found on the very back wall of the store.  Be sure to look behind the newly stocked towels to find these tags.  I was very surprised to find many in the back of each new stack.  If you didn't get the 30% off code you can pull up the Kohl's website on your phone to show them the 20% off code.  They have honored that for me before too.
Happy Savings my friends!
You might also like this article:  7 Ways to Make $1000 Before Christmas