Homemade Laundry Detergent
I am just kicking myself right now! Have you ever had that craft or project in your head that you want to try and you just put it off and put it off? I bought the materials to make this Homemade Laundry Detergent several months ago and finally got around to making it today.
I had it all done so quickly that I just couldn't believe it! No joke, it took me longer to make the label for the container than it did to mix this up.
I have had several friends and one of my cousins telling me about this for a long time. They all swear by it and refuse to go back to store bought ever again. Besides the fact that I had this mixed up in no time, my house smelled really clean while I was doing it. That may be a weird thing to notice, but I love the way my house smells when I do laundry and that's how this made it smell.
Enough chit-chat…..here is how you can make this too!  Most of the ingredients are fairly easy to find.  One product you may have trouble finding could be the Fels-Naptha laundry soap but it's easily found on Amazon here!  I personally like the blue one.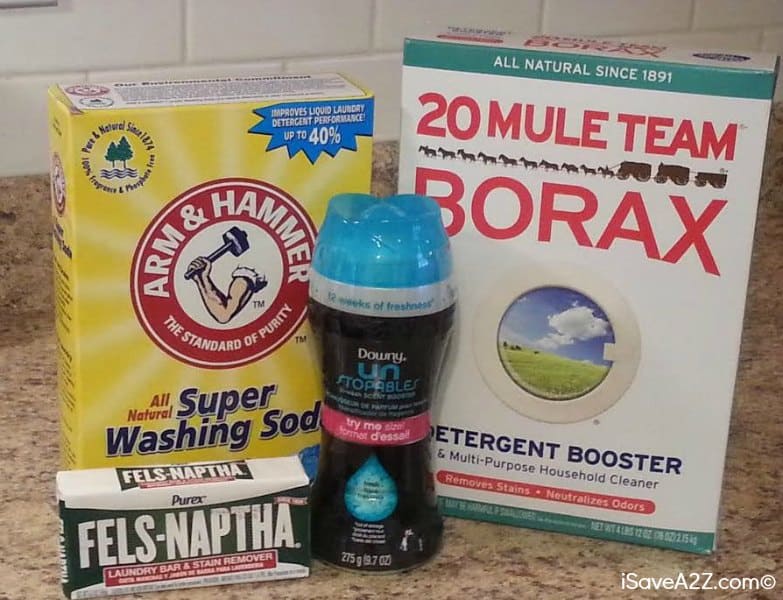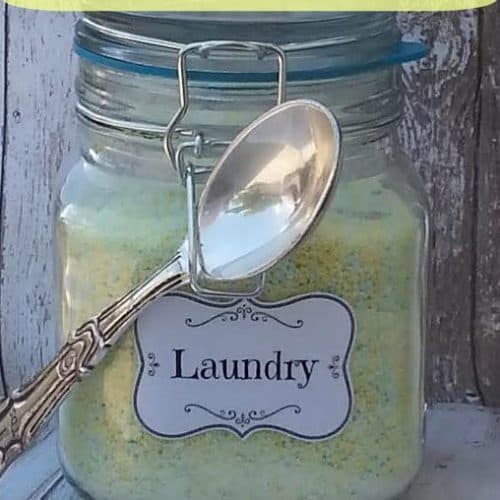 Homemade Laundry Detergent
Ingredients
1

container of Downy UNStopables or Purex Crystals - This is absolutely OPTIONAL. This works and smells great without it.
Instructions
In a medium bowl, add 1 cup of Borax and 1 cup of washing soda.

Cut the Fels-Naptha into chunks and run it through a food processor until finely grated. You can also grate the soap, but if you wash some clothes in cold water, it may not dissolve well. Plus, doing it in the food processor is much quicker!

Add the Fels-Naptha powder to your bowl with other ingredients.

/2 cup of Downy UN-Stopables or Purex Crystals, (if using). You can run those through the processor too. Then add to the other ingredients.

With a spoon, mix everything together very well. Then store in your chosen container.
This makes about 3 1/2 cups of detergent. And because this is concentrated, you only need 1 to 2 tablespoons for each load of laundry. Most loads should only require 1 tablespoon so this recipe covers about 56 loads of laundry!
My cousin also adds Oxi-Clean to her mixture, but I did not try that this time. There is also another bar of laundry soap that you may find next to these other products called Zote Laundry soap bar. It's a larger bar, but if you make a larger batch, that one works too.
As an option, you can add Downy's Unstopables but it's not necessary.  I happen to really love the scent and they have so many different scents to choose from too.  Check out all of the Down Unstopable scents here on Amazon.  You can find this product at your local grocery store with no trouble at all.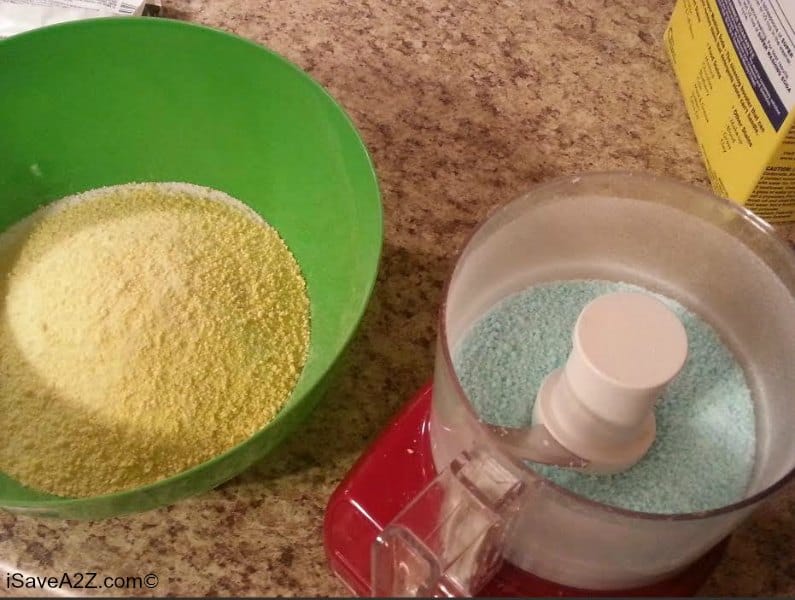 Most of my friends make LARGE batches of this….I mean like gallons at a time! If you would like to do that, make sure you have a 5 gallon bucket or some large containers to store it in. Mix together the entire box of Borax, the entire box of washing soda and 3 bars of Fels-Naptha (around $10 TOTAL for these supplies). You would also add the entire container of Downy UN-Stopables and then a tub of Oxi-Clean if you want to add those. A HUGE batch like this (without the optional additions) is about 21 cups of Homemade Laundry Detergent, which is about 336 loads of laundry. That's $.03 PER LOAD!!
The best part, for the version I made, my supplies only cost me about $16 (I bought extra bars of soap) and I still have plenty left to make several more batches.  Guess what?!!  This Homemade Laundry Detergent is great for sensitive skin and is okay to use in HE washers too! It produces almost no suds! Do you make your own soap? Have another recipe that you'd like to share? Leave a comment below and let us know!
You may also want to check out the Never Buy Laundry Detergent Again book! It gives DIY instructions for detergent, fabric softener and more!
Enjoy!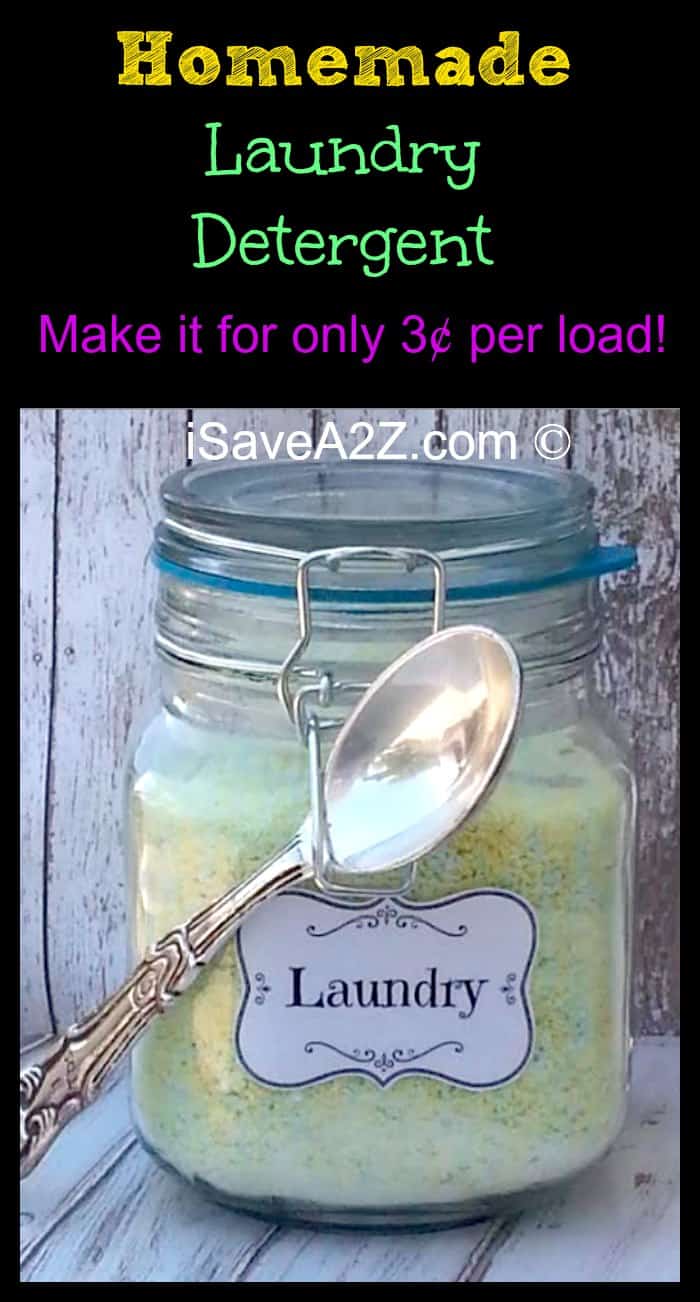 More Great Cleaning Tips to Check out!
Cleaning Floors: Selecting the Right Method