This post was brought to you by Honey Bunches of Oats and Mom It Forward.  All opinions, love for Honey Bunches of Oats and sweepstakes excitement is 100% my own.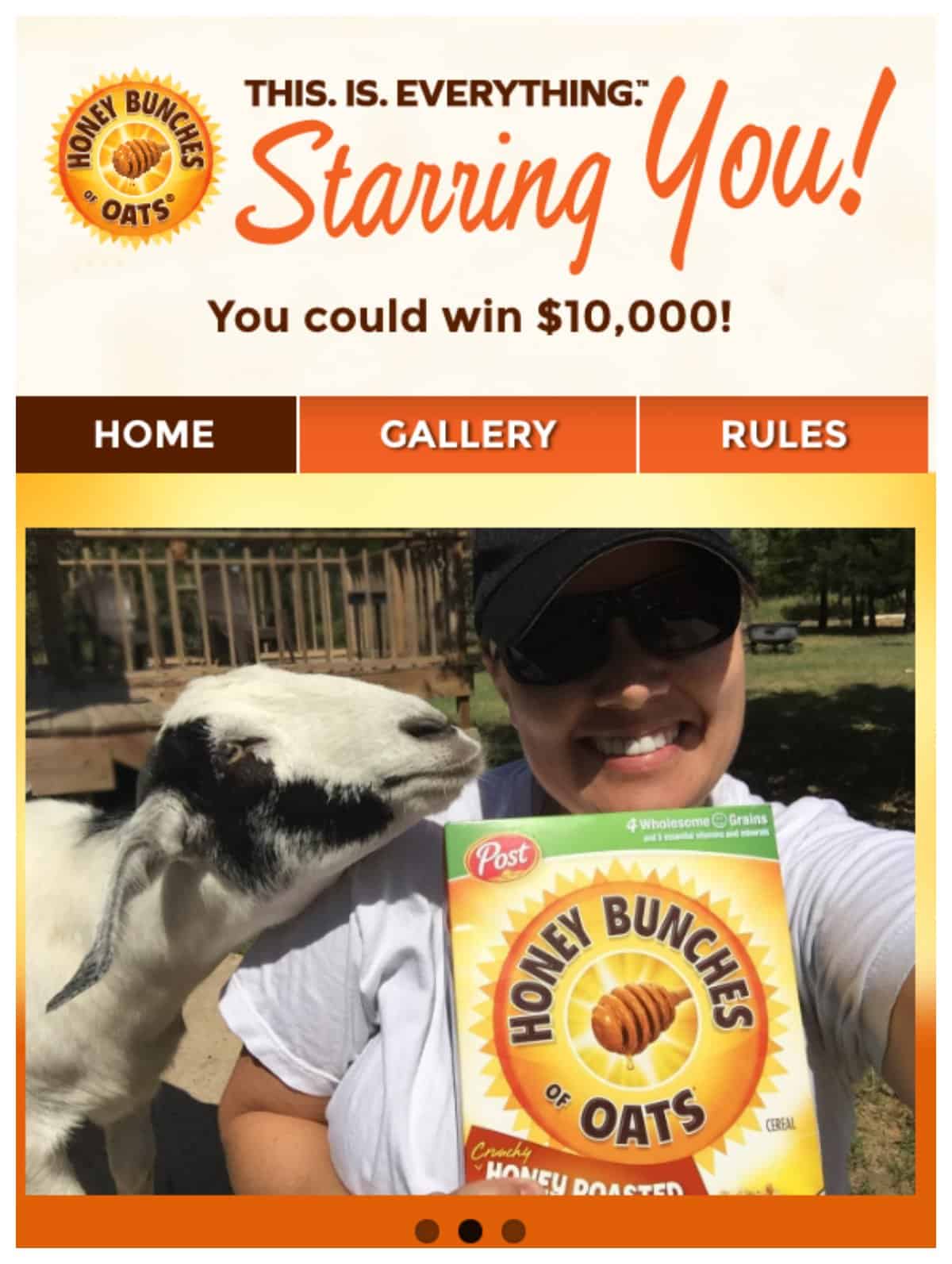 Honey Bunches of Oats plus a Giveaway!
Right now you have a chance to win $10,000 in the Honey Bunches of Oats sweeps, "THIS. IS. EVERYTHING.TM"! BUT…  because I'm so excited about this opportunity, I'm going to host a giveaway of my own along with it!  Are you as excited as I am?!!  I enter many giveaways and sweepstakes but this one was the funnest of them all.  Easy too!  
For me entering the sweepstakes was easy.  In the morning I feed all of the animals here on the ranch.  Then I usually sit down to a cup of coffee and a bowl of Honey Bunches of Oats on my patio table outside.  This is the moment I get to myself after all the morning chores have been done and the kids are off to school.  I'm usually catching up on social media so I had my phone handy.
I started to pour my bowl of goodness and soon realized the goats got past the gate!  They were heading straight for me and my breakfast!  NO!!!  Those are my oats, not yours!!!  It was like fighting off a pack of wolves off of my breakfast.  I love my baby goats dearly so I couldn't help but to laugh.  They could smell that honey from miles away I'm sure.  And…  when those goats want something they will use all of their body weight or horns to get what they want.  I was able to grab the bowl and put it up but they got the box of Honey Bunches of Oats!  I quickly snatched it back before they could open it back up!  PHEW!
After I grabbed the box back I opened up my camera because I couldn't help but to laugh at the faces I was getting from them.  They wanted me to share!  Nope.  Mama does NOT share her Honey Bunches of Oats.  Well, maybe with my children but not my fur babies.
These photos came out so great, even though I was all sweaty from my morning chores, that I decided to send these in for the sweepstakes because this is my everything!  Just look at this fun: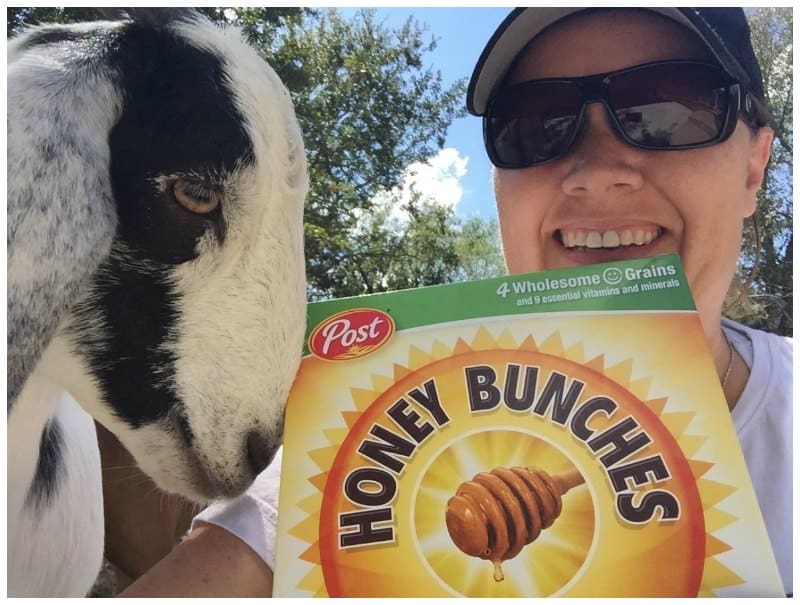 I feel like she is whispering to me…  "Please Mama, just a little taste…"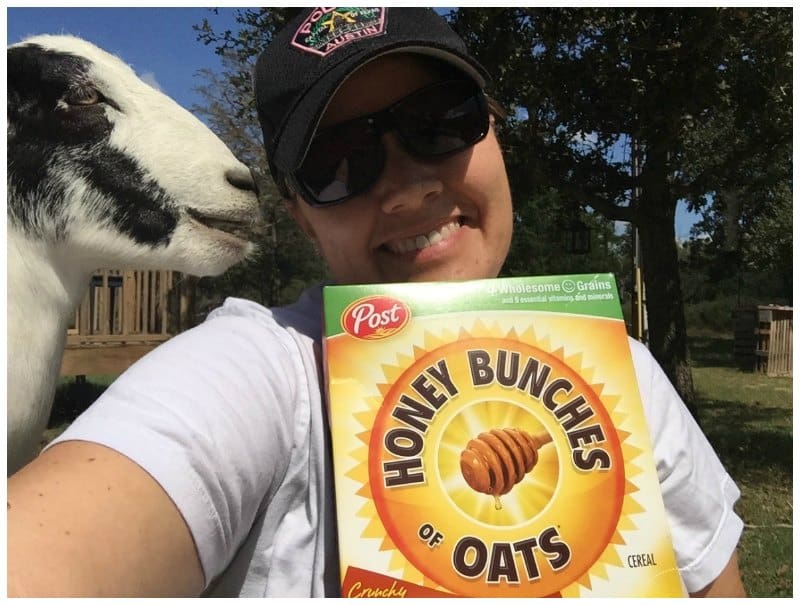 See!  That was fun!
Honey Bunches of Oats is a multiplicity of tastes and textures in every bowl – from the crispy flakes to the unmistakable crunchy oat clusters and the sweet touch of honey – for an experience that isn't just one thing, it's EVERYTHING!
Whether you pour it into a bowl or eat it straight out of the box because your goats are trying to get at it, Honey Bunches of Oats is never a mindless munch and always delights on more than one level!
Did you know that Honey Bunches of Oats comes in 12 different flavors!  The most popular is the Honey Roasted, Almond and Strawberry but there are many options for everyone!
Here's how to enter this sweepstakes:
Head over to Honey Bunches of Oats and create your own "THIS. IS. EVERYTHING.TM" video.
Upload three family friendly photos showing what makes you… YOU!
After you've uploaded your information you will receive a link to your video!  Check out my Honey Bunches of Oats THIS. IS. EVERYTHING.TM  video here.
Now, after you enter the fun sweepstakes, I have a giveaway planned just for you!!!  After you get your video link from the sweepstakes entry you just did.  Enter my giveaway here on the blog!
Giveaway Details:
To enter this giveaway:
Share your  THIS. IS. EVERYTHING.TM  video link in a comment on this blog post below.
Prize Details:
I will randomly choose one winner a chance to win a $75 Visa gift card and a box of Honey Bunches of Oats!
Winner will be selected no later than October 10, 2016
Good Luck!!!
Be sure to Follow Honey Bunches of Oats on Social Media here:
Be sure to follow hashtag: #HBOisEverything to see all the excitement!