How to Coupon Series: How to Make Coupon Matchups Work for You!
Be sure to check out all the informative articles on How to Coupon here.
COUPONING 101: HOW TO MAKE COUPON MATCHUPS WORK FOR YOU
Couponing is all about saving money, right? So wouldn't it make sense to use your coupons when you can save the most money on those particular items? Of course, I'm talking about coupon matchups, which is pairing coupons with store sales in order to maximize your potential savings.
There are two ways to do coupon matchups. The first is by looking at the sales fliers of stores in your area – I'm talking about grocery stores, but also places like Target, Walmart, CVS, and Walgreens – and comparing their sales to your available coupons. That might take a little time, but the savings are likely worth the effort.
The second method of matching coupons to stores sales is one that takes much less effort, because other people have done the work for you. No, I'm not talking about sweet talking your neighbor into giving you her matchups, I'm talking about the multitude of websites that scour the weekly sales fliers of stores and match those sales with coupons available online.
Here's an example of the power of coupon matchups: Snuggle fabric softener was on sale at Walmart for $1.79. By itself, that's a good deal, but, you can also print out a manufacturer's coupon for $1 off, making the final price of the fabric softener a too-good-to-pass-up 79 cents.
Need another example? Target recently had a sale on Renuzit air fresheners, offering select varieties for just 97 cents. Combine that with a manufacturer's coupon for an additional 75 cents off and a Target coupon for 50 cents off, and you've got a total savings of $1.25 on a 97 cent Renuzit. Yup, you just scored a free air freshener.
So where can you find these miraculous coupon matchup resources? I post match-ups from time to time, but hundreds of other couponing website do the same thing with national and regional stores. Just do a Google search for "coupon matchups" (or "coupon matchups plus the name of a specific store) and you'll be well on your way to racking up some serious savings – and a few free air fresheners.
You will also notice, the more you use coupons, the more you will be able to spot a great deal without having to look at a sheet of paper to guide you too! You will automatically know what coupons you have in your huge stack and when you see the product in the store, you will stop and say Wait! I have a coupon for that! lol…
One thing I can hardly remember though is the expiration dates. Tip: If you just don't have time to coupon that week, at least go through your coupons to see if any really good ones will expire soon and make sure you get at least your freebies.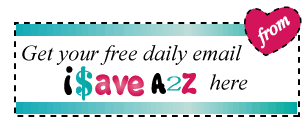 —–>>Be sure to sign up for the FREE iSaveA2Z Daily Email and get the best coupons, freebies and deals!