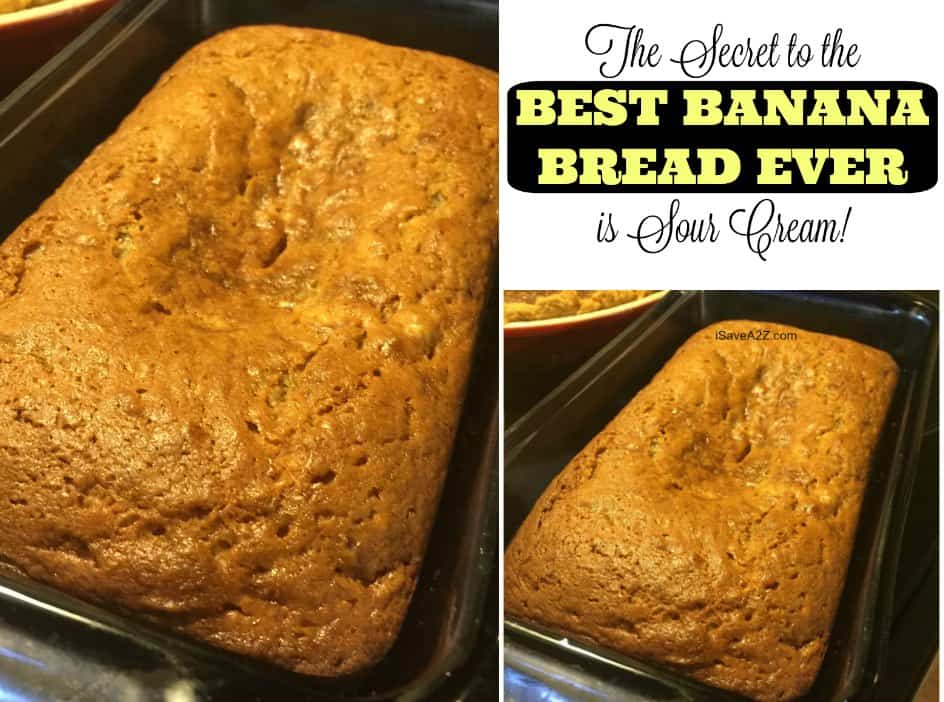 How To Make Banana Bread
By Jennifer Garza, iSaveA2Z.com,
If you want to learn how to make banana bread, I have a super moist recipe just for you! There is a special way to make it and special ingredients that you wouldn't normally think of too. Once you make it this way, I swear you will never want to try another recipe ever again! PROMISE!
Here's the secret. I make my banana bread super moist by using very ripe (black) bananas and I use sour cream in my ingredients. I will never make banana bread without very ripe bananas. The darker your bananas get the more sugars are released allowing that bursting banana flavor to come through in your bread. I have a photo of some bananas near the muffin tins. Those bananas are still not ready. The sour cream helps keep it nice and moist. In fact, it's so moist that I don't even put butter on it. Some prefer butter but I don't on this recipe. (My husband still loves butter on everything though)
This recipe makes a large amount of Banana Bread and is almost error proof. I've been making this recipe for years and it's very forgiving if you make a mistake and don't measure out the ingredients exactly.
Ingredients:
3 cups sugar
3/4 cup real butter
3 eggs
6 very ripe (black colored) bananas
1 – 16 oz container of sour cream
2 teaspoons vanilla
2 teaspoons of cinnamon
1/2 teaspoon of salt
3 teaspoons of baking soda
4 1/2 cups flour
1 cup chopped walnuts (optional ingredient)
Prep Time: 10 minutes
Cook time: 35 minutes to 1 hour depending on the pan you use
Yield: 32 Servings
Instructions on How to make Banana Bread:
Preheat your oven to 350 degrees. Grease muffin tins or loaf pans. Dust those pans with flour. Set aside.
Next, Combine the butter and 3 cups sugar in a large bowl and cream them together. Mix in eggs, mashed bananas, sour cream, vanilla and cinnamon. Mix in salt, baking soda and flour. Stir in nuts. Divide into your prepared pans. Voila! That's it!
Pro Tip: I highly suggest using muffin tins. They come out in individual portions and back in only 30 to 35 minutes. If you use a loaf pan the baking time is an hour to an hour and 15 minutes.