Disclosure:  I was given product to test it's features.  All the love I have for the Lutron Maestro Sensors are 100% my own.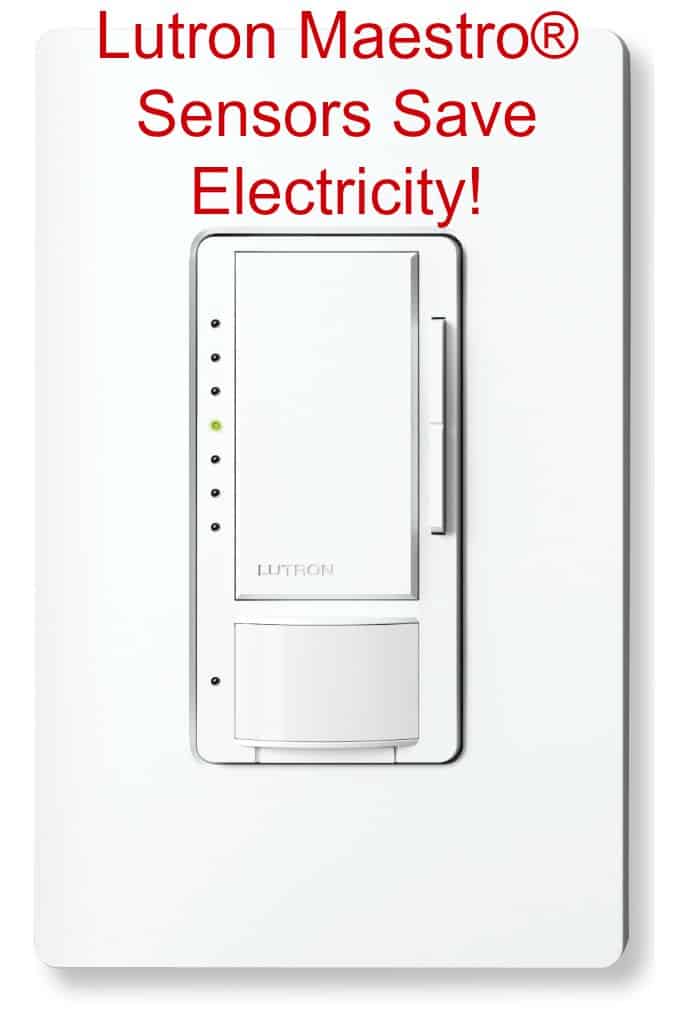 Lutron Maestro® Sensor Saves Electricity
I just installed a Lutron Maestro® Sensor and I can tell this is going to save me lots of electricity and my sanity!  I find myself constantly yelling at my kids to turn off the lights.  I can tell you that I already have about four other rooms I want to install this sensor on.  For some reason the bathroom, garage, spare bedroom and kitchen pantry light almost always get left on.  Seriously.  I feel like a nagging Mom when I yell at the kids to save electricity.  I think I'm more excited not to yell at the kids.  The Lutron Maestro® Occupancy/Vacancy Sensing Switch can automatically turn lights on when you enter a room and off when you leave, so you don't have to worry about lights being left on when nobody is in the room.  It's crazy how I can get so excited over a simple light switch.  Funny, right?!
Here's the scoop on this Lutron Maestro® Sensor light switch.  It's really easy to install.  The instructions are very clear too.  They give every possible scenario for your electrical situation too.  If you have a fan or if you have a dimmer.  It's all clear and well written.  If you do have trouble, they also have a technical support line that is available 24/7.  Pretty cool huh!  You won't need an electrician to install it either.  Basically you will just shut off the electricity to the outlet you are working on and follow the step by step instructions.  I don't think it took more than 5 minutes to get through it after the breaker was shut off.
Next,  You figure out the type of programming you want on your sensor and program it accordingly.  You can choose a timeout session between 1, 5, 15 or even 30 minutes with automatic shutoff.  It even has a dimer sensor for dimmable lights.  You can choose three different mode types:  Occupancy, Ambient light detection or vacancy.
Features:
Works with incandescents, halogens, dimmable compact fluorescents (CFLs) and dimmable LEDs, no special wiring required
Patented Ambient Light Detect senses daylight—only turns lights on when there is not enough natural light present
Proprietary Advanced XCT™ sensing technology detects fine motions to ensure lights stay on when rooms are occupied and allows for sensitivity level to be adjusted
Reliable on/off sensing performance up to 30 feet
Can function in two modes:

Occupancy mode: automatically turns lights on when entering a room, keeps them on while someone is present, and turns them off after they leave
Vacancy mode: manually turn lights on when entering a room and the sensor automatically turns lights after someone leaves
Now there are many different Lutron Maestro Sensors depending on your needs.  Maybe you have a ceiling fan in the switch or maybe you have a dimmable light.  Check out all the different options here.
That's a pretty smart sensor, don't ya think?!
Benefits
Adds convenience and energy-savings to any room by automatically turning lights on and off
Offered in a variety of colors to match décor beautifully
Complements Lutron family of Maestro® smart controls including dimmers, fan controls and timers
Occupancy sensors can save 20-60% lighting energy!
Colors
Gloss – White, Ivory, Almond, Light Almond, Gray, Brown and Black
Satin – Hot, Merlot, Plum, Turquoise, Sea Glass, Taupe, Eggshell, Biscuit, Snow, Palladium, Midnight, Sienna, Terracotta, Greenbriar, Bluestone, Mocha Stone, Goldstone, Desert Stone, Stone, Limestone
Price
Two models available – one version for small rooms and one for large rooms, priced at $29 and $41.50
Now be sure to stay tuned because I love this sensor so much that I plan on giving one away!