Macaroni and Cheese Bake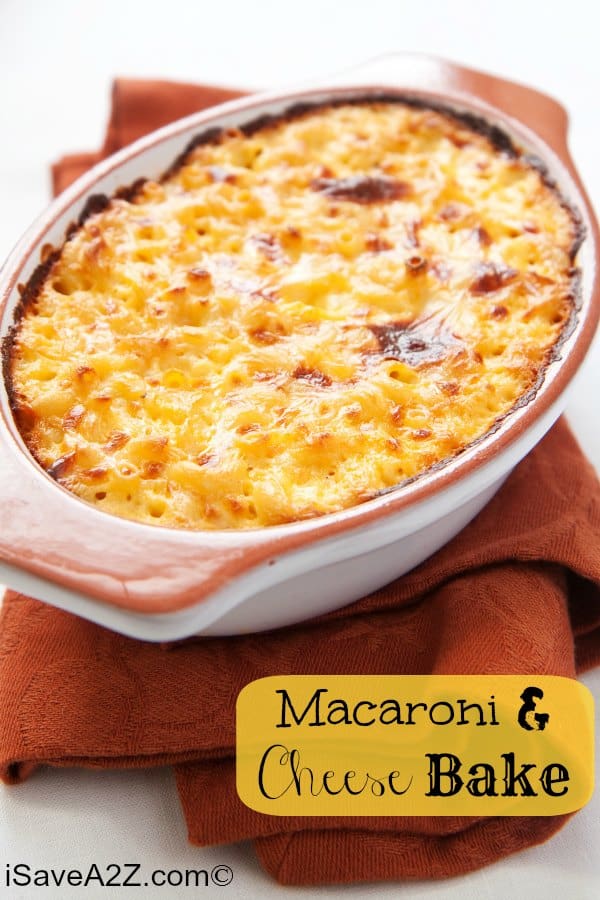 Macaroni and cheese is something we have often in our house. But instead of just using the normal box mix, I wanted to try something different. This Macaroni and Cheese Bake is wonderful as a side dish or can even work as the main part of your meal. It is warm and comforting and has that bubbly cheese top! This Macaroni and Cheese Bake recipe is really easy to do and may change your mind about those pre-made box mixes all together.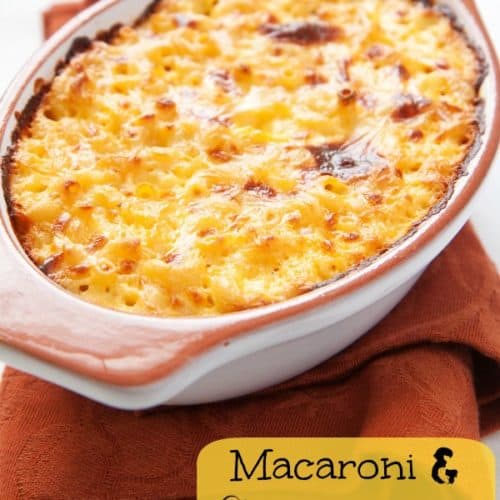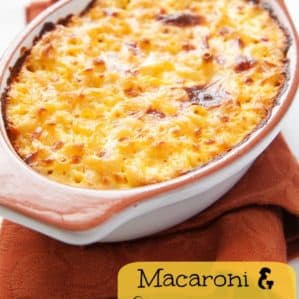 Macaroni and Cheese Bake
Ingredients
1 1/2

cups

of elbow macaroni

shells or whatever kind of pasta you prefer

3

tablespoons

of butter or margarine

3

tablespoons

all purpose flour

2

cups

of milk - use any kind other than skim

1/2

teaspoon

salt

1/2

teaspoon

of pepper

2

cups

of shredded cheese

any kind you like, we just use cheddar
Instructions
Preheat the oven to 350. Spray an 8x8 baking dish with cooking spray and set to the side.

Bring a pot of water to a boil and add the pasta. I always salt the water slightly and add a splash of oil to prevent the water from boiling over.

Cook the pasta until it is done, but still firm, then drain.

While the pasta is cooking, in another pot large enough to fit the cooked pasta, melt the butter.

When butter is melted, add the flour and stir until the mixture is lightly browned (about 1 to 2 minutes).

Add the milk, salt and pepper to the flour mixture and whisk together to remove any lumps.

Stir in the shredded cheese and whisk until all of the cheese is smooth and melted.

Add the drained pasta to the sauce and stir until well combined.

Pour macaroni and cheese into the baking dish and bake until brown and bubbly (40 to 45 minutes).
Notes
A thinner baking dish will cause this to be done quicker, so please check your Macaroni and Cheese Bake around 25 minutes if using something other than an 8x8 dish.
Nutrition facts are provided as a courtesy.
This Macaroni and Cheese Bake turned out A-MAZ-ING! Yes, I will admit, the box version does come together a little quicker. But this recipe is so yummy and cheesy, it's hard to resist. You can see all of our delicious side dish recipes HERE!
For some reason, side dishes are always hard for me to come up with. I always seem to make the same thing. So I'm loving this Choosing Sides Cookbook. It has over 130 recipes that will get you through the everyday meal and holidays. You can get the Kindle version for just $7.99!
Enjoy!