Disclosure:  I was given product in order to conduct my review.  All the love I have for the Magic Chef brand is 100% my own.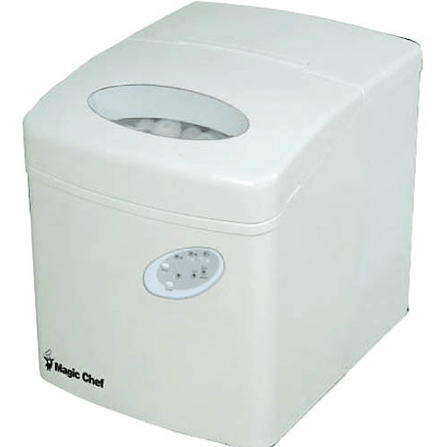 Magic Chef Portable Ice Maker Giveaway
I am in love with the Magic Chef brand, in fact, I have many of their small appliances.  When they asked me if I wanted to give away a Magic Chef Portable Ice Maker I was beyond excited to host it!
Magic Chef has been a trusted brand for me for many years.  I was excited to get the portable ice maker especially living in Texas.  It's always hot and we never have enough ice.  I'm a happy camper!
I've also found the Magic Chef brand to be one I trust but also one that fits my budget.  I love that!
I'm so happy to represent Magic Chef that I am giving away a portable Ice Maker!
I would love for you to show some support and follow the Magic Chef social pages
Here's how to enter the giveaway:
First, follow Magic Chef on either Facebook or Twitter.  (Leave a comment telling me the name you followed them under for verification purposes)
Also in your comment tell me your tip for making the holiday gatherings less stressful.  For example,  I tend to prepare my meals ahead of time so there's less stress for me during or before the party.
This giveaway will end on October 3oth, 2014 at 11pm CST.
Good Luck!