Minecraft Lovers Gift Guide
Minecraft Lovers Gift Guide
I've spent so much time trying to find Minecraft gifts that I thought someone else could use a helpful Minecraft Lovers Gift Guide.
My crazy kid is an ultimate Minecraft lover.  You may call her an addict even.  (Let's hope she doesn't need a Minecraft 12 step program or intervention any time soon). We've had fun creating Minecraft Sugar Cookies and even a homemade DIY Minecraft Tshirt using freezer paper!  Both are super fun projects and totally worth trying!
She loves to watch Youtube but I don't let her watch just anybody.  There is this YouTube personality named PoetPlays (have you heard of him?) that he goes crazy for.  She goes all "fan girl" when he's on!  She has a crush!!!  lol…  He is the only one I let her watch.  I've watched many, many YouTube videos with her and the worst word that he says is "crap."  It's hard to find PG rated Minecraft tutorials or videos for kids to watch but I feel pretty safe with PoetPlays.  (Thanks Poet if you read this!)
I've been keeping my eyes peeled for Minecraft gift ideas.  It's a bit difficult to find gift ideas that aren't made of foam or paper too.  Minecraft items seem to be a bit far and few between so it makes gift ideas hard.  Below I've listed a few gift ideas that I feel are worthy of mentioning and even a few that I've already ordered myself.  Keep in mind that Amazon prices change often with demand.  The closer we get to Christmas the higher the demand is for "hot" toys.  Minecraft is extremely popular this year too!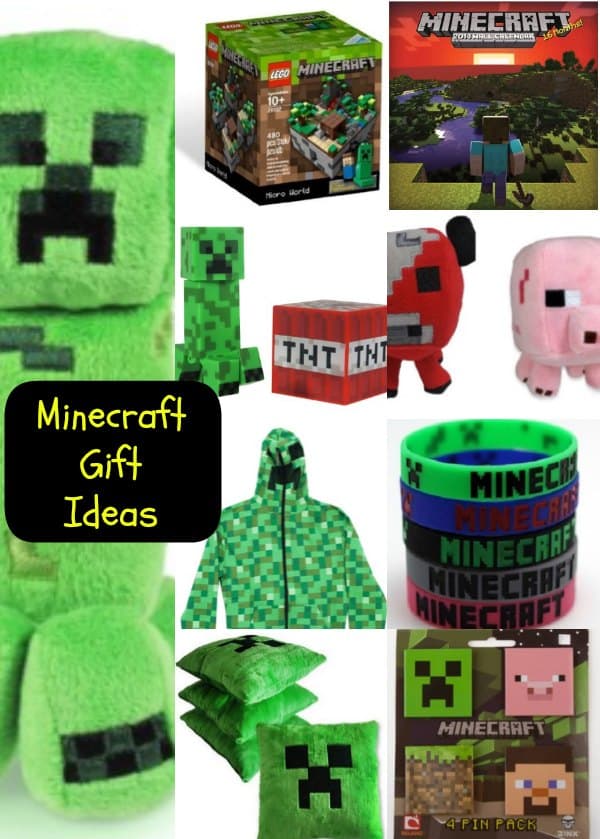 Minecraft Lovers Gift Guide Ideas:
Minecraft Creeper Green Pillow Cushion 15″ X 15″ Inchs
on sale at $18.90
Minecraft – 2014 Calendar
listed at $6.83
Minecraft Creeper 7″ Plush
listed at $14.77
Minecraft Core Creeper Action Figure with Accessory
listed at $13.84
LEGO Minecraft (Original) 21102
listed at $34.99
Minecraft Like A Boss Youth Video Game T-Shirt Tee
starting at $10.50 and up depending on the size
Minecraft Creeper Premium Zip-up Hoodie
I found prices from $45.94 all the way up to $100 because this hoodie is in high demand. I ended up buying my daughter the adult size medium and she rolls up the sleeves. She absolutely LOVES this hoodie! They have sold these at Hot Topic in the mall but they always sell out fast.
Invasion of the Overworld: A Minecraft Novel
the paperback version is only $4.79!
Set of 5 Colors Minecraft Creeper Bracelet Wristbands
only $4.79 for all 5
Official Minecraft Overworld 7″ Plush Baby Mooshroom COW & Baby PIG Figure SET of 2
listed at $26.73. If you are lucky enough to find these at your local Walgreens I saw them there for only $9.99 each.
(4×5) Minecraft Pin Pack
only $9.99 (reg $15)! This isn't a bad price at all and the kids love wearing these or even putting them on their backpacks!
—>If you like Amazon Deals be sure not to miss our Top 10 FREE Kindle eBooks post!  It's updated daily with awesome freebies!
—>Oh and don't miss the FREE 30 Day membership to Kindle FreeTime for kids!  You will love it!
Be sure to check out the other Amazon Money Saving Opportunities too.  To receive savings on shipping fees, take advantage of Free Super Saver Shipping for orders over $25 or be an Amazon Mom or an Amazon Prime Member and get FREE Two-Day Shipping.
Amazon Prime Membership Details
 – This is a membership you pay for but if you tend to purchase many items. it's well worth it.  I myself am a Prime Member!  Read our full post description on the Amazon Prime Membership here.
Amazon Mom Membership Details
 – Deals exclusively for Moms!  Yay!  Love that!
Please take note that Amazon prices may change any time, make sure to check out the current price before placing your order.
Don't forget to check out my other Amazon Deals for more savings. Hurry because prices at Amazon are subject to change at any given moment.
  ———->>>Be sure to check out the Other Amazon Deals and Gift Guide and see all the gift ideas at bargain prices here!