New Aquaskipper Watercraft
New Aquaskipper Watercraft
Have you all seen the new Aquaskipper Watercraft yet?   Whoa!  It's this crazy device that allows you to basically skip across the water by jumping up and down!  Cool right!!!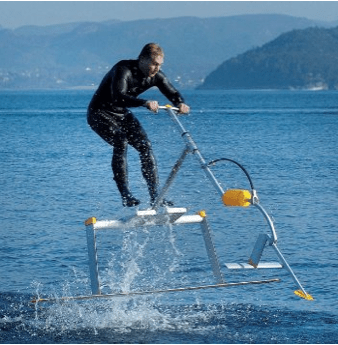 How cool does that look?!!!  My first gut reaction was I had to have one!  Just look at how much fun that would be!  Heck, just imagine how much exercise you would get!  They make it look so darn easy too.
Head over here and see this amazing video of the watercraft in action.
It turns out the Aquaskipper watercrafts are sold on Amazon with a starting price of about $479!  What?!  Crazy high price!
After reading the reviews they say it takes screws to put together and doesn't assemble or disassemble quickly either.
Another review stated that multiple people had a very hard time getting up on it to get started too.    That's not good.
Another thing to remember is that you have to start off on a dock.  You cannot just go to the water without a dock and get started.
After reading those reviews I'm not too excited about the product anymore.  I would love to see a device that you could easily assemble and take down.  The struggle to get up on it is a challenge that doesn't scare me.  I would totally be willing to try it but I'm also thinking the price is just a bit out of range too.
Maybe I'm really, really wanting warmer weather so that I can try any new watercraft!
Is this something you would try?