Disclosure: I received products in order to conduct my review. All the love we have for Hasbro products is 100% our own.

New Guardians of the Galaxy Rocket Face Mask + Family Game Night
Have you had a chance to see the new movie Guardians of the Galaxy movie?  There's a cute little raccoon character named Rocket that is already extremely popular with the kids!  We had the chance to catch that movie on opening night.  My daughter quickly found out that there was a new Marvel's Guardians of the Galaxy Rocket Raccoon face mask, made by Hasbro, already out too.  I can't tell you how excited she has been since she received this mask.  She wears it All. The. Time!  I was thinking it would make a super cute Halloween costume idea too.  I can't help but to laugh every time I talk to her while she has it on.  When I saw the advertisement for it, I couldn't really grasp how it works so I decided to make a quick YouTube video for all of you to see.
Check it out:
Cute, right?! I can't help but to laugh. The eye brows and ears are adorable! This is the first time I've seen a toy with a moveable mouth!
She swears it's pretty comfortable to wear too. She says the plate in the mask that fits to your jaw is adjustable so that many different face sizes can wear it.
It also has adjustable straps in the back of the head that are really easy to snap.
So don't laugh if you see my daughter walking around the grocery store wearing her new favorite mask.
On another note, Hasbro has made our family game nights and summer absolutely amazing! Here are a few new products that have us all excited!
My Monopoly Game
You can now customize your own My Monopoly game with the MY MONOPOLY Game app or website! This gives a whole new life to an old game favorite! You can even use your own images from your social networks as stickers on your game pieces! The My Monopoly app is available on both IOS and Android platforms.
Simon Swipe Game
This bold new game, Simon Swipe, is a modern take on the old time classic recall challenger Simon game! It has hypnotic colors, flashing lights, cool sounds and a game play based on a smooth swipe action! It's speeds up with patterns and you have to move quickly! Tap or swipe but don't get it wrong! lol! We love this one!  We get kinda loud when we play it too!
If you are looking for new ideas for your family game night, I highly suggest either one of these games!
There are a few new toys that we are all giddy over too! Check out the My Little Pony Equestra Girls: Rainbow Rocks! My daughter takes this toy with us everywhere we go. She loves to play with her hair and I absolutely love the bright colors!
Another fun toy for the boys (and girls) is the Kre-o Transformers 4 Movie Optimus Rider!  We have a tradition every year just before the holidays were we pick one of the toys we've enjoyed the most and we decide to purchase another of the same toy (brand new) and give it to a charity over the holidays.  This year, we have decided that this Kre-o Transformers 4 Movie Optimus Rider is worthy of our gift giving mission!  She says that it's so much fun for lots of friends to work on it together!  I like the way this girl thinks. We always pick a really good boy toy and a really good girl toy.  The boys toy was easy but the girls toy we are still working on.  We purchase them early enough in the year so we aren't too strapped near the holidays too.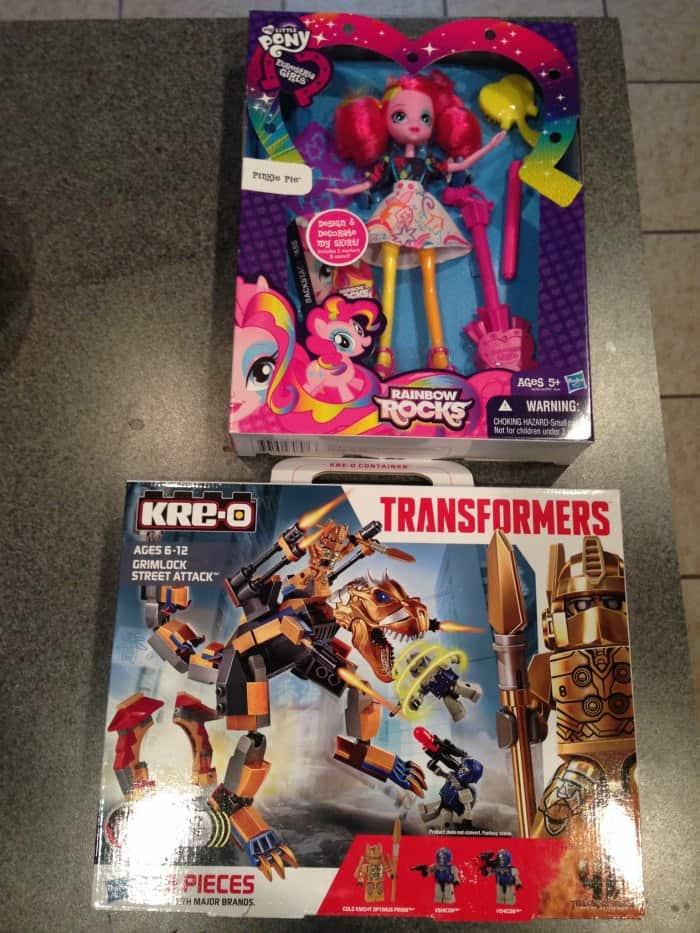 Enjoy!