Ozeri WeightMaster Digital Bath Scale Review

Ozeri WeightMaster Digital Bath Scale Review
I've been needing a new bath scale for a while now but I think I've been putting it off because I really didn't want to know the true number.  My current, and well used, scale just doesn't seem to be accurate and not in my favor either.  Now that I am back in a routine again, the diet has started.  It's time to track my results!
I don't have a lot to compare this scale to because my old scale is just a cheap brand I purchased at Walmart.  It's a digital scale though.  My old one is metal with a digital screen.  I have to tap my toe on it to get it started and then wait for it to say ready before I step on it to calculate the number.  I've been extremely disappointed in my old scale because I am not a patient person.  I can't tell you how many times I've jumped on the scale seconds before it was ready only to get the error message to start the process all over again.  I'm done with that scale.  Done!
This is where the Ozeri WeightMaster Digital Bath Scale ranks high in my opinion.  You can step on the scale and get a reading immediately without having to press a button to start or wait for it to begin.  You just step on it and get a reading.
My next big thing is accuracy.  How in the world do you know if it's accurate.  I can tell you already that I know for a fact my old scale wasn't accurate but how do I test the new one?  Here's what I did.  I was on my way to the doctors office where they always weigh you before your checkup.  I wore the exact same outfit and weigh myself within about 15 minutes between each scale when I went to my doctors office.  It's accurate!  It matched exactly what the nurse calculated!  I'm not sure if it's going to wear out at some point like my other one did but I like knowing that it's accurate in the beginning.
If you are tracking your progress, it's important to weigh yourself the same time everyday.  I find it best to weigh myself first thing in the morning right after I go to the bathroom.  Hey, it works for me.
I really like the design of the Ozeri WeightMaster Digital Bath scale too.  It's got a smooth surface that's glass.  I never weigh myself after a shower but I would caution you if you do.  It's glass and smooth.  I wouldn't want you to slip and fall.  That's one downfall that I thought of.  The only other possible downfall would be the corners.  My other scale had rounded corners.  This glass scale doesn't have sharp corners but they are distinct corners.  I would hate to stub my toe or foot on that edge.  I have a big enough bathroom where I can put this scale out of the way but if you have a small bathroom, this could be a problem.
This scale can measure up to 400lbs!  Not that I'm even close to that number but it's good to know the limit.  It will track your weight change in color too!  Love that.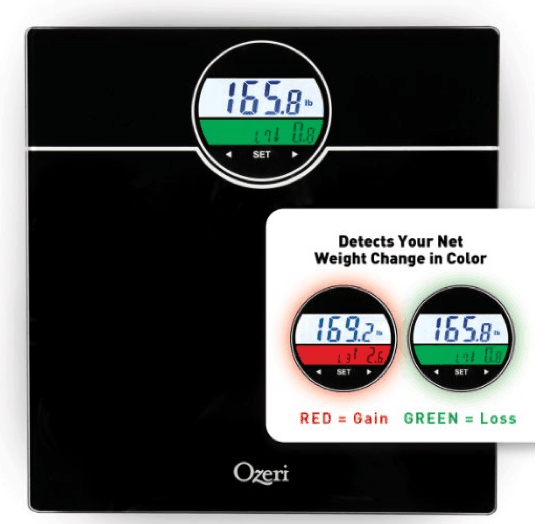 Overall, I'm completely happy with my new Ozeri WeightMaster Digital Bath Scale!  I am very impressed with it's accuracy and immediate scale number when I want it.
You can purchase this scale on Amazon here: Ozeri WeightMaster 400 lbs Digital Bath Scale with BMI and Weight Differential Detection (Black)
I received one or more of the products mentioned above for free using Tomoson.com. Regardless, I only recommend products or services I use personally and believe will be good for my readers.