Paleo Meal Plan Kitchen Tools: Esssentials needed to make it easier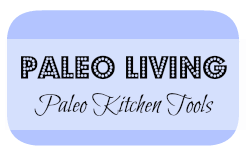 Paleo Meal Plan Useful Kitchen Tools
I've been following the Paleo Meal plan for a little over two months now and I have compiled a list of very helpful kitchen tools that I find make my life a tad bit easier.
First, I honestly don't think I can live without Crockpot or Slow Cooker (whichever word you call it).  A crockpot / slow cooker is essential to your success on this Paleo Meal plan.   I've used mine right before going to bed to help make lunches for in the morning and I've also used it in the morning to have dinner ready when I get home.  There's nothing more pleasing then to come home to a house filled with delicious smells of dinner that is nearly ready for us to consume!  I find the 6 Quart programmable Crockpot works best for my family of four.  I always make extras for lunches the next day so the size is perfect!  I prefer this particular Hamilton Beach Crockpot because it's stainless steel and portable!  It has a lid that clamps down and a very tight seal so that you can take your meals on the go.  Perfect for school parties or social events we get invited too.  I also like the fact that the handles fold down.  This doesn't seem to be an important feature to consider until you try storing this bad boy in your kitchen!  I love it!  Lastly, this is the only crockpot I found with really good reviews and the price fit my budget.
A pressure cooker is another paleo kitchen essential.  The pressure cooker allows you to cook foods that otherwise would take a long time to prepare and prepares them in minutes vs. hours!  I can cook a whole squash in about 8 to 10 minutes where it would have taken an hour in the oven.  How about that!!  Meats in the pressure cooker come out very moist and savory in a fraction of the time too!  You can purchase a Presto Pressure Cooker for pretty inexpensive here on Amazon but I've opted for a little bit bigger Pressure Cooker made by Fagor Splended only because it was a great deal.
Finally, no matter if I am on a Paleo Meal Plan or a regular meal plan I cannot live without my Food Processor!  I think this is a must for anyone who cooks in the kitchen!  It's fast and super easy to use.  I can make sauces, soups, dips and I can slice, dice and shred with the push of a button!  Perfect for all those veggies we eat on the Paleo Meal Plan!  This product is one I did not go cheap on because I use it daily!  Cuisinart has an excellent product and it lives up to the daily wear and tear I put on my machine! I did find a Hamilton Beach Food Processor that was a bit more budget friendly that I almost considered.  Both products get very good reviews.
Here are just a few other essentials that I am certain you may already have:
Once you have all the right tools to get started, life will be easy on the paleo meal plan!
Be sure to check out the Paleo Shopping list and all the Paleo Recipes too!