Disclosure: I received product in order to conduct this review. No other form of compensation was received and all opinions are 100% my own.
Playmobil Launch Power Rocket Review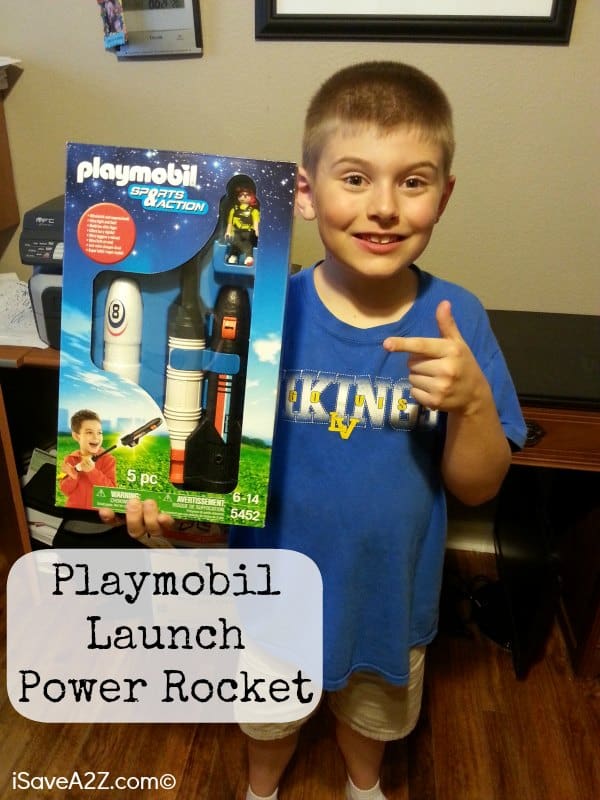 Look at that handsome and happy face! He was so excited to finally have a boy's toy arrive for me to review….we get a lot of little girl stuff 🙂 This Playmobil Launch Power Rocket just happened to show up the day he had two of his classmates coming over to play. It couldn't have been better timing. They absolutely LOVED this thing! We were all out there seeing who could shoot it the furthest. Then they made obstacles for each other to see if they could make it through. It was a lot of fun for all of us. In fact I think they should change the age range on this toy to 4-100!
This is what's included with the Playmobil Launch Power Rocket:
2 rockets: One has a built in whistle and one is cut so that it spirals when you launch it! There are also a couple of stickers included to add to the rocket.
a belt clip: This is so you can actually clip the toy to you and take it on the go! This also keeps everything together.
1 launcher: I LOVE that you can flip the pieces around so that it doesn't fall apart when you carry it or travel with it.
1 figure: We don't have many of these toys, but most of the sets come with figures or different characters. I was really hoping the little man somehow attached to the rocket so we could make him fly too….but it doesn't 🙁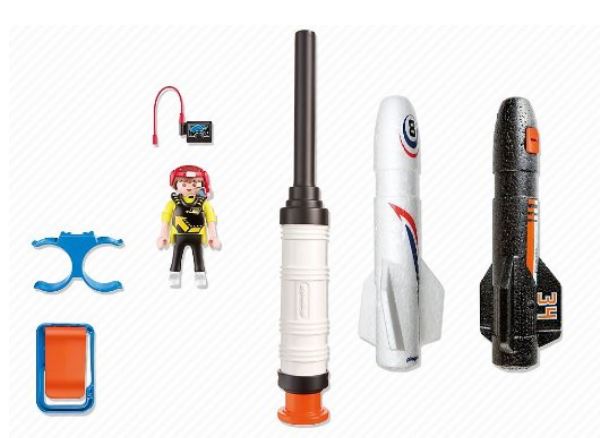 One of my favorite things about the Playmobil Launch Power Rocket is that it takes ZERO BATTERIES! I love toys like that! When you have the rocket positioned, just push the orange end as hard as you can to launch the rocket! We played with this until it got dark outside and then my son had it clipped to his shorts until I made him take it off for bath time!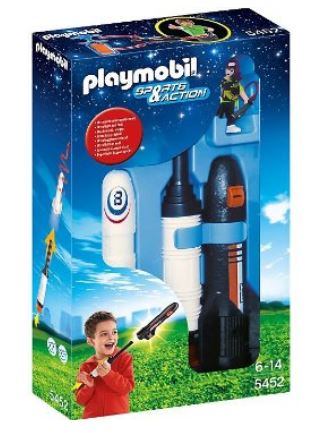 Get your own Playmobil Launch Power Rocket HERE for just $19.60!
Enjoy!