Pokemon House Party
Thanks to TOMY, our Pokemon House Party was a BLAST! Have you heard of House Party before?  It's a website that allows you to apply for parties.  I've been chosen a few times for different parties.  You don't have to be a blogger to apply either.  Anyone can apply!  My friend got a Keurig party a few years back.
Now everyone loved the new Pokemon toys at our Pokemon House party!  We all had fun posing them around each other and pretend battling. We even brought out some of the old TOMY Pokemon toys to add to the mix!   We have been Pokemon fans for many years so we have lots and lots of Pokemon toys and cards around the house.  It was a lot of fun seeing what we could do with them. Having the guests be able to pick which Pokemon toy they wanted was almost like letting them pick their own starter Pokemon, and I just know everyone enjoyed that.
Now, if you have been following our blog, you already know that we are huge Pokemon fans!  Remember when PokemonGo came out?!  We were one of the first to help you with PokemonGo Safety tips.  We had a scary encounter that make us warn others about safety.
Remember the Pokemon Earrings made out of Perler beads we made?!  Man, that was fun and a huge hit too!
Did you know the Pokémon Z-Ring is available for pre-sale on TOMY's website!!!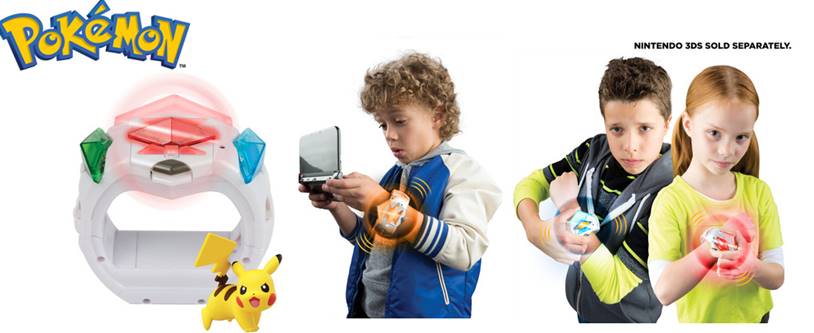 This Pokemon house party was fun because we added our Easy Pokeball Oreo Pops to the menu.  These are not the kind of Pokeballs you throw to catch a Pokemon.  These are the kind of Pokeballs you toss in your mouth for a special treat.
After our party, all of the kids decided to stay the night.  We ended up making Pokeball Breakfast bagels the next morning.  You can use red food coloring in your cream cheese and leave some of the cream cheese white.  It makes the perfect Pokeball!

Here's a bit more information on the Pokémon Z-Ring!!
For the first time ever, TOMY has created a Pokémon toy that interacts with Nintendo's latest video game. Experience the world of Pokémon in a new way with the POKÉMON Z-RING and Z-CRYSTALS! The Z-RING…
• Is compatible with the Nintendo 3DS video game titles: Pokémon Sun and Pokémon Moon
• Interacts and synchronize with the Nintendo 3DS to enhance the game play experience
• Has two play modes
In Nintendo 3DS/2DS Mode:
• Z-CRYSTALS are placed in the Z-RING and together they react simultaneously to the devastating Z-MOVES launched in the video game with lights, sounds, and vibrations!
• Each Z-CRYSTAL represents a different element type. Insert different types of Z-CRYSTALS into the Z-RING to experience the colors, vibration and sound effects for each.
• Video game synchronization allows you to feel the full power of the Z-MOVE!
In Role Play Mode:
• Players can experience the Z-RING through imaginative battle play by pressing the button on the Z-RING to activate the different colors, lights and vibration with each Z-CRYSTAL!
The exclusive Z-RING Bundle on TOMY.com comes with the Z-RING, 12 Z-CRYSTALS and Pikachu Figure. The Z-RING can hold up to 6 additional Z-CRYSTALS with the active Z-CRYSTAL in place.
Two AAA batteries are required and included with the set.
Available: Friday, November 18, 2016
Ages: 4 years and up