Poo-Pourri "Stink Free" Guarantee
Have you heard of Poo-Pourri yet?! Poo-Pourri is a real product that really works. This is not a joke! Although, when I first heard about it I thought it was! Poo-Pourri will stop embarrassing odor before you go and it's comes with a "stink free" money back guarantee!  And yes, I did order it!
Update:  I perfected a copycat recipe for the Poo poo spray!  Check it out here!
Here's how it works:
Simply spray a layer of Poo-Pourri on top of the toilet water before you go. This bathroom freshener's natural essential oils create a film on the surface of the water, trapping odor at it's source.
Now you can convince everyone that your "sh*t doesn't stink!" haha! lol…
This product is all-natural, biodegradable and never tested on animals. Priced at about $25 per large 8 oz bottle. It provides 400 uses for that size.
Here's the amazing part: It gets a 4.7 out of 5 star rating on Amazon too!!!
Guess what?!  They have another scent called the "Crap-Shooter!" OMG!  I'm laughing so hard!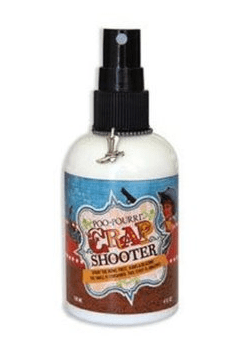 I got the biggest kick out of some of the reviews too:
Ok, I've had too much fun with this post, back to work I go!
Check out this "Potty Mouth" commercial: