I received a Razor scooter A5  for my review.  All opinions are 100% my own.
Razor Scooter A5 Review
I am so excited to tell you about the new Razor Scooter A5 I just received!  It's a scooter that is much bigger than the regular little scooters you see all the kids using.  My daughter is eight years old and has the Razor A2 kick scooter with light up wheels.  She loves her scooter.  She uses it almost everyday!  She tends to be a bit clumsy with the light bottom part though.  When she picks it up it almost always swings around and slams right into her ankle or foot.  She has so many bruises from it.  When she gets to a curb she stops and picks it up all the time.  She's not like the boys where they just fly off the curb onto the street.  One time she was trying to ride it on this gravel trail in our neighborhood.  She ended up getting stuck on a tiny rock landing on the ground.  She hit a very sharp granite stone the caused major bleeding!  Crazy clumsy I say!  She needs a scooter with bigger wheels!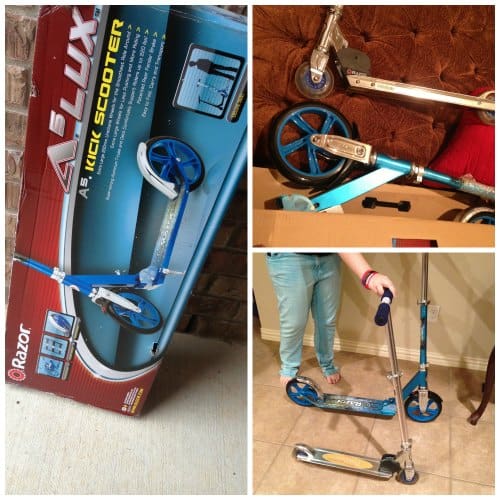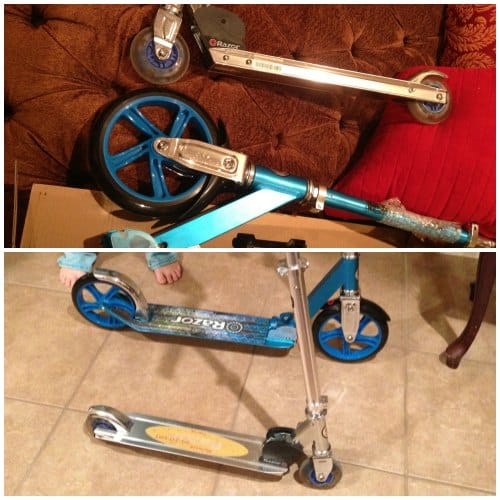 This scooter breaks down for easy assembly.  It's collapsed when shipped but only takes seconds to open it up and start riding.
It handles nicely over the cracks, asphalt and small bumps!  Better than the smaller wheels on the other Razor scooters.
The handle bars extend to a full 36 inches.  An adult can ride it!
There's no kickstand but it's not really needed either.
The deck of this Razor scooter is 13 inches long.
The minimum age starts at < 8 years old for this scooter.
Overall, I am extremely pleased with the Razor A5 scooter!   VmInnovations.com has the red Razor AD Lux Kick Scooter listed at only $69.50 right now which is an amazing deal!  This scooter retails between $109.99 and 139.99!  The next best price in my research was on Amazon for a nearly $20 more here at $84.95!