Disclosure: I received product in order to conduct this review. No other form of compensation was received and all opinions are 100% my own.
Round Rock Express Party Review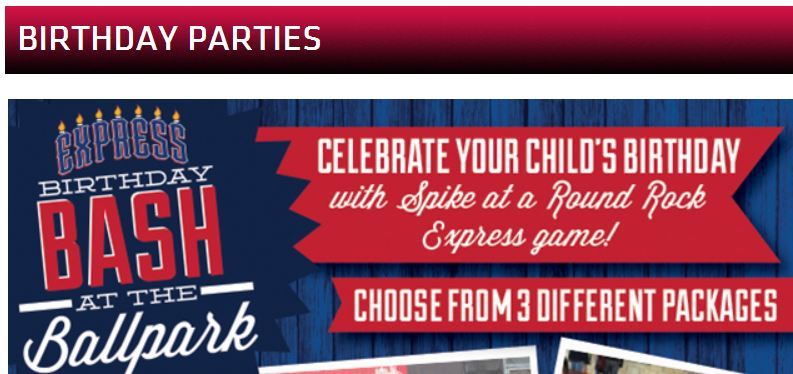 Just two weeks ago my baby boy turned 7 years old! Since he's getting to be "so grown up", I'm finding it harder to plan birthday parties that all of his friends will enjoy. I have to say…..this year I definitely "hit it out of the park" and his birthday was a "grand slam"! Sorry, I couldn't resist. My son, and several of his friends just finished up their spring baseball seasons. So we figured celebrating his birthday with a Round Rock Express Party would be just the ticket. I honestly have to say, this was probably the best party we have ever had. And I'm totally that mom that has gone way overboard before, so that says a lot. We had THE BEST time. The kids (including my 4 year old daughter), parents, grandparents and even his great grandfather had a blast!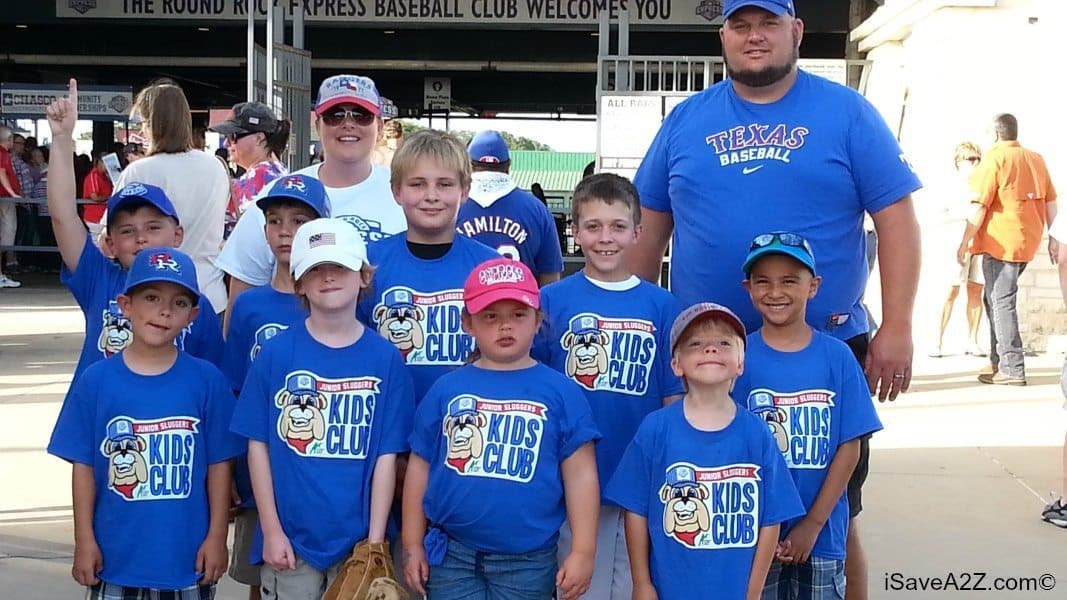 The Round Rock Express and the entire staff that work at Dell Diamond are so nice and helpful. There are different party packages for you to choose from to accommodate any kind of celebration, so I'm going to try and tell you about as many as I can. We went a different route and signed up all of our little party guests for the Spike's Junior Sluggers Kids Club! If you've never heard of the Junior Sluggers Kids Club, you've GOT to check it out. It is an incredible (and very inexpensive, just $15!!) deal and includes the t-shirt they all have on! The membership gives each kid all kinds of perks including meeting players, discounts on camps and in the team store, an invite to Spike's Birthday Bash, playing catch on the field AND running the bases after the game every Sunday!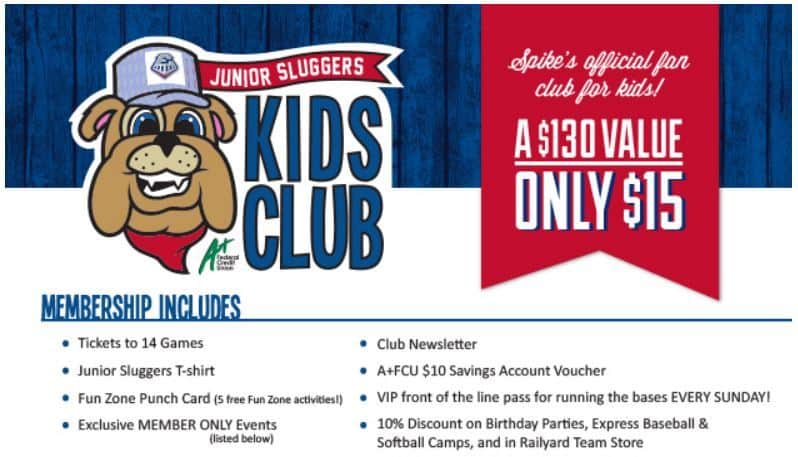 With everyone in their matching shirts, we looked like a club of our own and the birthday boy got some special attention!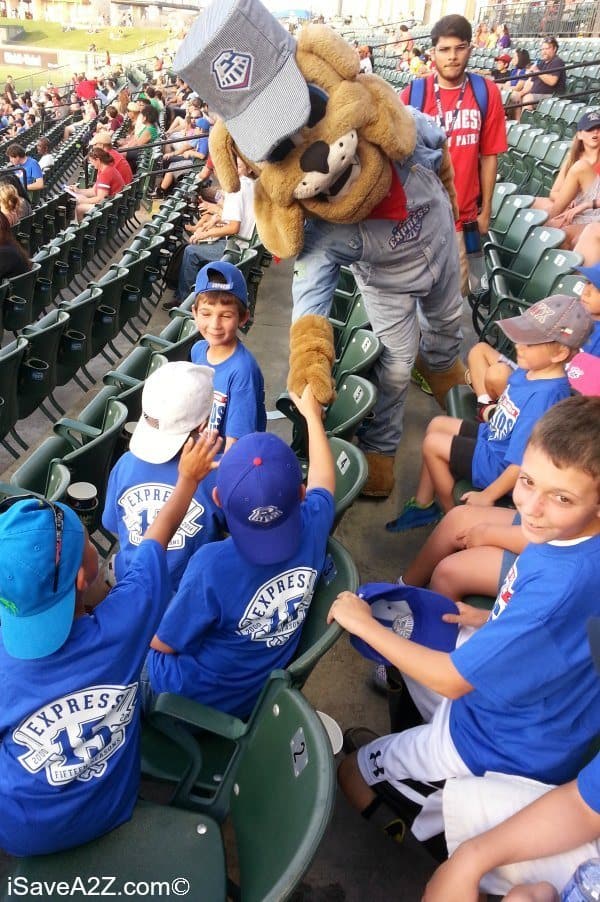 Something that I highly recommend doing if you are celebrating a birthday party, is getting the person's name put up on the big screen! All it takes is a quick email and they will send you a confirmation email right back! Something you should also know if you have never been to a game, is that there are all sorts of things that also happen during the game. There are contests going on where you can win prizes, you can do the chicken dance, try to catch a Round Rock Express t-shirt and even go meet Spike and get his autograph!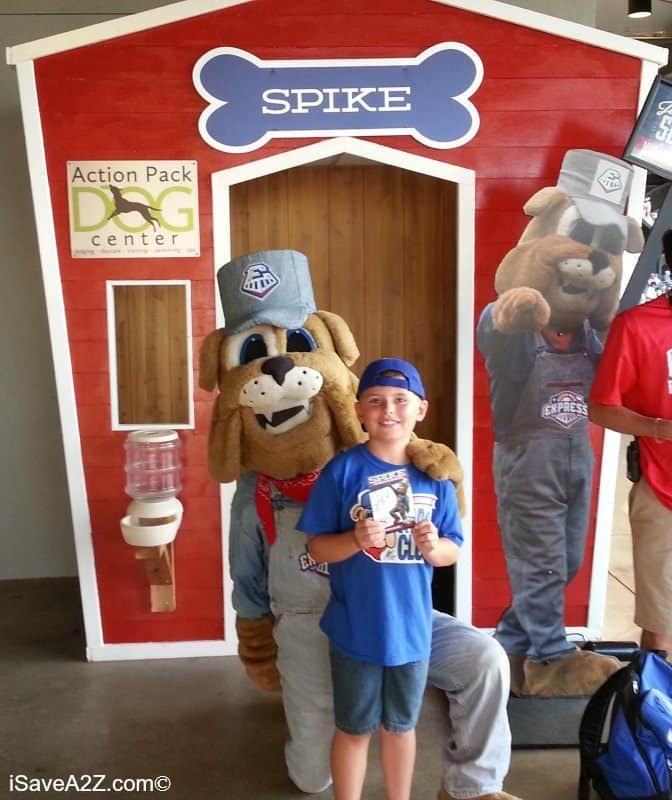 Now……they also have tons of other options for Group Outings! This is a great place to have a corporate event, school outing, youth sports team outing and a church outing. Have a large group to accommodate? No problem! The Round Rock Express has options for that too. Check these out:
Party Suites: Can hold up to 225 people or be broken down into smaller areas. Buffet style dining, drinks and fresh baked cookies!
Luxury Skybox Suite: Formerly the owner's suite! Includes a lounge area, seating for 20 and food service is available.
Party Deck: Food buffet, picnic seating, 30 tickets and 15 parking passes!
Party Porch: This is a party waiting to happen! 40 tickets, 20 parking passes, food and drinks!
Pool and Spa: That's right! A pool and spa area that you can have all to yourselves! This is an amazing package for 50 people!
Picnic Area: The perfect spot that includes 30 tickets, a food buffet, drinks, fresh baked cookies and a playscape for the kids!
If you are looking for a family friendly fun place to have a party, celebrate a special occasion or just have a fun night out, I highly recommend checking out a game and all of the options at The Round Rock Express. You will not be disappointed!