The Scandal TV Show, Dan Bucatinsky and a Surprise Phone Call!
The Scandal TV Show, Dan Bucatinsky and a Surprise Phone Call!
For those of you that know me, you are fully aware that I have a Thursday night obsession; ABC's hit TV show Scandal.  It is the one night of the week at 8pm you can be assured I will never answer a phone call, check my emails, attempt to crush candy, deal with sibling squabbles, or allow my hubby to come anywhere near the TV clicker.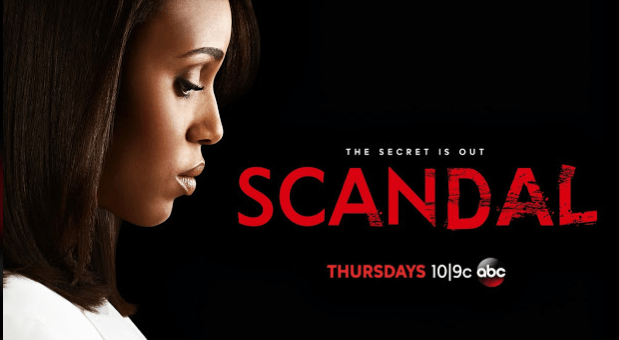 Since I have my hands full as a full-time blogger, business owner, entrepreneur, being a wife, a mommy to two girls and one dog.  It is very rare I take time for myself.  But this show has me captivated.  The world can come to an end as long as it's after 9pm on Thursday.
Some of you might be familiar with a blog SerafinoSays.com  It's a killer beauty blog by Kristan Serafino who happens to be one of my besties.  If you don't know the blog you might have heard of Kristan.  She is regularly quoted in all the top magazines and goes on national TV to share beauty tips and tricks.   If you still don't know who she is then you might recognize some of the clients whose hair she regularly styles.
Oh, I don't know….any of you heard of some of these hotties; Matthew McConaughey, Joaquin Phoenix, Norman Reedus, Nikolaj Coster Waldau, or how about some of these beauties; Naomi Watts, Princess Caroline, Emma Rossum, Elizabeth Berkley, Connie Britton?  These are just a few of the heads she gets to run her fingers through.  Lucky girl, wouldn't you say?
As a friend, I am always excited to hear what celebrity she is working with next, butas a person that is not into celebrity gossip magazines, or the lives they lead, I am just happy to share in my friends success.
BUT, when I found out she was working with one of my favorite actors Dan Bucatinsky, it nearly sent me into cardiac arrest.  Dan brilliantly plays "James Novak" on my favorite show Scandal.  He is charming, witty, intelligent, sexy and most of all married to a character, Cyrus, that I hate to love and love to hate.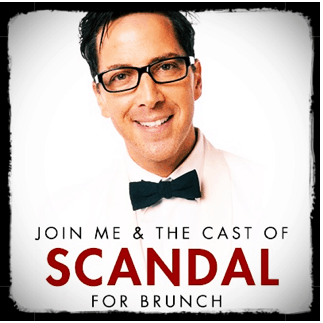 One random day last week I received a "911" text from Kristan.  My immediate thought was who died as Kristan is not an alarmist and I know when she is on set she can never text or talk.
I immediately dropped what I was doing to pick up the phone and return the emergency text.  You can only imagine the surprise and shock on my face when the voice on the other end of the phone was "James Novak" aka Dan Bucatansky.  He did not even have to say his name since I could easily tell that distinguished voice.
I am not sure exactly what he said for the first few seconds, as I could not even grasp that my favorite actor was on the other end of the line.  But when I finally came to my senses I found myself engaged in a conversation with a new friend.  While he was charming, intelligent and funny, what was most important was learning about a project near-and-dear to his heart.  He was helping to raise money for the Benefit Family Equality Counsel charity.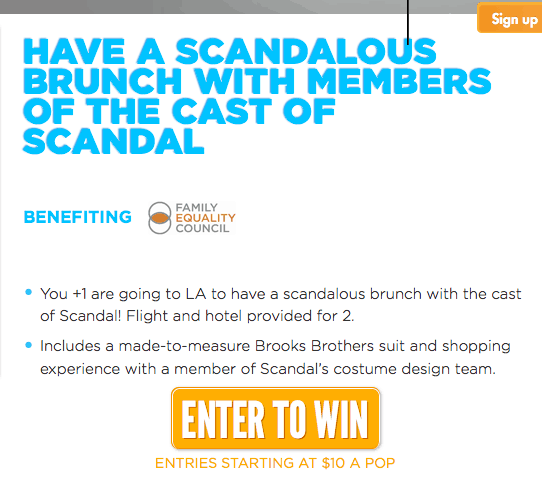 At that very second I knew I had to be a part of it.  Ok, there is a little something in it for me and for you to.  By making a simple donation of $10.00 you can win a chance to attend a "Scandalous Brunch with Cast Members of Scandal".  It also includes:
You +1 are going to LA Flight and hotel provided for 2
It also includes a made-to-measure Brooks Brothers suit and shopping experience with a member of the costume design team
There are also many more prizes to win if you choose to donate more.  Make sure to check out the link here.
I would be lying if I didn't say I am praying to the Scandal Gods that my lucky ticket gets picked, but if it can't be me then I certainly hope its one of my readers.
Please do me the favor and help spread the word by sharing this special opportunity with your friends on social media.  Make sure to use; #ScandalBrunch
Just think for the cost of one Venti Starbucks you can donate to an incredible charity and have a chance to meet my, and possibly your, favorite actor.
It's for a wonderful cause!
Official Rules:
NO PURCHASE, PAYMENT, OR CONTRIBUTION NECESSARY TO ENTER OR WIN. Contributing will not improve chances of winning. Void where prohibited. Entries must be received by date specified on experience details page. Make a $10 or more donation and be automatically entered, or to enter without contributing, click here. The specified number of winners will each receive the prize package specified on the experience details. Odds of winning depend on number of entries received. Promotion eligibility dependent on specific campaigns. Please see specific experience for complete details. Employees of Omaze, the prize providers, and the Prize Benefactor mentioned in rule, and members of their immediate families, regardless of where they reside, are not eligible to enter. The Official Rules and these Promotion Rules apply. In the event of a conflict between the Official Rules and the Promotion Rules, the Promotion Rules will apply. Sponsor: Omaze, 120 Broadway Ste 300, Santa Monica, CA 90401.