Winner Announced! Scrubbing Bubbles Review + Giveaway!
Disclosure: I was given product to test but no other forms of compensation. All opinions are 100% my own.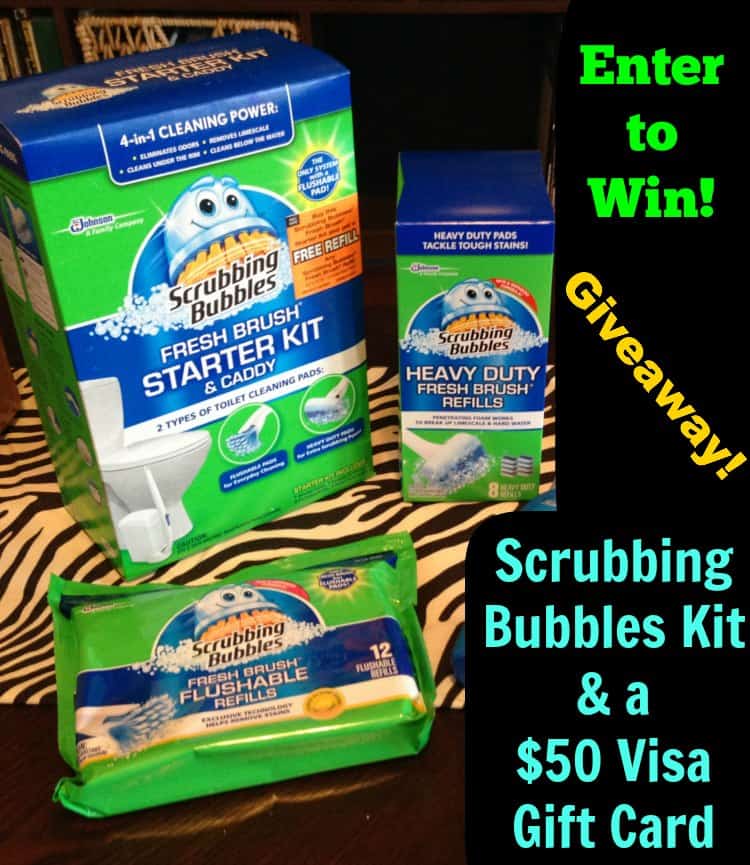 Scrubbing Bubbles Review + Giveaway!
Update: Winner Announced! Congrats Tara L!!!!
I've always been a big fan of of these products so it's only fitting that I hold a Scrubbing Bubbles Review and giveaway!
I was able to try the new Scrubbing Bubbles Fresh Brush Starter kit & caddy. I'm pretty picky about the cleanliness of my bathrooms and I'm equally as picky about seeing the cleaning tool on the side of my toilet.
I really like how this caddy hides the tool. The brush works amazing please you can just pop on a new one in a matter of seconds. The most important thing though is that it actually works with it's 4 in 1 cleaning power.
Here's your chance to win this exact kit plus a $50 Visa Gift Card too! How cool is that?!!! Just think of it as me giving you a clean bathroom toilet with very little effort and a $50 gift card to enjoy a nice dinner out on the town! Give yourself a break! You deserve it!
Here's how to enter the Scrubbing Bubbles Giveaway
The Prize:
Scrubbing Bubbles Fresh Brush Starter Kit and Caddy
Flushable refills
Heavy Duty refills
$50.00 Visa Gift Card
To enter this giveaway, simply leave a message below telling me what you like about Scrubbing Bubbles and why you could use a break!
You can gain additional optional entries if you follow us on our social media channels too. Just leave a message below with the name you followed us with so we can verify your entries!
Like us on Facebook here
Jennifer iSaveA2Z.com

Follow @iSaveEveryday
This giveaway will end on May 31st, 2014 at 11:59 pm CST.
Good Luck!