Disclosure: I received this product in order to conduct my review. All the love expressed in this post is all my own.

Swing and Spin Review
It arrived!  We just received our brand new Swing and Spin in the mail and my daughter couldn't be happier!  You would have thought it was Christmas morning at our house.  It's a big package too!  When I first saw this swing I wasn't exactly sure where I was going to hang it.  We are in a transition phase in our home buying process.  We just sold our house and we are renting for a few months while we look for the perfect piece of land with lots of trees.  This is why I wanted a Swing and Spin in the first place.  I want to hang it from a big tree and swing for hours.  Oh wait…  I mean, I want the kids to swing.  Ah!  Who am I kidding.  I will be fighting them for it!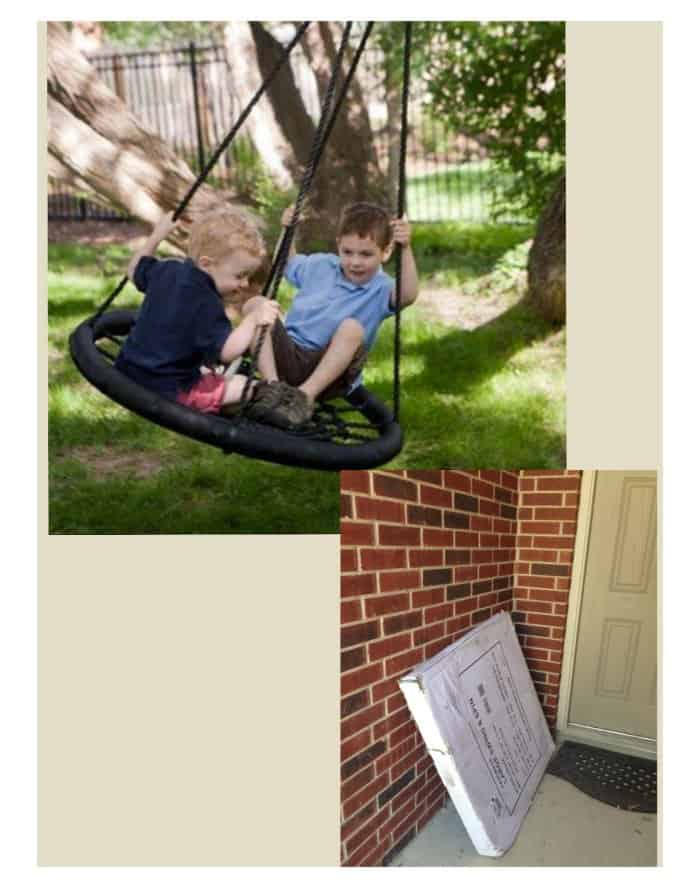 Since we are in a temporary home we decided to have it hang from our backyard porch where there's lots of shade.  Shade is very important here in Texas during the hot summer months.  We hung it from two hooks so that it wouldn't spin for now.  Once we move, we will find a big tree to hang it on and then we will hang it from one hook so you can spin on it too.
First thing to know about this Swing and Spin is that it's very, very well made.  It's heavy and sturdy.  So sturdy and adults can swing on it.  Both, my husband and I tested it.  I saw it's well made because the material on it is thick and it won't weather fast like the lighter materials do.  I always worry about this when I have items that get weathered outside in the Texas elements.
The next thing to know about is that it does not come with hooks to hang it.  At the end of each handle is an "o" ring so that you can hook it how ever you want.  These are the hooks we used.  We made sure each hook could hold at least 150 lbs just in case multiple kids used the swing.
We attached these hooks directly into a large beam on our patio and it holds up perfectly.  The hooks I would use on a tree would be much different.  It all depends on where you plan to hang it.
The last thing I want to mention is the price tag.  It's priced at about $275 which I thought was a bit high at first.  After I see the product and realize how well it's made, I think the price is right on target.  This thing will last for years to come.
My daughter has decided this will be her book reading spot everyday after school and I love that.  She grabs a small pillow with a little blanket and gently swings while she reads and to me, that's priceless.
Savings Opportunity:  Head over here to get your very own Swing and Spin, enter Promo Code:  iSaveA2Z and get $25 off!!!  This expires on October 15th, 2014 –  perfect gift idea for Christmas!!