Toys R Us Black Friday 2013 Deals
Toys R Us Black Friday 2013 Deals
Check out the huge list of Toys R Us Black Friday 2013 Deals below!  Don't forget to check out our Black Friday deals page where we'll keep you up to date on all the latest Black Friday deals as they become available.
Facts about Black Friday 2013:
Black Friday is the busiest shopping day of the year.
Black Friday is always the day after Thanksgiving.
Black Friday falls on Friday, November 29th, 2013 this year.
Black Friday is known to have the best deals on Toys, Electronics, Clothing, DVD's and so much more!
Here are Top 10 Tips to Survive Black Friday 2013!
Check out what's in their hot Black Friday Ad below. There are some good ones!!

Toys R Us opens it's doors at 5 pm Thursday (Thanksgiving) November 28th. There are 3 Sale periods running starting with the 4 Hour Sale starting on Thursday and ending on Saturday. All items are while supplies last. Check out the Clearance items with up to 80% off.
You can check out the Toys R US Black Friday Ad online as well.
Black Friday Promo:
Thursday thru Friday – Spend $75, Get $10 to spend on anything in store on your next purchase
Doorbuster Deals:
4 Hour Sale – Thursday Nov. 28th 5 pm – 9 pm:
Toys –
Doc McStuffins Doctor's Bag Set – $7.99 Limit 2
Nerf Rebelle Guardian Crossbow – $11.99 Limit 2
Furreal Friends GoGo My Walkin' Pup – $19.99 Limit 2
Barbie Mariposa and Prince Carlos Gift Set – $19.99 Limit 2
Cra-Z-Loom Extravaganza Set – $21.99 Limit 2
Lego Chima Eagles Castle – $22.49 Limit 1
Despicable Me 2 Dancing Dave – $24.99 Limit 2
Little People Disney Princess Palace – $24.99 Limit 2
Furby Boom – $29.99 Limit 2
Monster High High School Play Set – $29.99 Limit 2
Disney Infinity Starter Pack – $37.49 Limit 2
Skylanders Swap Force Starter Kit – $37.49 Limit 2
Leapfrog LeapPad 2 Explorer – $39.99 Limit 1
ALL Skylanders Swap Force Single Character Packs – Buy One Get One 70% Off
Electronics –
Polaroid 7″ Kids Tablet – $69.99 Limit 1
Apple iPod Touch 16GB 5th Gen – $229.99 (Buy 1, Get $50 Gift Card) Limit 1
Thursday Nov 28th 5 pm – Saturday Nov 30th to Close:
Toys –
ALL Uncle Milton Marvel Science & Star Wars Science – $1.49 – $12.49
ALL Melissa & Doug Arts & Crafts – 40% Off – $1.79 – $17.99
Board Games – Simon Flash Game, Yahtzee Flash and Scrabble Flash – $3.00
Use $3/$15 Mattel Games Printable Coupon
Final Price: $2.40/ea. when you buy 5
Littlest Pet Shop Danceable or Walkable Pets – $3.99
ALL Melissa & Doug Puzzles – 40% Off – $4.79 – $11.99
3-in-1 Craft Sets – $4.99
Bratz 10″ Stylin' in the City Dolls – $4.99
You and Me Doll Umbrella Stroller – $4.99
Kre-O Rescue Value Bucket or Transformers Ultimate Vehicle Pack – $4.99 – $9.99
Furreal Friends Snuggimals – $5.00
Board Games (Angry Birds Space, Temple Run, Connect 4 Launchers, Gator Gold, Pictionary, Scooby Doo, Bop It, Cooties) – $5.00
Use $3/$15 Mattel Games Printable Coupon
Final Price: $4.00/ea. when you buy 3
ALL Collectible Card Game Tins – $5.00 Buy One Get One Free
Matchbox 9 Car Gift Pack – $5.49
ALL Disney Treasury Books – $5.99
Leapfrog Touch Magic Rockin' Guitar – $7.49
Disney Princess 6″ Petite Princess Doll with Sun Fashions – $7.49
Fisher-Price Medical Kit – $7.49
Play-Doh Frosting Fun or Magic Swirl Ice Cream Shoppe – $7.49 – $8.99
Erector Gears of War Armadillo or Centaur Construction Sets – $7.49 – $12.49
Just Like Home Microwave Oven or Talking Cash Register – $7.99
Board Games: Fibber, Beat the Parents, Trouble, Hedbanz and Sorry – $8.00
Board Games: Duck Dynasty, Logo's, Battle of the Sexes, Quelf and Twist Perplexus 3D Puzzle Ball – $8.49 – $14.99
Fisher-Price Doodle Pro Classic Blitz or KidTough Doodle Pro – $8.99 – $10.99
Sesame Street Let's Rock Cookie Monster Keyboard – $9.99
ALL BrightLight Pillows & Stompeez – $9.99
Disney Activity Tube with Crayons, Stickers and More – $9.99
ALL Animal Planet Toy Buckets – $9.99
Disney Minnie Mouse Giant Art Tote or Disney Princess Fashion Art Tote – $9.99
Mega Bloks First Builders 100 pc Set – $9.99 – $14.99
inkoos…and baby too! – $9.99
Lego Sets (Hobbit, Chima, Ninjago and More) – $9.99 – $14.99
True Heroes Ultimate Military Play Set – $9.99
Calico Critters Lambrook Sheep Family or Motorcycle & Sidecar – $9.99 – $19.99
Nerf Rebelle Sweet Revenge Blaster – $9.99
Olivia 2-in-1 Transforming Playset – $9.99
Fast Lane Dump Truck or Front Loader – $9.99
Crayola Super Art Craft Kit or Super Art Coloring Kit – $10.00
ALL Air Swimmers – $10.00
Board Games – Disney Pictionary, Sorry Sliders, Guess Who?, Angry Birds Megasmash, Guess Who? Extra – $10.00
Loopz Shifter Special Edtion or Disney 3D Firewords Light Show Launcher – $10.00
Lego's (Loki Cosmic Cube Escape, Mobile Police Unit, Cool Cruiser Transport Copter, Highway Pickup, Dirt Bike Transporter, Stepanie's Cool Camper or Adventure Camper) – $11.69 – $55.24
Fisher-Price Dunk 'n Cheer Basketball – $11.99
Little Tikes Little Handiworker Workhorse – $12.49
Hello Kitty Cosmetics Light Up Vanity – $12.49
ALL Uncle Milton Wild Walls & Wall Friends – $12.49 – $14.99
Crayola Color Wonder Cinderella Magic Light Brush or Crayola Cinderella Glow Board – $12.99
Board Games: Disney Sofia the First, Jake and the Neverland Pirates Who Shook the Hook game – $12.99
Fast Lane desert Racer Radio Control Vehicle – $13.49
TinkerToy 100 pc Set or Lincoln Logs Sunnfield Stable Set – $13.99 – $14.99
VTECH Brilliant Creations Beginner Laptops – $14.99 Limit 2
Strawberry Shortcake Berry Bitty Market – $14.99
Nerf Vortex Pyragon or Plaxis Blaster – $14.99 – $19.99
Keter Trio Elephant Rockers – $14.99
My first Smart Pad Library – $14.99
Playskool Heroes Crime Fightin' Headquarters Play Set – $14.99
Cardinal Wood Puzzle Value Set – $14.99
Animal Planet Mega Farm or Mega Dino Park – $14.99
Blingles Glimmer Studio or Glitzy Globes Mega Dome Maker – $14.99
Imaginarium 36 pc Alphabet & Numerals Foam Puzzle Mat – $14.99
Imaginarium 150 pc Wooden Blocks – $14.99
Alex Rub A Dub Artist in the Tub – $14.99
Fisher-Price Peppa Pig's Peek 'n Surprise Playhouse Play Set – $17.49
Star Wars Ultimate FX Lightsaber – $17.49
VTECH Sit-to-Stand Learning Walker – $17.49 Limit 2
Thomas & Friends Wooden Railway 13 pc Starter Set – $17.99
Thomas & Friends The Great Quarry Climb Set – $19.99
WWE Pay Per View Wrestlemania Superstar Ring with 2 Action Figures – $19.99
Monster High Inflatable Slumber Bed – $19.99
My Little Pony Royal Wedding Castle Play Set – $19.99
My First Cook in the Kitchen – $19.99
Lights and Sounds Gumball Machine – $19.99
Step 2 Doodle Art Easel – $19.99
Kids Only Licensed Tabletop Easel – $19.99
Barbie 12″ All Dressed Up Deluxe Stylin' Head – $19.99
Disney Princess Cinderella & Prince Charming or Ariel & Eric – $19.99
Fisher-Price Hero World Batmobile – $19.99
Trash Pack Metallic Garbage Truck or Sewer Dump Play Set – $20.00
Little Tikes Big Adventures Action Figures – $20.99
Chuggington DC Rescue at Rocky Ridge Play Set – $23.99
Hello Kitty, Monsters University or Disney Princess Acoustic Guitar – $24.99
Chuggington Crane & Tunnel Figure 8 or Over & Under Figure 8 tran Set – $24.99/ea.
Imaginext Gotham City Play Set – $24.99
Playmobil Santa's Home – $24.99
Fisher-Price Little People Wheelies Loops 'n Swoops Amusement Park – $24.99
Fisher-Price Cruise & Groove Ballapalooza – $29.98
LeapFrog Leapster GS Explorer – $29.99
Edu Science Precision Microscope & Telescope or Do & Discover C1000 Chemistry Lab – $29.99 – $59.99
Playmobil Pirate's Bastion Set – $34.99
Erector Multimodels Motorized Remote Control Set – $44.99
Thomas & Friend's Trackmaster Avalanche Mountain Set – $47.99
The Home Depot Big Builders Workshop – $69.99
Step 2 Lifestyle Dream Kitchen – $74.99
ALL Schleich & Papo Figures – 30% Off
ALL Ravensburger augmented & 3D Puzzles – 40% Off
Character Themed Hig Back Chairs and Flip Open Sofas – 40% Off
ALL Magna Doodle – 40% Off
K'nex Typhoon Frenzy Roller Coaster or Mario & Donkey Kong Beach Race Building Sets – 40% Off
ALL Trash Pack Items ($9.99 or less) – Buy One Get One Free
Outdoor Toys:
Little Tikes 3-in-1 Baseball Trainer, Easy Score Kick Croquet or Easy Hit Gold Set – $9.99 – $24.99
Razor "S" Kick Scooter – $19.99
Stats Multi Sport Bounce Back or Soccer Goal – $19.99
ALL Doc McStuffins, Jake and the Never Land Pirates, Little Mermaid & Planes Scooters – $19.99
Moon Shoes or Moon Stick – $22.49
ALL Disney Junior Happy Haulers – $23.99
Fast lane or Dream Dazzlers Trikes – $24.99
Little Tikes Easy Store Jr. Play table or Easy Store Jr. Play Slide – $29.99
Stats Portable Basketball System or 38″ Trampoline – $29.99 – $39.99
Plasma Car – $34.99
Krazy Kar – $39.99
ALL 10″ & 14″ Minnie & Jake the Never Land Pirates Bikes – $41.99 – $53.99
Step 2 All Around Wagon – $47.99
Arcade Alley Electronic Bowlercade or Table Tennis – $49.99
Power Wheels Lil' Kawasaki Sport Quad or Barbie Lil' Trail Rider – $49.99
Stats My First Trampoline with Safety Enclosure – $59.99
Step 2 All Star Sports Climber – $69.99
Flexible Flyer Andover Metal Swing Set – $84.99
Step 2 Neat & Tidy Cottage – $99.99
Avigo 6-Volt Mini Cooper Ride-On – $99.99
Avigo 12 Volt Mega Wheel Quad Ride-On – $149.99
Step 2 Super 8 Bouncer – $149.99
Razor Crazy Cart – $299.99
Power Wheels Jeep Hurricane Ride-On – $299.99
Big Backyard Springfield Wood Gym Set – $379.99
ALL Avigo Skates, Skateboards & Ramps – 40% Off
Electronics –
SkullCandy Jib Earbuds – $4.99
Riptunes 4GB MP3 Player with Video Playback – $14.99
Cobra 20 Mile Range Walkie Talkie Sets – $17.49
HMDX Rave Portable Rechargeable Bluetooth Speakers – $19.99
Vivitar 5.1 MP DVR 426 HD Digital Camcorder – $19.99
iLive Sound Bar – $34.99
PS3 Dual Shock Controller or Xbox 360 Special Edition Camouflage Wireless Controller – $39.99
Arnova 7″ Android Tablet (Refurbished) – $39.99
Audiovox 7″ Portable DVD Player – $49.99
Toshiba Symbio 3D Blu-Ray Player – $59.99
Garmin Nuvi 42 4.3 Navigator – $69.99
Polaroid 8″ Internet Tablet – $79.99
Casio 61 Key Light Up Keyboard – $79.99
Samsung Galaxy Tab 3 7″ Tablet – $159.99
Kindle Fire HD 8.9″ – $179.99
XBox 360 E 4GB with Kinect Holiday Bundle – $199.99

ALL Superbuy Video Games priced $14.99 – $19.99 are Buy One Get One for $1.00
All Video Games – Buy One Get One 40% Off
Movies:
$3.99 Movies –
Cloudy with a Chance of Meatballs (DVD)
Grown Ups (DVD)
Soul Surfer (DVD)
Barbie Mariposa (DVD)
Barbie: A Fairy Secret (DVD)
Strawberry Shortcake: Berry Bitty Mysteries (DVD)
Iron Man (DVD)
New Moon (DVD)
$4.99 Movies –
Twilight (Blu-Ray)
The Dark Knight (DVD)
Big Top Scooby Doo! (DVD)
Smurfs to the Rescue (DVD)
Beautiful Creatures (DVD)
Percy Jackson and the Olympians: The Lightning Theif (DVD)
Parental Guidance (DVD)
X-Men First Class (DVD)
Lego Batman The Movie: DC Superheroes Unite with Lego Mini Fig (DVD)
$6.99 Movies –
The Host (DVD)
Hotel Transylvania (DVD)
The Kard Knight Rises (DVD)
Monster High: Friday Night Frights/ Why Do Ghouls Fall in Love (DVD)
Barbie in the Pink Shoes (DVD)
Twilight Breaking Dawn Part 2 (DVD)
Despicable Me (DVD)
Madagascar (DVD)
Rio (DVD)
Journey 2: The Mysterious Island (Blu Ray Combo Pack)
Dr. Suess' The Lorax (DVD)
Amazing Spiderman (DVD)
$9.99 Movies –
Jack the Giant Slayer (Blu-Ray Combo Pack)
Burt Wonderstone (Blu-Ray Combo Pack)
The Dark Knight Rises (Blu-Ray Combo Pack)
Cloudy with a Chance of Meatballs (2 Disc DVD)
Sofia the First – Once Upon A Princess (DVD)
GI Joe: Retalliation (DVD)
Doc McStuffins: Friendship is the Best Medicine (DVD + Digital Copy)
Star Trek: Into the Darkness (DVD)
Oblivion (DVD)
Barbie Mariposa and the Fairy Princess (Blu-Ray Combo Pack)
$11.99 Movies –
Mulan Movie Collection (DVD)
Monsters University (DVD)
Planes (DVD + Digital Copy)
Wreck It Ralph 1 Disc (DVD)
The Princess and the Frog (DVD)
Disney Pixar Brave (DVD)
Cinderella Diamond Edition (DVD)
Pocahantas (2 Disc DVD)
Peter Pan Diamond Edition (2 Disc DVD)
$14.99 Movies –
Tangled (DVD)
The Little Mermaid: Diamond Edition (Blu-Ray Combo Pack)
Monsters University (Blu-Ray Combo Pack)
Planes (Blu-Ray Combo Pack)
Tangled (Blu-Ray Combo Pack)
Disney Brave 3 Disc (Blu-Ray Combo Pack)
Clothing –
ALL Koala Baby & Kids "R" Us mix & match Seperates – $4.00
ALL Licensed T-Shirts – $6.00
ALL Babies "R" Us Sleepwear – $8.00
ALL Carter's Clothing and Sleepwear – 50% Off
ALL Shoes – Buy One Get One 50% Off
Baby Items –
Babies "R" Us Brand Wipes 432 ct. – $6.00
Babies "R" Us 150 oz. Laundry Detergent – $9.99
ALL Specialty Marked Babies "R" Us Brand Diapers – $10.00
Evenflo Doorway Jumper Joey Jump Up roo – $17.49
Diaper Genie Single Refills 4 ct. – $18.00
Evergen Temporal Artery Thermometer – $24.99
Pampers 78 ct. Diapers – $32.99
Huggies 88 ct. Diapers – $32.99
Babies "R" Us 6 Panel Play Yard – $34.99
Gerber Good Start Powder Formula Value Packs – $36.99
Graco Pack 'n Play On teh Go Travel Play Yard – $49.99
Motorola 2 Camera Video Monitor with 2.4 Screen – $99.99
Graco Nautilus 3-in-1 Car Seat Breakers – $119.99
ALL Earth's Best Variety Packs – Buy One Get One FREE
ALL Tomme Tippee Close to Nature feeding items – Buy One Get One FREE
Other –
ALL Character Hideaway Play Tents – $9.99
ALL Disney & Disney Jr. game rugs – $12.49
ALL Kids' Bed Pillows – $12.99
ALL Character 9 Bin Toy Organizers – $24.99
ALL NFL Blankets, Huddlers, Pillows, Huggers & Gift Sets – 50% Off
ALL Character Pillows, Slumber Bags and Bed Tents – 50% Off
Friday Nov. 29th 5 am – Saturday Nov. 30th to Close:
Toys –
Hot Wheels Single Cars – $0.60
Play-Doh 4 pack – $1.00
Chutes & Ladders Boardgame – $3.99 Limit 1
Kryptonics 22′ Locker Boards – $5.00
Monopoly Board Game – $7.99 Limit 2
Stats 16″ Tabletop Air Hockey, Soccer or 3-in-1 Shuffleboard – $8.99
Fairy Tale High Dolls – $8.99
My Little Pony, Hello Kitty or Nerf Walkie Talkies – $9.99
Home Depot 45 pc Power Toll Set – $12.99
ALL Dream Lites – $14.99
Fisheer-Price Laugh & Learn WorkBench – $14.99
Battery Operated Santa Fe Train Set – $14.99
Crayola Doodle Magic Color Mat – $15.99
Tonka Chuck & Frinds Flip the Bounce Back racer – $17.49
Playskool Let's Rock Elmo – $19.98
31″ Figures – $19.99
Power Rangers Megaforce Deluxe Ultra Dragon Sword – $19.99
Cars Lightning McQueen Hawk – $19.99
Baby Alive Wanna Talk – $19.99
Step 2 Sports-tastic Activity Center – $24.99
Little Tikes Cozy Coupes Red or Princess – $24.99
Nerf Rapidstrike CS-18 – $27.99
My Size Barbie – $29.99
Radio Control North Pole Train Set – $32.49
Disney Princess Doll, Dress & Rolling Trunk – $39.99
Stats 40″ Table Games – $39.99
Hot Wheels Terrain Twister – $49.99
Lalaloopsy Sew Magical House – $49.99
Skylanders Swap Force Starter Pack – $49.99
Fisher-Price Loving Family Dream Dollhouse – $49.99
Avigo Extreme Electric Scooter – $59.99
ALL Y-Fliker Scooters – $69.99 – $119.99
LEGO Star Wars Republic Gunship, The Malevolence or LEGO City Town Square – $74.99 – $89.99
Thomas & Friends Wooden Railway Grow With Me Play Table – $99.99
Stats 12′ Trampoline & Enclosure Set – $159.99
All Disney Infinity Figures, Power Discs & Accessories – Buy One Get One 50% Off
Electronics –
San Disk 16 GB Micro SD Card – $4.99
San Disk 16 GB Cruzer Flash Drive – $4.99
Singing Machine Portable Karaoke with Built in Light Show – $29.99
Polaroid V7 7″ Tablet – $49.99
Impecca 7″ Dual Screen Portable DVD Player – $59.99
Polaroid 10.1″ Tablet – $99.99
Kurio 7 S Android Family Tablet – $149.99 (Get FREE $40 Gift Card w/ purchase)
Nintendo 3DS XL – $199.99
Holiday Decorations:
Pre-Lit 7′ Pine Tree with 500 Lights – $74.99
ALL holiday Porch Greeters & Holiday Inflatables – 50% Off
Be sure to check out all of the Black Friday 2013 Deals here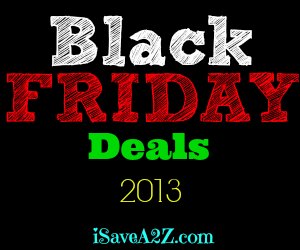 (thanks Thrifty Northwest Mom for the Black Friday deals round up!)