Walmart.com Fraud ALERT! GO Delete your payment information NOW!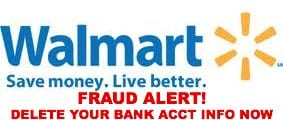 Walmart Fraud ALERT
There is a new scam happening on Walmart.com
If you have an online account please go in and delete your credit card information NOW!
Here is what's happening.  Apparently hackers are able to get into your online account with your log on information.  They are ordering airtime cards from Tracfones and the minutes is delivered electronically.  Just as if it were a gift card online.
I found out because I received an email showing an online order for Walmart.com.  I never placed an order.  I logged onto my account and I can see two different names with two completely different addresses in two different states!  Here's the worst part.  I can see everything!  Name, Address, Credit Card info and even their mailing address!
I ended up calling the lady who's card was charged.  (I would have called Walmart directly but they were closed)  This happened at 11pm at night!  An elderly lady answered the phone and I explained what happened.  She said that she did not place that order but thanked me for calling her so that she could notify her credit card company immediately.
After talking with numerous friends it seems this scam has been happening for months now!  MONTHS!  I've never heard of this scam.  If I did I would have immediately either deleted my Walmart.com online account or at the very least deleting my bank account information!
My next thought was to immediately change my password to a crazy long password with capitol letters and crazy symbol characters.  Guess what?  Walmart doesn't let you have a long password.  They restrict it to between 6 and 11 characters!  NO WONDER they can get hacked so easily!
I'm writing this post to let you know to DELETE YOUR BANK ACCOUNT INFORMATION ON YOUR WALMART.COM account and hopes that will keep your account safe.  I plan to update this post tomorrow once I get in touch with Walmart directly.  Can you believe they don't even have a fraud phone number.  They do however give you the option to email them.  Which I did immediately.
If you want to call Walmart Customer Service directly let me give you the prompts and save you some frustration with the automated system:
Dial 800-925-6278
Press 2, 2 then 5 to be connected DIRECTLY to a Customer Service Associate!  This will get your straight to an actual human!
Here's how to change your billing information on your Walmart.com account:
Log into your account here at Walmart.com
After you  have logged in look at the top right menu bar for a tab that says My Account.  Looks like this:
Click My Account.
Next you will get a screen that gives you a link for your "Payment Method Details."  Looks like this:
Click on the Payment Method Details to remove your payment information.  There is a delete option right next to the credit card that was saved on your account.
Here's what it looks like:
I would encourage you to either share this post with all of your friends or at the very least tell them to check their online Walmart accounts to keep them save.
My Update:  I was able to speak with Terri in Ft. Lauderdale Walmart Customer service to have my account deleted.  I was advised the customer service reps are not allowed to give out their last names or employee numbers.  Let's just hope my account really is deleted.
Jen~