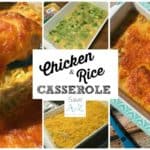 Print Recipe
Easy Chicken and Rice Casserole with Broccoli
This is one of the best chicken and rice casserole recipes EVER!
1

can

10 1/2 ounces Cream of Chicken Soup

1 1/2

cups

liquid chicken stock

3/4

cup

uncooked long grain white rice

1/2

teaspoon

onion powder

1/4

teaspoon

black pepper

1

teaspoon

Knorr Chicken Flavoring Bouillon seasoning

2

cups

frozen broccoli

1 1/4

pounds

skinless

boneless chicken breast halves

1

cup

shredded Cheddar cheese
Heat the oven to 375°F. Stir the soup, liquid chicken stock, rice, onion powder, black pepper and vegetables in an 11 x 8 x 2-inch baking dish.

Top the rice mixture with the chicken. Sprinkle a teaspoon of the Knorr Chicken Flavoring bouillon over the top of the chicken. Cover the baking dish with tin foil.

Bake for 1 hour or until the chicken is cooked through and the rice is tender. Top with the cheese and bake for another 5 minutes or so until the cheese has melted and slightly browned on the top. Remove it from the oven.

Let the chicken and rice casserole sit for about 15 minutes to cool a bit while keeping the tin foil on before serving it. It may seem a bit watery when you take it out of the oven but the rice will continue to absorb most of the liquid and set up nicely.