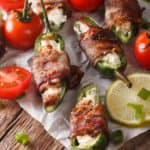 Print Recipe
Easy Jalapeno Cream Cheese Poppers Recipe
Super Easy Jalapeno Cream Cheese Poppers recipe that would make a perfect appetizer for any occasion!
Preheat the oven to 375 degrees F.

Cut the jalapenos in half longways and use a spoon to remove the seeds.

Scoop a spoonful of the Kraft Philadelphia Cream Cheese into each half of the sliced jalapeno.

Wrap it in bacon (raw). If they don't stay wrapped you can use a toothpick to hold it together but be sure you soak the toothpicks in water before baking them to prevent them from burning.

Bake them long enough for the jalapeno pepper to be tender and the bacon to be crisp. This could be between 25 to 40 minutes depending on your pan.