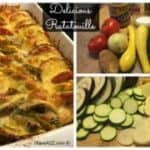 Print Recipe
Delicious Ratatouille Recipe
Perfect one pot meal idea that is healthy and the whole family will enjoy!
1

medium yellow onion

1

tbsp

minced garlic

1

medium eggplant

1

medium zucchini

1

medium yellow squash

1

medium potato

1

medium tomato

1

tsp

thyme

salt and pepper to taste

1

small can tomato sauce

1

cup

shredded Italian cheeses

Extra Virgin Olive Oil
Preheat the oven to 375 degrees.

Dice the onion and place it in the bottom of the dish along with the minced garlic.

Coat with EVOO

Pour in a small can of tomato sauce (paste will also work)

Thinly slice all the rest of the veggies

Place the sliced veggies in the baking dish vertically, alternating the same pattern over and over again

Drizzle EVOO over the top of the veggies

Sprinkle with salt and pepper and thyme

Cover the dish and bake it for about 30 minutes then remove the foil and top it with cheese. Bake for another 15 to 20 minutes until the potatoes and veggies are soft.