Delicious Ratatouille Recipe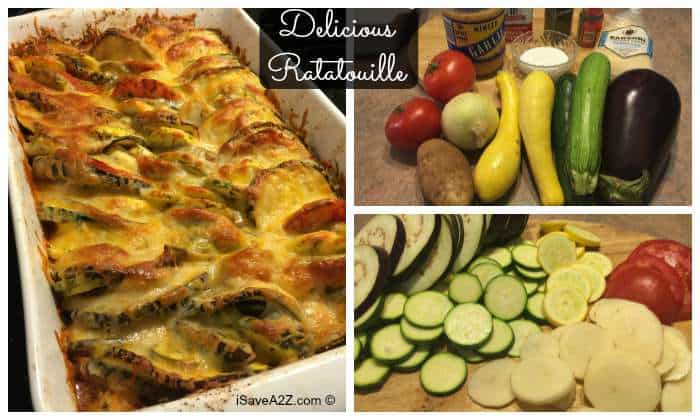 I've got a super delicious Ratatouille recipe that you have got to try.  My husband is the first to tell you that he was very surprised by how much he really enjoyed this recipe.  That says a lot coming from a guy that typically only likes meat and potatoes.  I was equally surprised that the kids went back for seconds.  You know how hard it is to get them to eat their vegetables some days?  Not today and not with this recipe.
This dish would also be a good one to bring to a pot luck or to the office.  It's visually appealing and it serves a large group easily if you double this recipe like I did.  The key is to find all of the vegetables about the same size.  I ended up using a large eggplant.  It's because they didn't have any small ones left at my local grocery store.  No worries though, it still tastes the same.  I've seen lots of different ways to make a simple Ratatouille dish and here's my twist.  Please note you can mix up this recipe and use different vegetables and cheeses if needed.  Use what you like.  I've made this same recipe with all different kinds of cheeses.  We love to add Parmesan cheese to almost anything.  Brie is another favorite.  Isn't it funny how kids will eat almost any vegetable when cheese is on it?  Whatever works, right?
In the photos I have doubled the recipe and I used a large 9 x 13 rectangle baking dish.  In the recipe below you can use a smaller oval dish or even a square baking dish.
[bctt tweet="If you keep good food in your fridge, you will eat good food. #Healthy #EatClean"]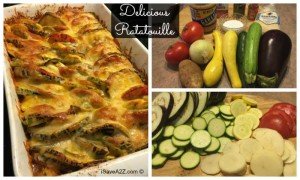 Delicious Ratatouille Recipe
Perfect one pot meal idea that is healthy and the whole family will enjoy!
Ingredients
1

medium yellow onion

1

tbsp

minced garlic

1

medium eggplant

1

medium zucchini

1

medium yellow squash

1

medium potato

1

medium tomato

1

tsp

thyme

salt and pepper to taste

1

cup

shredded Italian cheeses
Instructions
Preheat the oven to 375 degrees.

Dice the onion and place it in the bottom of the dish along with the minced garlic.

Coat with EVOO

Pour in a small can of tomato sauce (paste will also work)

Thinly slice all the rest of the veggies

Place the sliced veggies in the baking dish vertically, alternating the same pattern over and over again

Drizzle EVOO over the top of the veggies

Sprinkle with salt and pepper and thyme

Cover the dish and bake it for about 30 minutes then remove the foil and top it with cheese. Bake for another 15 to 20 minutes until the potatoes and veggies are soft.
Nutrition facts are provided as a courtesy.
Feel free to Pin It here for later: