Garlic Shrimp Linguini Recipe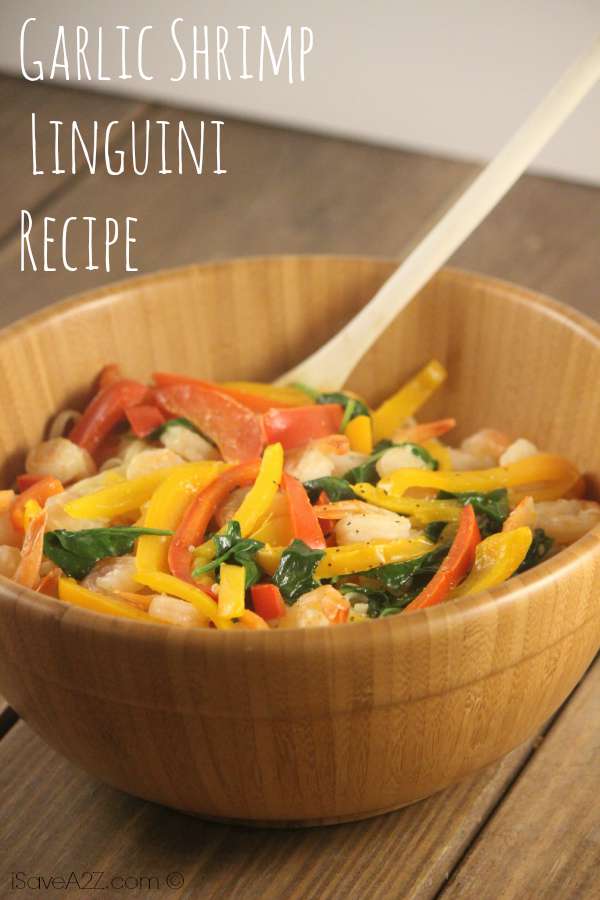 Garlic Shrimp Linguini Recipe
Last nights dinner was scrumptious but very simple with this garlic shrimp linguini recipe.  I"m a big fan of pasta meals and love it even more when I can whip it up in about 20 minutes.  This is one of those recipes you want on hand when you are not in the mood to make dinner or you've run out of energy from a busy day.  Another tip to make busy weeknight meals a breeze would be to do all the vegetable prep on the weekend.  If you can take one day and knock out all of the cutting, you would be amazed at how much simpler life would be during the week.  No need to do take out either.  It's just not even close to a healthy and home cooked meal.
I've added a lemon to this recipe.  I like the taste of lemon and shrimp together but this ingredient is totally optional.  I tend to squeeze a fresh lemon over the dish right before I serve it.  I swear there's nothing more yummy than garlic, olive oil, salt and lemon together.  I can take lemon to a whole new level and love it though.  Sometimes, I will use straight lemon juice on my salad as a dressing.  This happens when I am trying to shed a few pounds.  Works wonders and tastes amazing too.  I was surprised my 10 year old liked the taste of straight lemon juice on her salad too.
One more thing to know about this recipe is, you want to make sure you make just enough for you to consume that day.  I just don't think shrimp does well for leftovers.  I'm pretty picky about seafood though.  My husband might disagree with me on this one.
[bctt tweet="Food tastes better when you eat it with Friends and Family! #CleanEating"]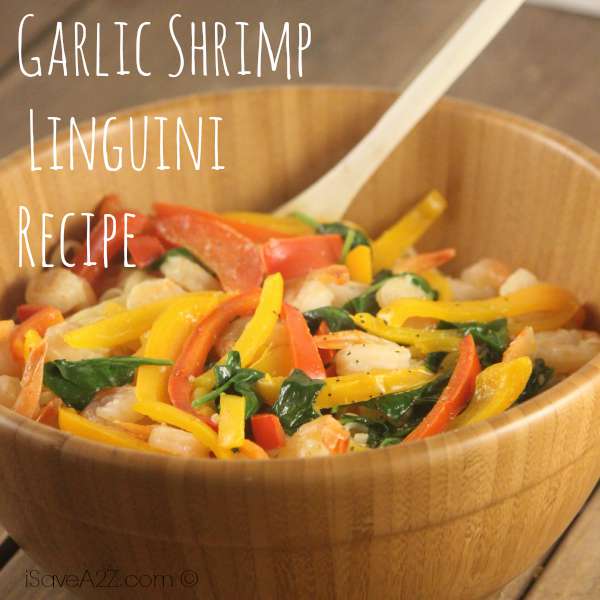 Garlic Shrimp Linguini Recipe
Ingredients
1 16

oz

package of linguini

1

pound

of medium shrimp shelled and deveined

1

red bell pepper sliced into strips

1

orange bell pepper sliced into strips

2

cups

of fresh spinach leaves

6

tablespoons

of olive oil

4

cloves

of garlic minced

Salt and pepper
Instructions
Cook package of linguini and set aside

In a pan on medium heat add olive oil, sliced peppers and minced garlic

Saute' for 4 minutes

Then add shrimp and cook for 3 minutes

Next add spinach leaves and salt and pepper to taste, continue to cook until spinach leaves have wilted

In a large serving bowl, toss linguini and shrimp mixture

and serve.
Nutrition facts are provided as a courtesy.