Homemade Apricot Ice Cream (Dairy Free)
Homemade Apricot Ice Cream
Would you believe it's Dairy Free!!

If there is one thing that I absolutely LOVE about summer, it's homemade ice cream!! My aunt makes a lot of homemade ice cream when it's warm outside and in all kinds of flavors. Now, I don't have a fancy ice cream maker like she does. You have to make the mix, and get that special salt and then it's out there turning for ever. That's not something you will see me, myself doing. But this recipe, for Homemade Apricot Ice Cream is one that I can do! No special equipment or salt required! What makes this recipe even better is that it is dairy free! Once you have your fruit frozen, you can whip this up in no time. And, as if it needs to get any better, it only takes 4 ingredients!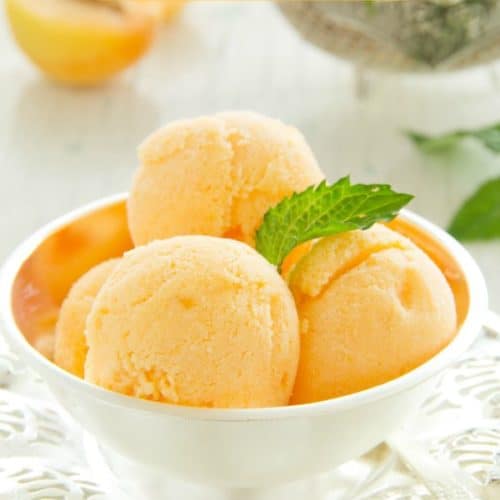 Homemade Apricot Ice Cream (Dairy Free)
Instructions
Start by cutting the apricots into quarters. Then lay them in a single layer on a baking sheet or a tray and place it in the freezer.

Freeze the apricots for about 6 hours or up to overnight.

Put the apricots, coconut cream, 1/4 cup of honey and vanilla into the blender or a food processor and blend until smooth (about 1 minute).

Check the flavor of the ice cream. If you want it a little sweeter, then add the rest of the honey.

Serve immediately.
Notes
You can also make this ahead of time and freeze for later. Just put it into a freezer safe container and set it in the freezer. Let the ice cream sit out for about 5 minutes to soften before you serve.
Nutrition facts are provided as a courtesy.
The "cooking" time is just the time for the fruit to freeze. So no worries….you won't be slaving in the kitchen all day for this sweet treat! If you've never used coconut cream before, it's thicker than coconut milk. We like to use Native Forest Coconut Cream and you can get a pack of 12 on Amazon for just $17.45! Other fruits that you could use with this recipe are strawberries, peaches or mango!
You can also try some of our other ice cream recipes! We have Homemade Ice Cream in a Bag (which is fun for kids), Strawberry Sorbet, and Watermelon Sorbet!
Enjoy!