Top 10 Keto Snacks
When I started the Keto way of life, in the beginning, I found it a bit hard to find Keto snacks. Now I realize more than ever after doing this diet for a while that there really isn't much of a need for snacks as much as I wanted (or craved) them in the beginning. I tend to think the need for snacks change the longer you are doing the Ketogenic diet.
I can remember taking handfuls of peanuts and almonds in the beginning and thinking I was doing great for snacks. Little did I know then how much carbs are in nuts. They are tasty and a good treat but still need to be limited. Everything in moderation, right?
UPDATE! I swear these Lowry's Microwaveable pork rinds are the best crunchy snack on the planet! I won't even eat the ones that are not fresh anymore. HOLY MOLY these are tasty! I've set these Lowry's Pork Rinds to auto delivery via Amazon Prime every month too!
This may seem silly but I created a quick video so you can hear just how they do a little snap, crackle, pop sound after you cook them. I am in heaven! BEST KETO SNACK EVER!!!
If you find you are needing some Keto Snack Ideas, this round up of ideas is just for you! Be sure to calculate them in your Macro numbers because snacking can easily get out of hand in the beginning. You just don't even realize it. By tracking your food intake, even the snacks, you will clearly see what you can have and what foods or snacks you need to limit.
Oh, and if you are new to the Ketogenic Diet or maybe just want to understand a bit more about it…  I highly suggest you read this article on The Simple Way to Start the Ketogenic Diet.  It's a good read loaded with information and tips to get started.  There's so much information out there, it's nice to see it in one article explained easy enough for anyone to understand.
1. Low Carb Cheese Crackers are an amazing snack idea and definitely keto friendly! If you are not in the baking mood, you can easily put a square piece of cheese on a baking sheet and pop it in the oven to make cheese crisps too. Top it with a jalapeno for added flavor and spice! Yum!
2. Baked Pepperoni slices! Same process as above, just place some pepperoni slices on a baking sheet and bake until crispy. YUMMY!
3. Zucchini Parmesan Chips – There are a couple different ways to make this snack idea. The thinner you cut the zucchini, the crunchier it will be. I love to top mine with Parmesan to make these delicious Zucchini Parmesan Chips. The whole family loves them.
4. Pork Rinds! Believe it or not, I used to hate pork rinds. It's amazing how much your taste buds change when you ditch carbs and sugar. You have a new appreciation for foods you once did not like at all. Here's a good tip. Purchase pork rinds from a Meat Market fresh. They have a whole new flavor and texture that is really pretty darn good. You can season them yourself or purchase bags of pork rinds already seasoned. I tend to buy the salt and vinegar pork rinds or the spicy pork rinds. My husband prefers the BBQ flavored pork rinds. You will want to have some pork rinds in your pantry anyway because I can almost guarantee you will cook with them at some point.
Update:   I ended up at a Mexican meat market close to my house and found some of the best keto snacks ever!  They had two different kinds of fried pork rinds.  This is what they call Chicharrónes.  You can get a charge slab of fried pork skin or you can get some deep fried pork skins with the meat on!  The fresh fried pork skins don't compare anything to the prepackaged ones you find in the stores.  They are the best-tasting keto snack I've ever had!  I will only buy fresh from now on.  They said to store them you just leave them in the plastic storage bag they come in and leave them on your countertop.  No refrigeration needed.  Same storage technique for the ones with the beef on too.  I was at the lake a ton this summer and I grab these fried pork skins with the beef on as a snack for on the go!  No cooking, no refrigeration, no prep.  It makes the perfect snack to take on the road with you when you want to stay keto!
This photo shows what the Chicharrón with beef on looks like. It's a large snack.  I easily get full from this large amount of beef and fat.  It's amazing!  Finger-licking good!!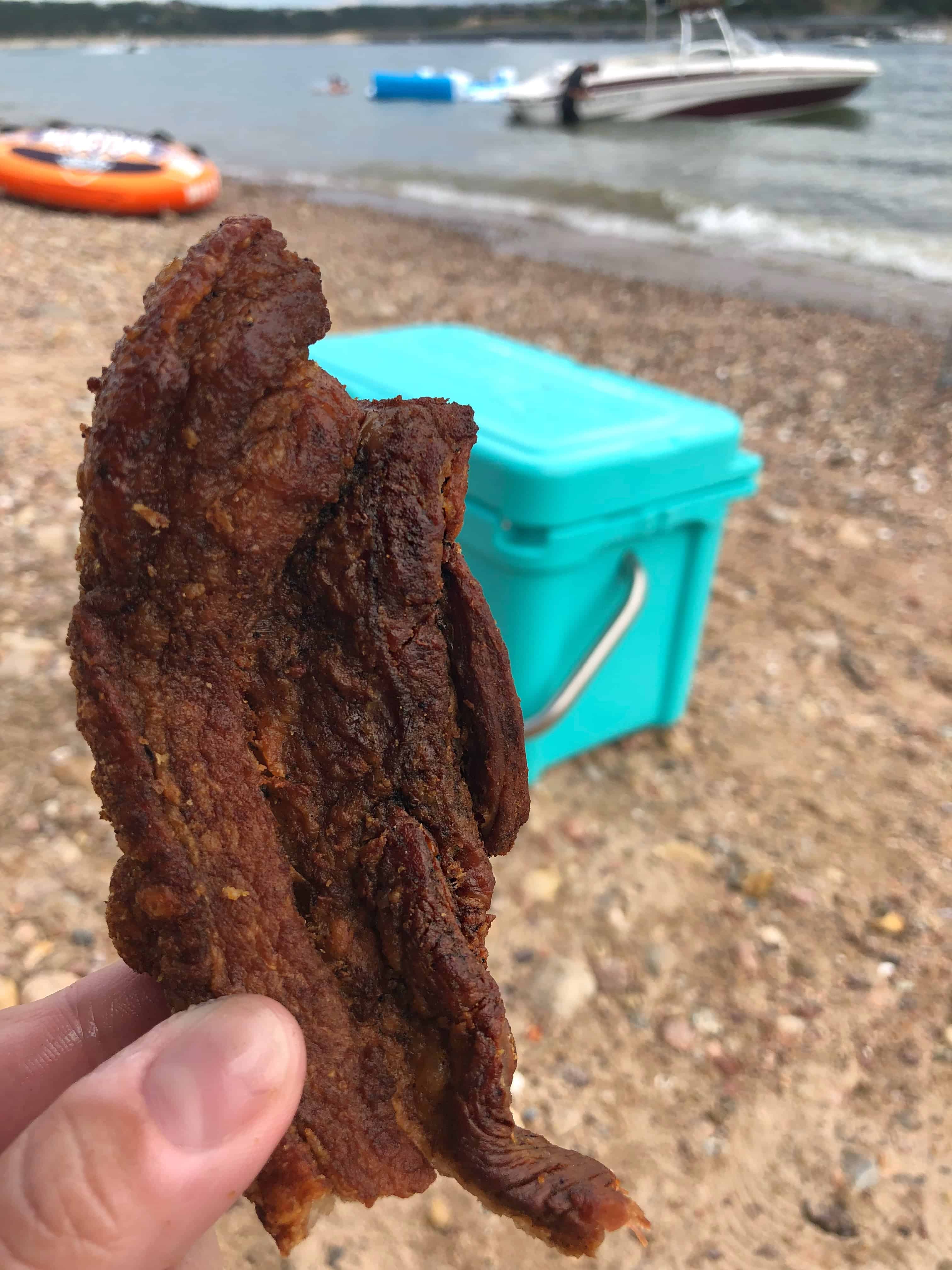 5. Deviled eggs or just plain hard boiled eggs tend to be an amazing snack that will definitely hit the spot. Top those deviled eggs with some crispy bacon for a nice change of pace too!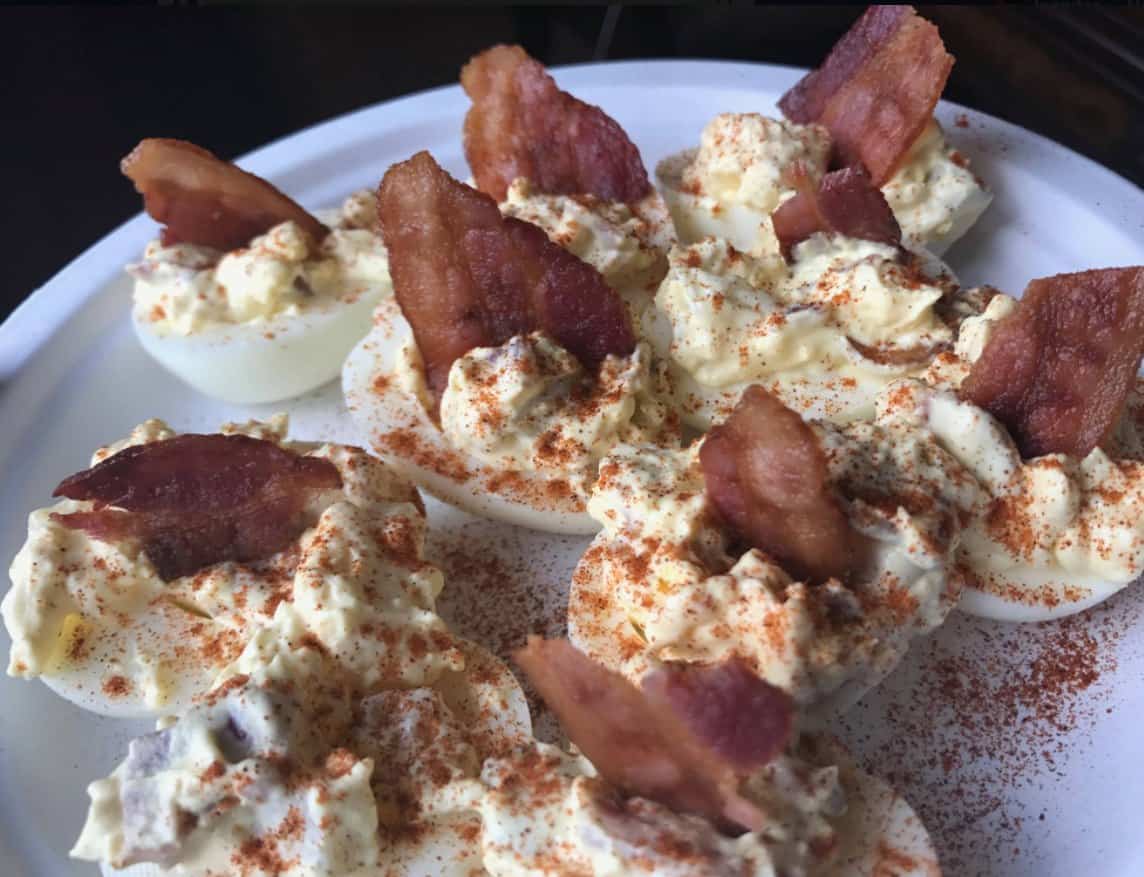 6. Cheese! In our Low Carb Inspirations group, we tend to give all sorts of good ideas for food and snacks. One member shared how she takes a piece of sliced cheese and microwaves it for 30 seconds. It turns into a square piece of crunchy goodness! You can see her photo here in the Low Carb Inspirations group. DELISH!!!
7. Lily's chocolate or Lily's chocolate chips! There are some days I get in the mood for a sweet snack or a sweet treat. My go to chocolate treat is either Lily's chocolate or ChocZero. Both are excellent ideas.  I love it so much that I do have to limit myself.  I usually grab about 4 squares of chocolate and put the rest away.  If I don't do this, I could end up eating the whole thing without even realizing it.  My husband swears the Keto Peanut Butter cookies I make are a snack but I call them a dessert. Keto Desserts is a whole other list! He disagrees.
8.  I might also go for a piece of toasted cloud bread topped with cream cheese too.  This makes a delightful snack idea.
9.  Cheese sticks!  This may seem a bit boring but I get the cheese sticks that are wrapped in Pepperoni or Prosciutto.  Perfect "no prep work" snack idea.
10.  Salami with cream cheese and peppers or pickles!  This is last on the list but if I listed this by popularity, this snack idea would be first on the list!  This concoction is an all time favorite with every single person in my family.  I will sometimes pack a few in our lunch boxes too!  It can get a bit messy when you pack it with pickles though because of the juices.  All you do is take a piece of salami and spread cream cheese on it.  Top it with a pickle slice, jalapeno, pepperoncini or banana pepper!  Absolutely DELISH!!!!  5 Stars!  Seriously good!  This one is a must try!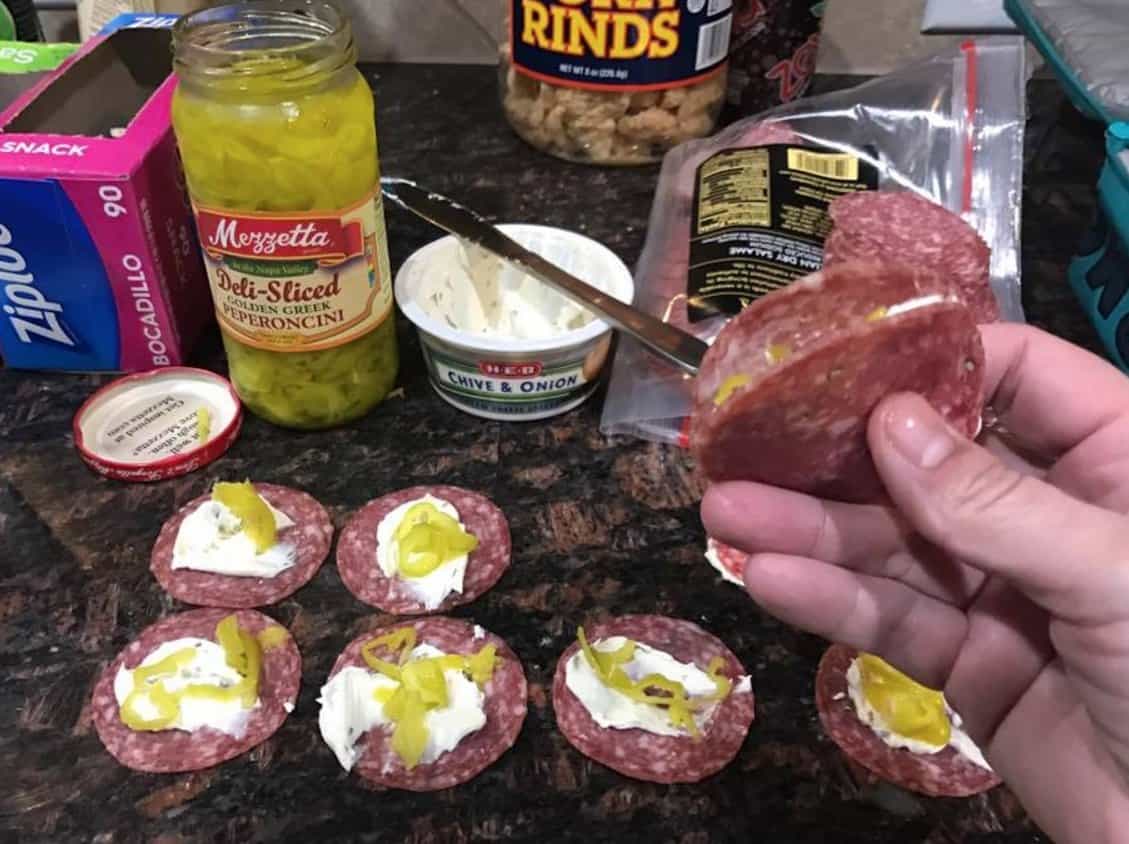 Here's another idea.  How about pickles wrapped in sliced meat with cream cheese!  It's delish!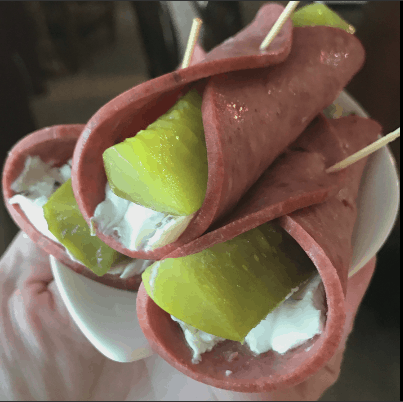 Just look at this AMAZING Keto Snack tray created by Carol Girvin and shared in the Low Carb Inspirations group on Facebook.  If you aren't part of that group yet, JOIN!  So many great ideas shared!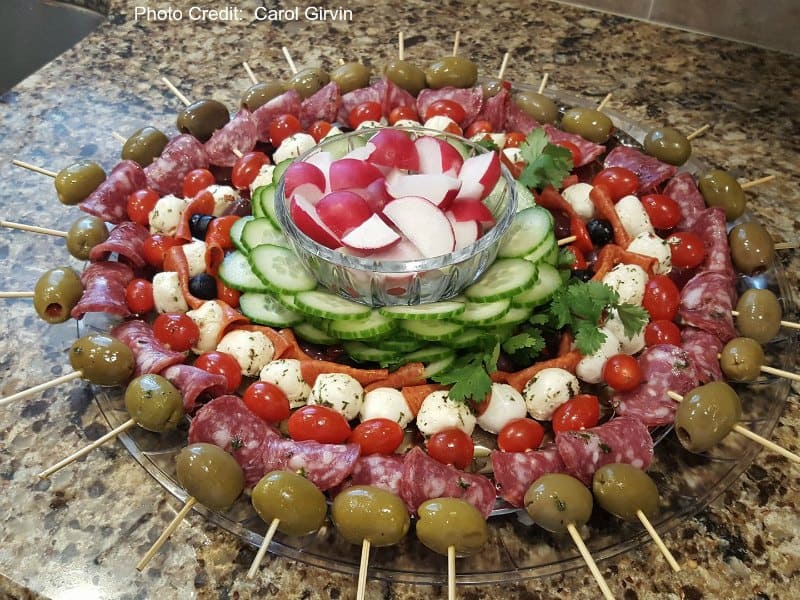 Be sure to pin this article Top 10 Keto Snacks on Pinterest too!!