Easy Crockpot Spaghetti Recipe
Finally! Finally! I have perfected Crockpot Spaghetti that tastes amazing!  If you have to feed a large family, this recipe would be perfect for you.  We had a large group of people over (teenagers who eat lots) and I was amazed at how much spaghetti.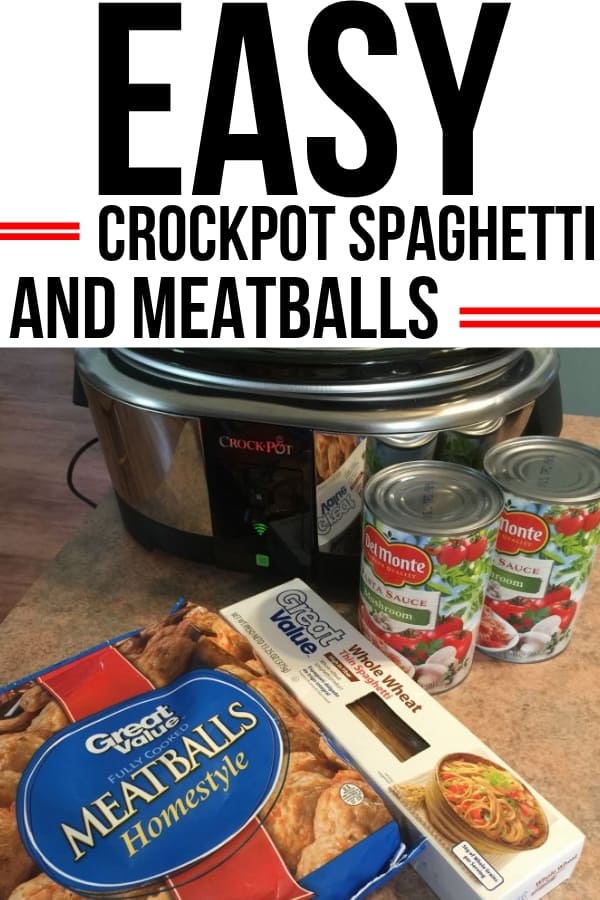 Oh, and notice it's a new Crockpot with WeMo technology!  Yeah baby!!  Crockpot kindly sent me the newest, latest and greatest product to try and I love it!  My family is full techie nerds and my kids may have made fun of me for having my very own Crockpot wifi connection but hey,  it's cool!
Crock-Pot Smart Wifi-Enabled WeMo 6-Quart Slow Cooker

The Wifi enabled WeMo slow cooker allows you to control the slow cooker from an app on your smartphone.  You can start or stop dinner on your way home.  Basically, the crockpot has a signal from your home connection that your phone can read and control.
Slow Cooker Spaghetti
For you non-techie friends, you can still control the slow cooker the same way you always have been from some simple buttons on the front too.
My first recipe in this bad boy was a huge pot of Spaghetti. Crockpot or Slow Cooker Spaghetti, however you call it, this recipe is dynamite.
Craving More Crockpot Recipes
Tips for Cooking Crockpot Spaghetti and Meatballs
There are a few things to know about this recipe.  I added lots of sauce and a little water.  If you don't have enough water or sauce the noodles will stay hard.  They need moisture in order to cook properly.  It's important to note that I used Whole Grain Spaghetti noodles.
Each noodle type may cook a bit different time wise.  Be sure to check the noodles by stirring them about 2 hours into cooking this dish.  If they are not soft by this time, you may need a bit more water.
Can I Use Ground Beef In Replace of Meatballs
Also,  the meatballs I used were Italian flavored.  I did not add any additional seasonings at all.  We didn't have a need to.  Probably because I used the fire roasted crushed tomatoes.  Those are packed with flavor.
You are welcome to brown up some ground beef or even sausage and use in replace of meatballs. Just cook on the stove, drain grease, then pour cooked meat into Crockpot!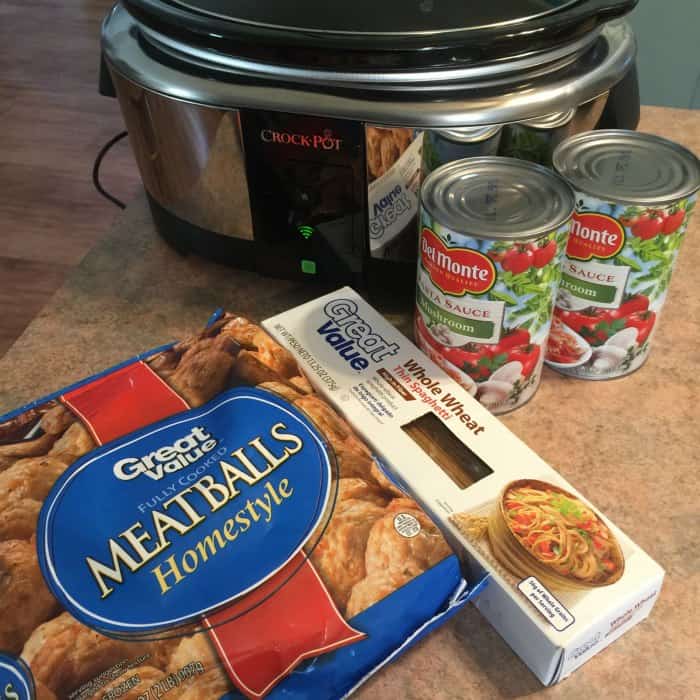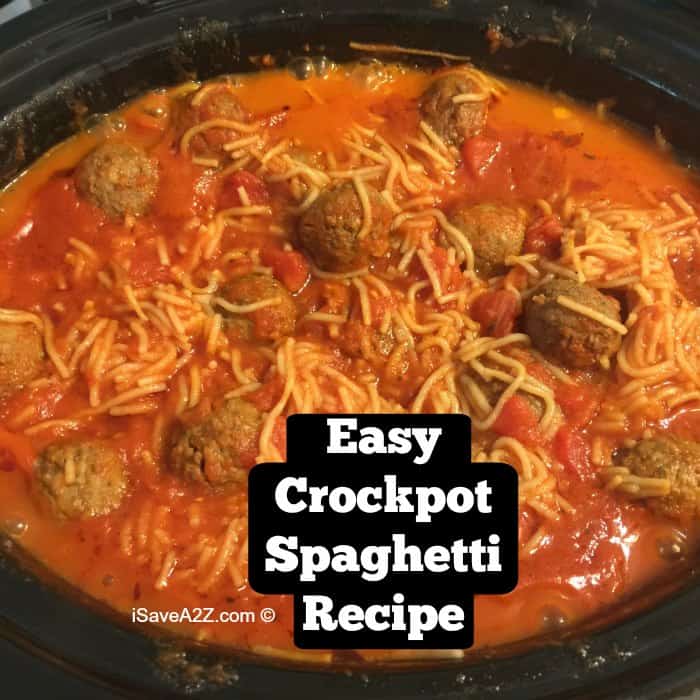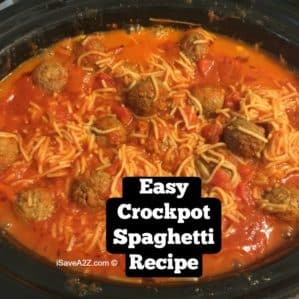 Easy Crockpot Spaghetti Recipe
Ingredients
1

package of frozen meatballs

2

large cans

24 oz of your favorite spaghetti sauce

1

large can

28 oz of crush tomatoes (I used a fire roasted to add additional flavor)

2

cups

water
Instructions
Add the frozen meatballs straight from the freezer as the first layer of this recipe in the crockpot.

Next you want to add the spaghetti sauce

Add the crushed tomatoes

Cover and cook on low for approximately 3 to 4 hours or until the noodles are soft.
Nutrition facts are provided as a courtesy.
Crockpot Spaghetti Recipe
This is definitely my go-to recipe when I don't want to spend a lot of time in the kitchen but I have a huge family to feed.  Anytime we are wanting a crockpot pasta recipe, I now reach for my supplies to make spaghetti.
Feel free to cut down the size of this recipe too.  Just adjust the cooking time to a lower amount.  For example, if you split this recipe in half, it may only take about 2 hours to cool completely.  You can always tell by stirring it and tasting the noodles.
Enjoy!